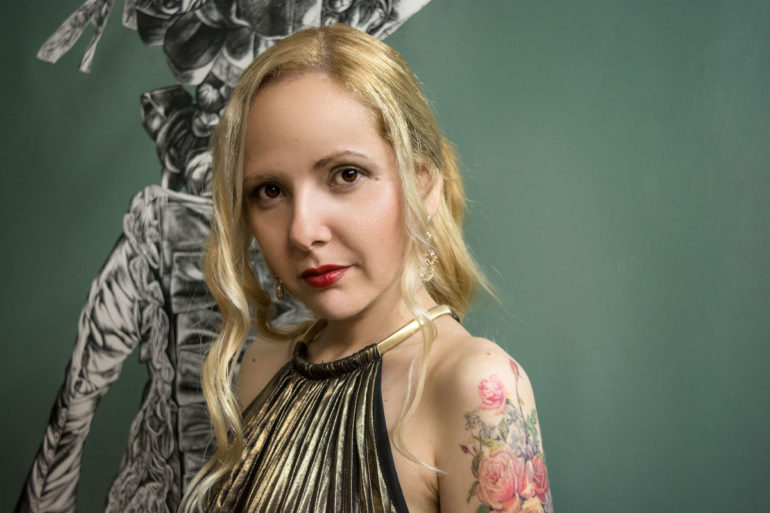 This post is also available in:

The name Lisyanet in itself is quite unusual, even more so when associated with the story of an error her father made to the registry office that registered Lisyanet instead of Lis Yanet, as was the wish of the Mom. A peculiarity that fits perfectly with the artist: long blond hair on a slender body, from which comes out artworks of extraordinary visual and technical impact, embroidered (also in the true sense of the word) on giant canvases that fill her studio and her home, in reference to which she says: "I do not like to separate the life from art, I live and work in the same place".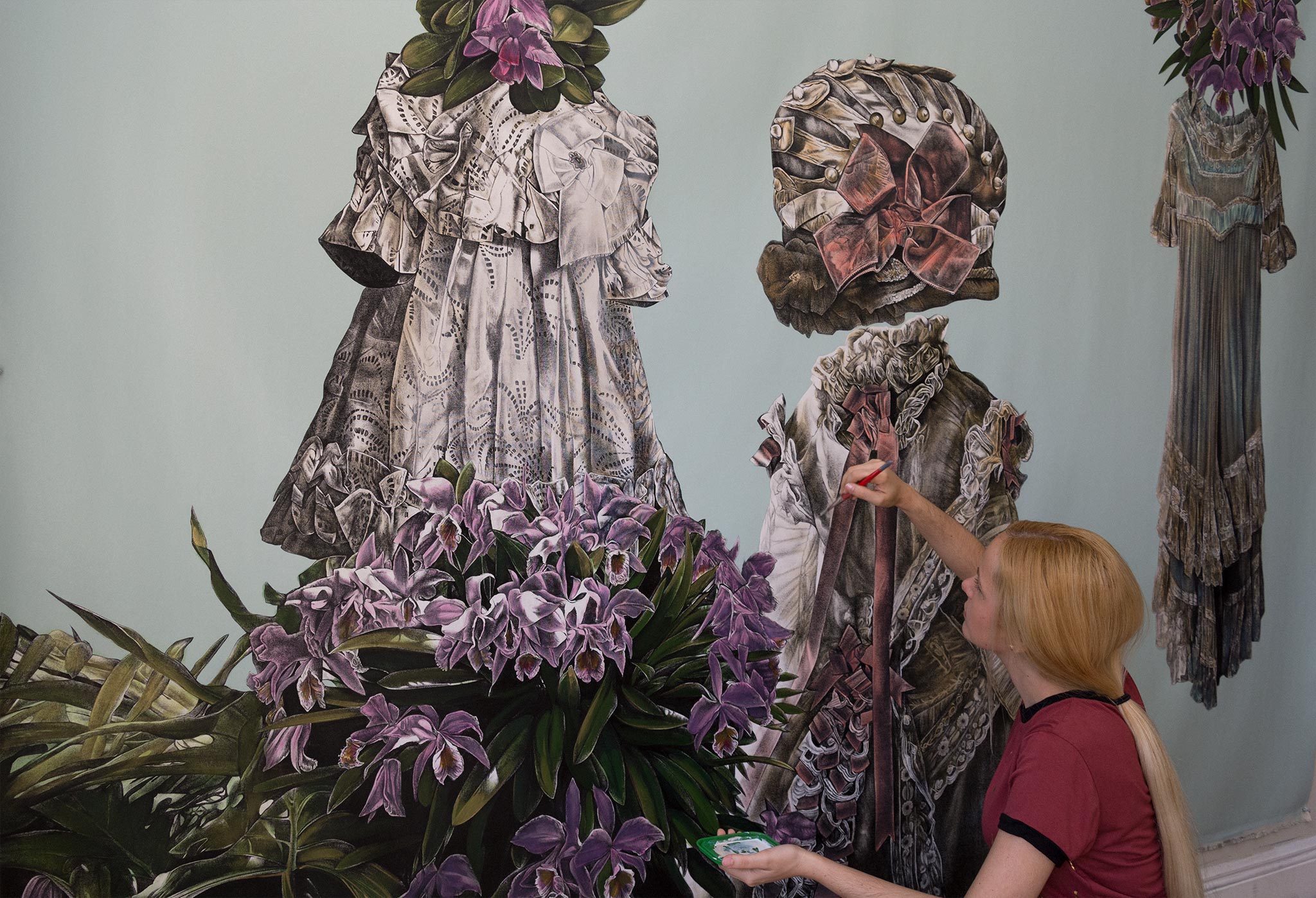 Lisyanet is a young and spirited artist. About the tattoos of roses that decorates her arm and her back she says with a smile: "They were taken from the cards we gave to my grandmother on every birthday.  We found all the cards that she kept when she passed away. Roses are a tribute to her and all that she taught me". In fact, she spent much of his childhood at home with her grandmother who raised her, because of a bone problems that prevented Lisyanet from going to school regularly like other children. 
While the parents were at work, Lisyanet's personality gradually formed between knitting, embroidery, sewing and love for stories she read that, thanks to the work of the mother, who, as a librarian, supplied her with books. "When I started to run out of books suitable for me at the age of 11, I started reading Mary Shelley's Frankenstein and Bram Stoker's Dracula ". This literature has greatly influenced Lisyanet's artistic work, teaching her that there is always a background to pain and joy behind every story, and that nothing is ever all beautiful or all ugly. Her love for books has transformed over time into the desire to write, which represents for the artist the only passion capable of competing with painting. From the stories she wrote and told, some time ago to her nephew, some of her works were born : splendid works that surround the observer, completely overwhelming by the measurements of the canvases, from the meticulousness of the details and the refinement of the subjects matter.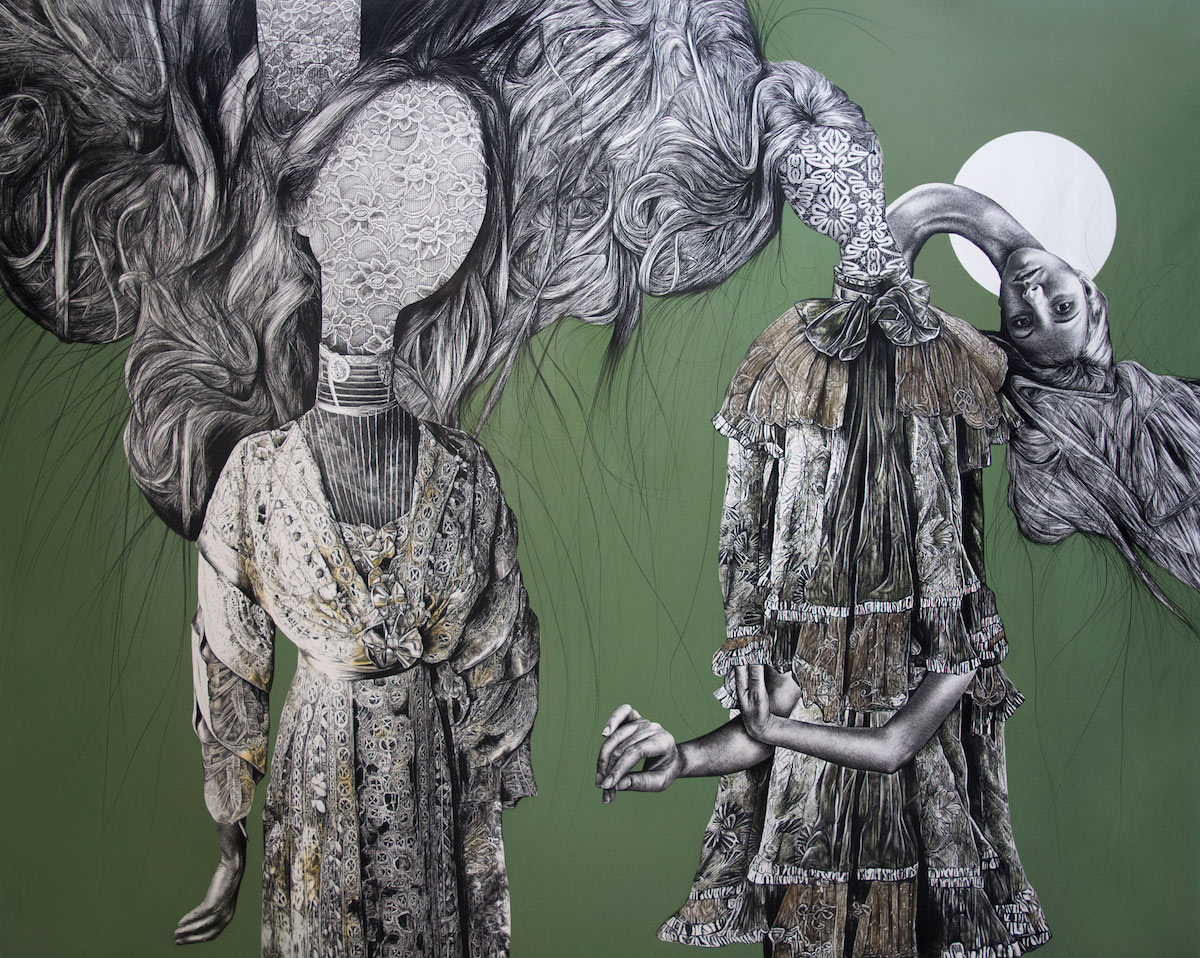 Cuban artist born in Sancti Spíritus in 1987, Lisyanet Rodriguez attended the Academy of Fine Arts in Trinidad, to graduate also in Havana, some years later, from the Higher Institute of Art (ISA). 
 Despite being a fully developed artist, hes instinct took her to cultivate  and expand her drawing technique, which currently combines charcoal, pencil and acrylic, in making large two-dimensional pieces. Lisyanet defines the ritual act of creating as: "An essential meditative exercise that knows how to be frustrating, intimidating and only sometimes really satisfactory, but at the same time absolutely necessary to my very existence, an  uncontrollable state of which I am terribly passionate ".
Lisyanet's art is an exploration of the realities of existence that can be beautiful and disturbing at the same time. It is composed of projects and experiences from the past that mix with dormant memories almost unconsciously, from which emerge characters and family scenarios but also unknown. "Every exploration of the spirit always evokes states of emotional confusion but they allow me to see the goal more as a step forward than as a result in itself", says Lisyanet.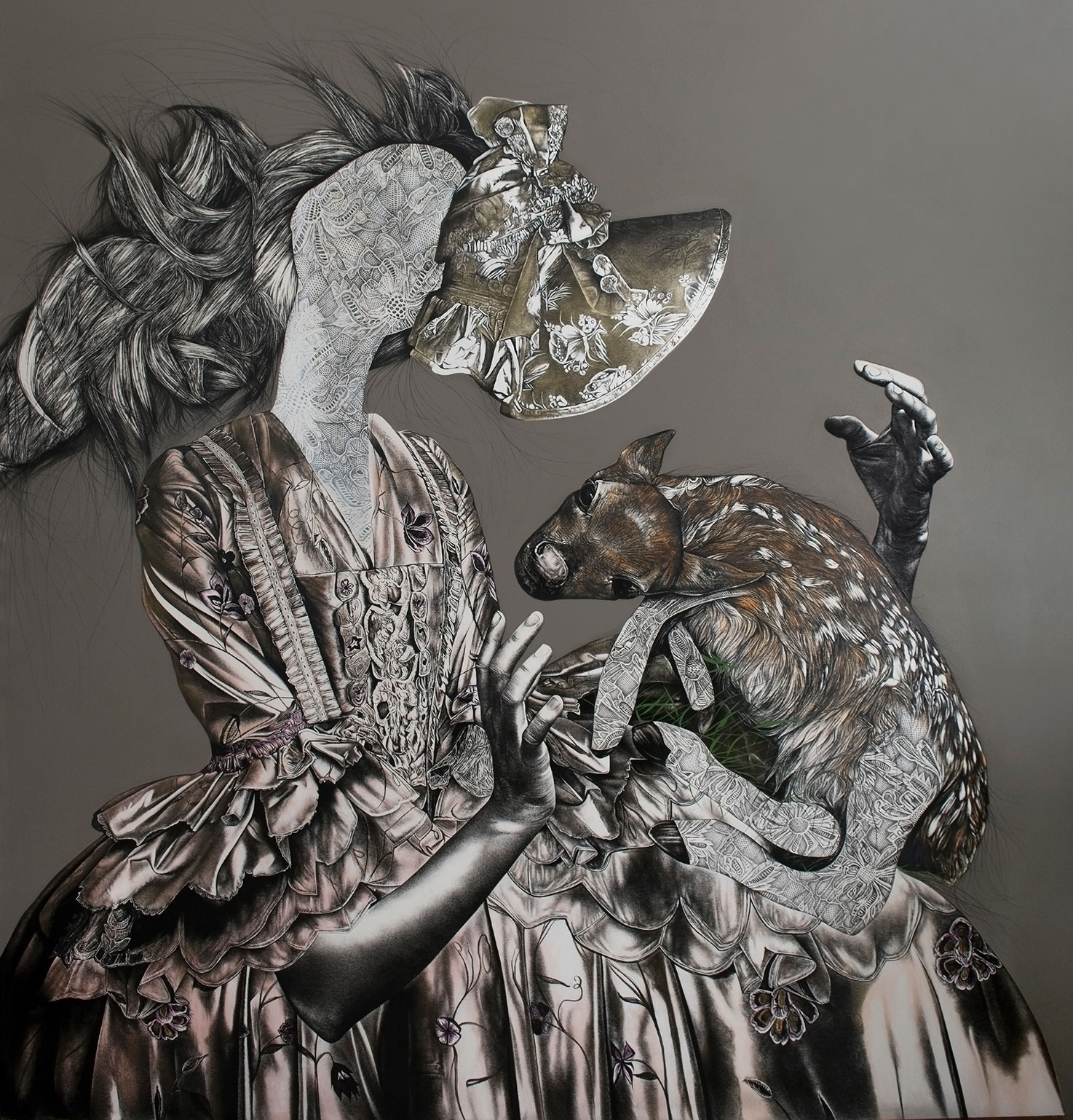 Her work is a hymn to the imperfection of the human body, to the changed corporeality that the artist exaggerates, with partially transformed bodies, figures deformed, wrinkled or scarred. Imperfect bodies that she dresses at all points with baroque and rococo clothes as if she wanted to make them look graceful by making them elegant, refined and absolutely exquisite in the beautiful-grotesque binomial. Her works become then ambiguous sensations between charm and rejection with a good dose of empathy, which float on the surface of large canvases, present but not linked to time and context, constantly searching for balance between decadence and life. Forms that do not follow logical criteria, but are based on subjective, designed associations. Hard not to be fascinated by grace and from the beauty of her works, to which she adds the refinement iridescent colors that she uses only in certain parts of the composition and which emphasize its two-dimensionality. The use of iridescent colors offers different perspectives depending on the point of view of the observer who is certain to appreciate features that change with the change of perspective. Through color Lisyanet tries to create dramatic but harmonious chromatic connections that represent  another form of camouflage, the desire for protection for those imperfect bodies. It is not unusual to find  only dresses without any body parts: the clothes become part of the deformed body, protecting it, like a second skin.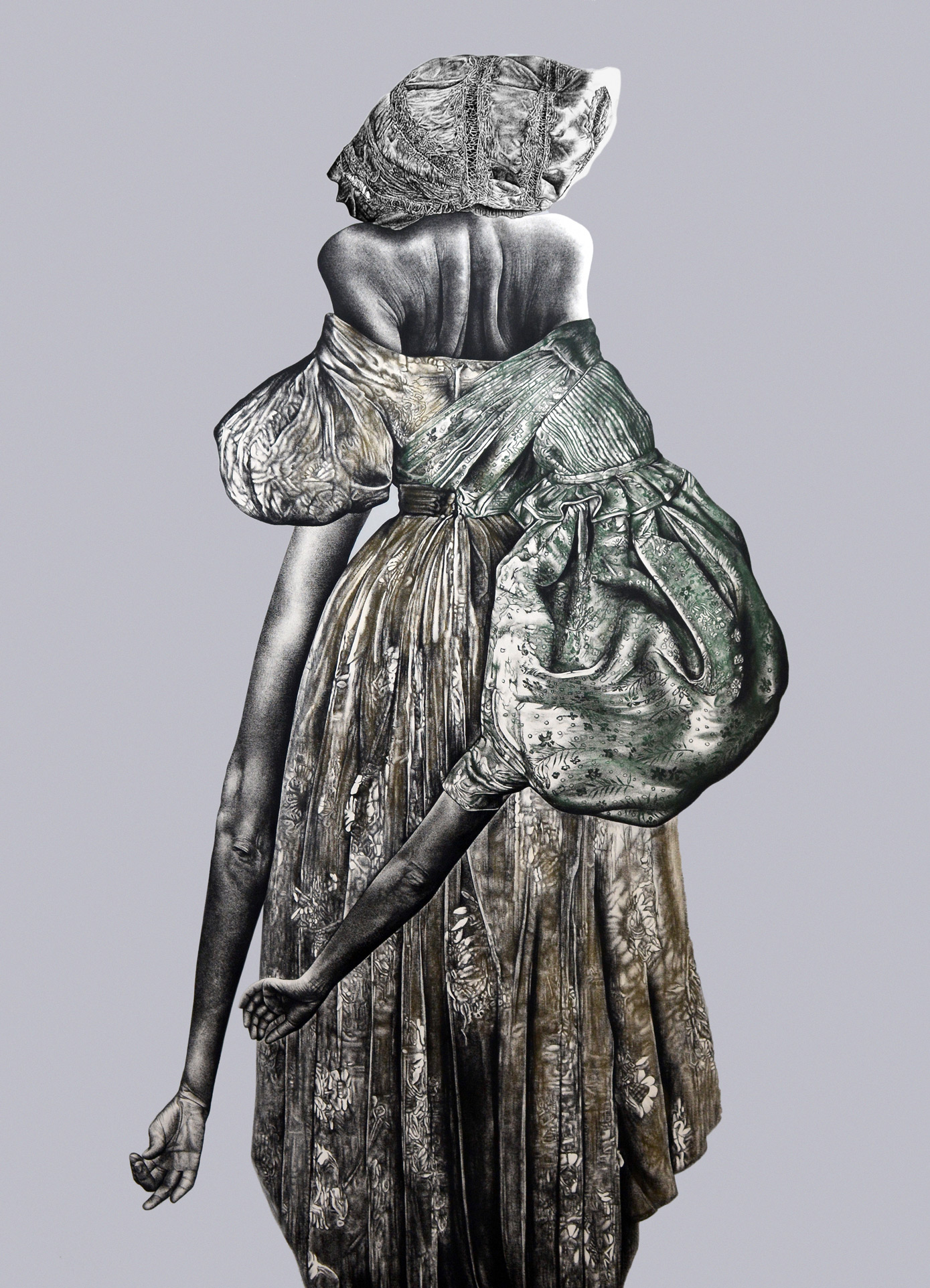 For Lisyanet the creation process goes through a complicated editing process, in which she manipulates an image until, as she says: "It feels well", pushing and pulling the elements of the digital composition, until you get a feeling that offers both movement and rest. A bit like the feeling of walking in a hallucinated world that has its own internal logic, its own dimensions and its own flow of time, calm and tumultuous at the same time.
Life observation is the most powerful inspiration for Lisyanet. It is always around the concept of life that elaborates existential questions to which the existential consciousness of 21st century requires answers: "Are there ethical limits to genetic modification? What is the experience existential of pain for certain human beings?" And again, "To what extent the forms of technological development can become aggressive and destructive? ". Lisyanet answers these questions with her works on paper and on canvas and with the sculptural representation of the characters. The sculptures are composed of a structure in metal and fabrics that combine human anatomy, animal appearance with a visual result that blurs the human-animal limits, with characters that appear to be tender, welcoming and delicious but also threatening. Each piece is a luminous ode to the abnormal. They are physically complex creatures, with transformations that illustrate our current relationship with the natural world.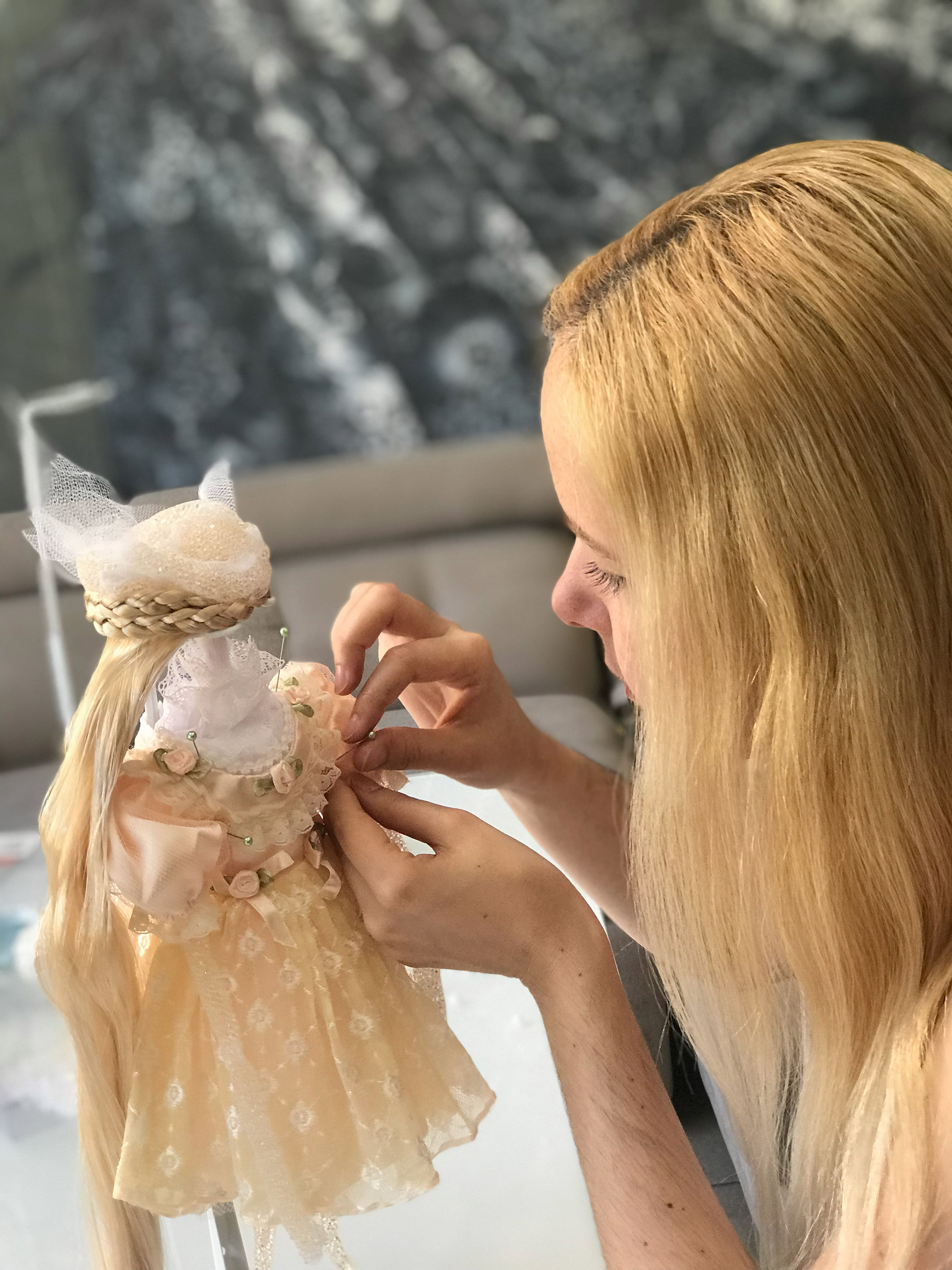 An almost surrealist hymn, which harshly emphasizes the nobility of the artistic soul that, in a world cold and totally lacking in sensitivity it represents with extreme delicacy and humility the different offering comfort to those who reflect themselves. To quote Lisyanet: "At  the end we all share the same destiny, and
the recognition of this equality can help us to get in connection with each other ".
.