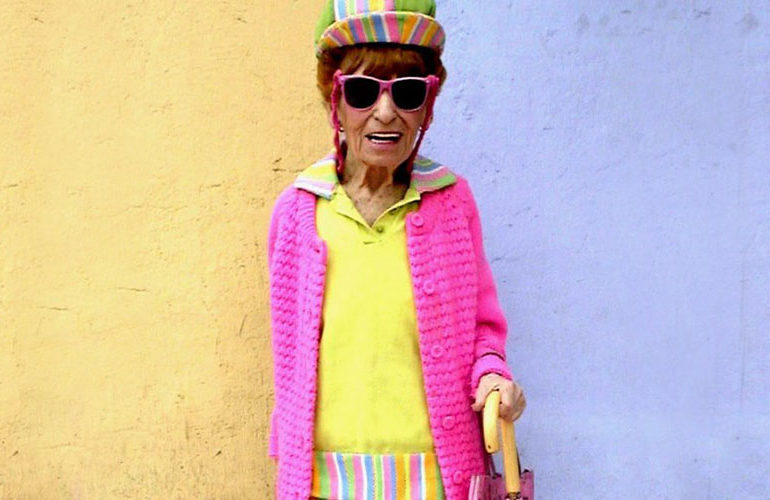 This post is also available in:

In the collective imagination, synonymous of a magical place in which characters, who already are charismatic in themselves, take shape. Irene Williams was one of these.
Named the Queen of Lincoln Road, born in 1917 in Revere, Massachusetts from a Jewish family, she lived and worked in Miami Beach, as a stenographer, from the 60s until her death in 2004. Nicknamed the queen of the Outsider Couture she stood out from the entire Miami Beach for her captivating and eclectic looks.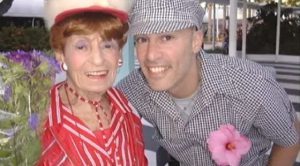 The many tourists who, intrigued and astonished, saw her walking along Lincoln Road, from one end (where she lived), to the other, where she worked, they gave Irene the perfect opportunity to show her creativity and her individualism, thus becoming a self-defined tourist attraction. The same Gianni Versace complimented the audacity in dressing and matching colors. It did not even escape the eyes of Eric Smith, designer of New York, entrepreneur and founder of E.G. Smith Socks, who was literally struck by that little character with whom he held a great multi-year friendship.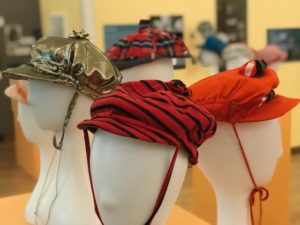 The bright miniskirts, leggings, dresses, lavender, green or lemon-yellow stockings: her outfits were impeccable, from head to toe. In particular, Irene adored hats, all strictly matching each garment. Every dress or accessory had to have a harmonious thread in color: from head to toe in an extraordinary pendant. She even used to cover her suitcase, which she called "My purple Cadillac", my purple Cadillac ": a large shopping bag with wheels, with which she used to move around the Lincoln Road. And if an accessory did not "spin" with the rest? She simply painted it giving it that shade that matched it with the outfit of the day.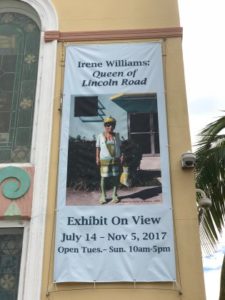 During her life she designed and created more than 100 dresses and hats strictly hand-sewn using the most unlikely fabrics. The Jewish Museum of Florida-FIU has dedicated an exhibition starting from July 17th to November 5th  2017 "Irene Williams: Queen of Lincoln Road" on the occasion of the centenary, preserving her fashion creations, especially the hats, and the memorabilia among which was her second-hand typewriter. "I was hypnotized to understand what a rare character there was in those clothes," said Eric Smith who wanted to pay homage to Irene with a film, a short, award-winning, on the occasion of what would have been her 100th birthday. "It seemed like the right way to include it in the history of Miami Beach," he said. Among the most curious pieces created by Irene there was the complete idea starting from floor mats, toilet covers and bath towels by Pierre Cardin, worn to pose for the famous photographer Annie Leibovitz who had noticed her and appreciated its electricity.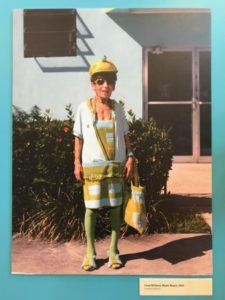 If you think of it, it makes you smile to think that Irene accepted the proposal of Leibovitz providing that the photographer committed to pay the day of installation as working hours at the typewriter. In the '60s Orson Welles himself  hired her as a stenographer while in town and she, referring to her person, addressed herself as "the secretary with the typewriter".
Smith's work aims at staring at the image of this elderly lady, bent over herself by the weight of her age in the teeming landscape of South Beach Miami, so that she can be an example of how her creativity must emerge trusting her instinct and of what each of us is able to do.