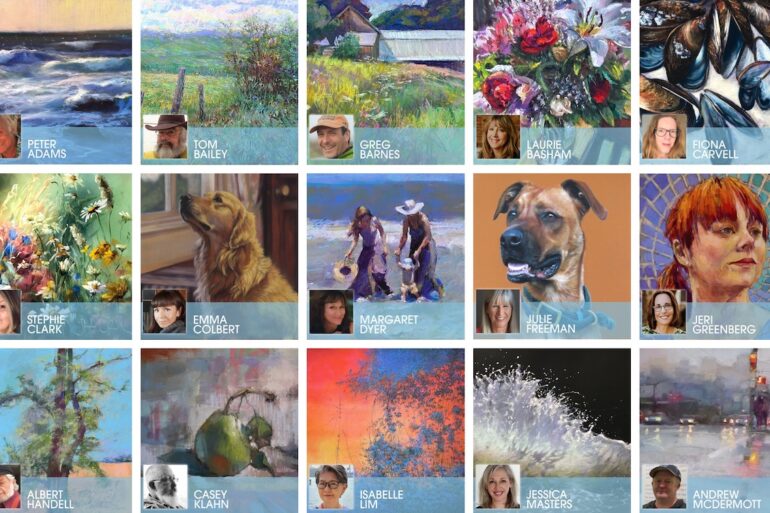 This post is also available in:

Pastel Live, the virtual convention entirely dedicated to the art of pastel is upon us.
Now in its third year, Pastel Live, which will be conducted as always by Eric Rhoads and Gail Sibley, boasts the participation of more than twenty-five internationally renowned artists. 
This is no small opportunity as they will show you exactly their approach, technique and strategy that led them to success, saving you years and years of study and practice.
And this is what make Pastel Live the premier pastel art event to invest in.
In addition to faculty members, there will be sharing time during the "breakout rooms" and the "paint along/cocktail hour" – recommended for the daredevil!- during which to meet new artists and faculty members with whom to share thoughts and words. 
The sponsors also with their technical lectures, or practical demonstrations entrusted to the skilled hands of renowned artists, will offer interesting insights related to the products on the market and their use as well as valuable prizes distributed by Eric Rhoads to the lucky winners.
Among the faculty members of the third edition of Pastel Live will be Laurie Basham who will do a session on materials; Vianna Szabo who will deal with "mark making"; Jessica Masters who will address the topic of values while Teresa Saia will deal with the "Use of Expressive Color" and Gail Sibley will talk about the importance of drawing.
As for the demonstration sessions, which will range as usual over all art genres, there will be still life demonstrations by Fiona Carvell, Casey Klahn, Jeri Greenberg, Stephie Clark; portrait and figurative art demonstrations by: Wendy Shalen, Margaret Dyer, Christine Swann, William A Schneider, Corey Pitkin; and landscape demonstrations by: Albert Handell, Thomas Bailey, Greg Barnes, Peter Adams, Isabelle Lim, Aaron Schuerr and Andrew McDermott.
Because of the interest shown by the audience regarding animal representation there will be also two specific demonstrations on the topic, given by Julie Freeman and Emma Colbert, who will introduce animal representation in landscape.
The wonderful Jill Stefani Wagner will also demonstrate a landscape at night while Laura Pollack will address abstract painting. 
Give yourself a gift, sign up for Pastel Live and be part of this incredible experience that can change your life and career, sign up at the following link:
Miami Niche will accompany you, once again, on this incredible adventure, follow us.