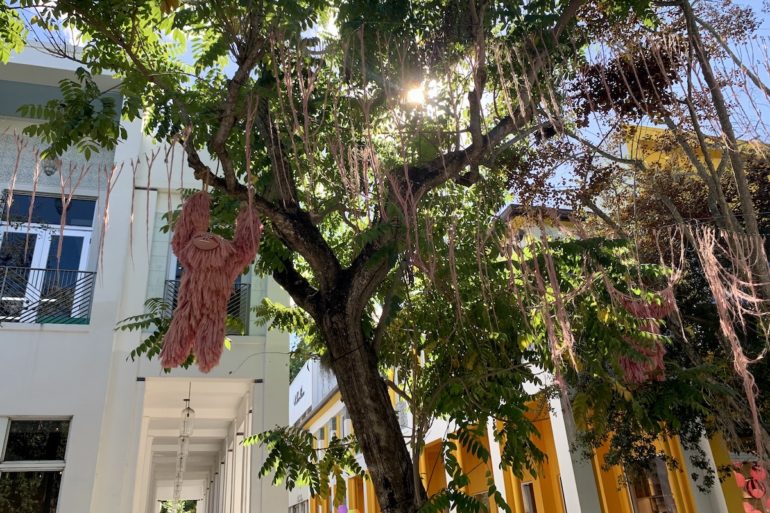 This post is also available in:

The answer comes directly from Design Miami, the most anticipated design fair of the year that travels to Art Basel and is among the most celebrated events during Miami Art Week. The strange Pink Beasts that are seen at this time hanging from the lianas in the Palm Court, along the streets of the Design District or suspended from the arches of the Paseo Ponti, are the work of the Mexican artist Fernando Laposse and they are sloths.
The exceptional fact of this installation is that it is composed entirely of sisal, a plant fiber of native species, obtained from the extraction and drying of the fibers contained in the carnose agave leaves. The Mexican designer, a fervent supporter of sustainable artisan traditions, created the work in collaboration with the fiber artist, Angela Damman, who works closely with the artisans of Sacaban, Yucatan.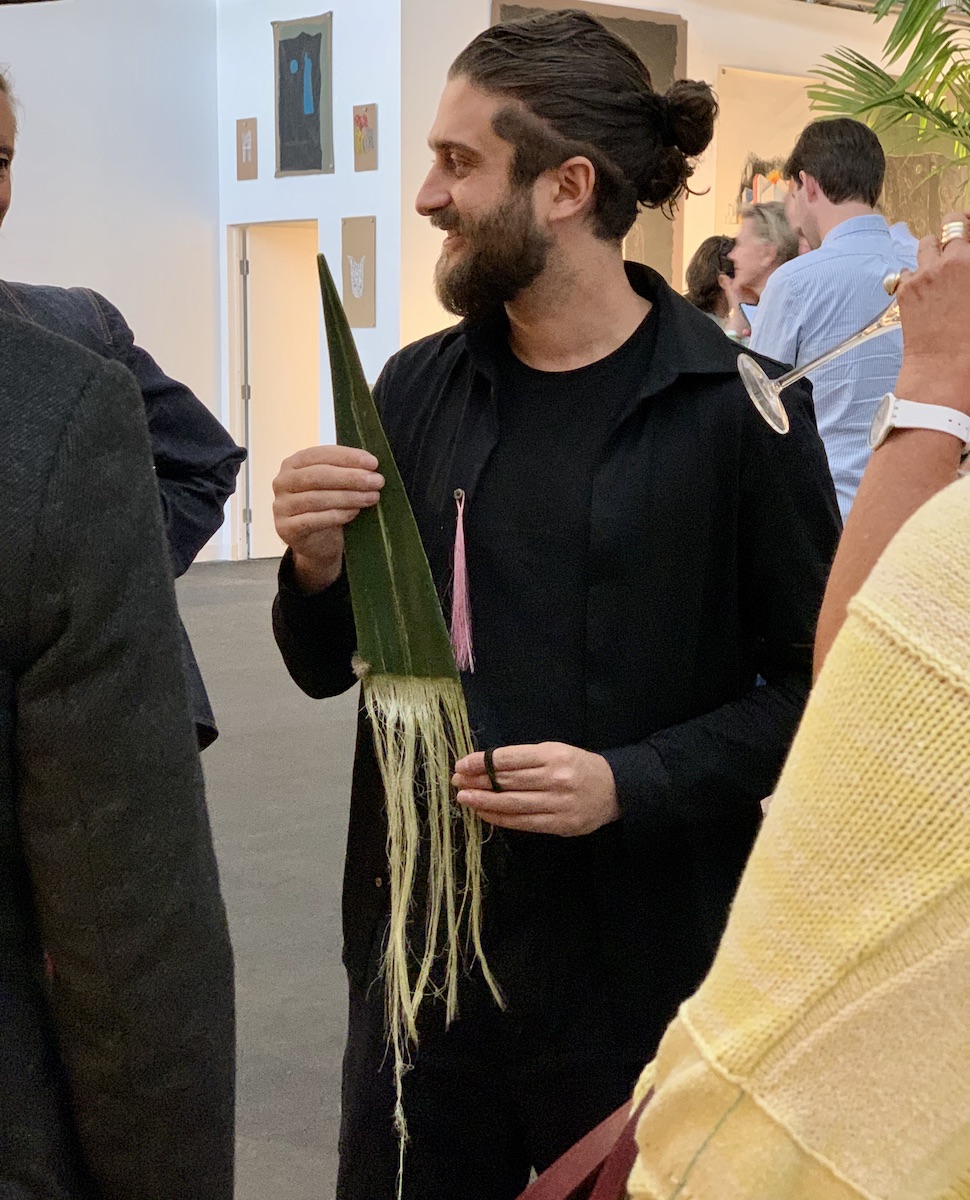 Wonder within the wonder is the fact that the coloration of the fibers is made pink thanks to the fact that they are boiled in a substance produced by the Cochineal a very small parasitic insect, native to Central America and belonging to the family of Coccoidea. The cochineal secretes a very dense and intensely colored liquid that it uses as a casing to protect itself from predators and the color produced is the brightest natural red dye in the world, originally used by the Aztecs as a symbol of luxury. To produce a kilogram of dye, about 80-100 thousand insects are raised on an organic farm in the mountains of Oaxaca, Mexico. In particular, to obtain the pink coloring of the sloths and the ten hams present in the Palm Court, which refer to the iconic pink color of Miami from the 1930s/40s, a dilution of color with lemon juice and baking soda was used.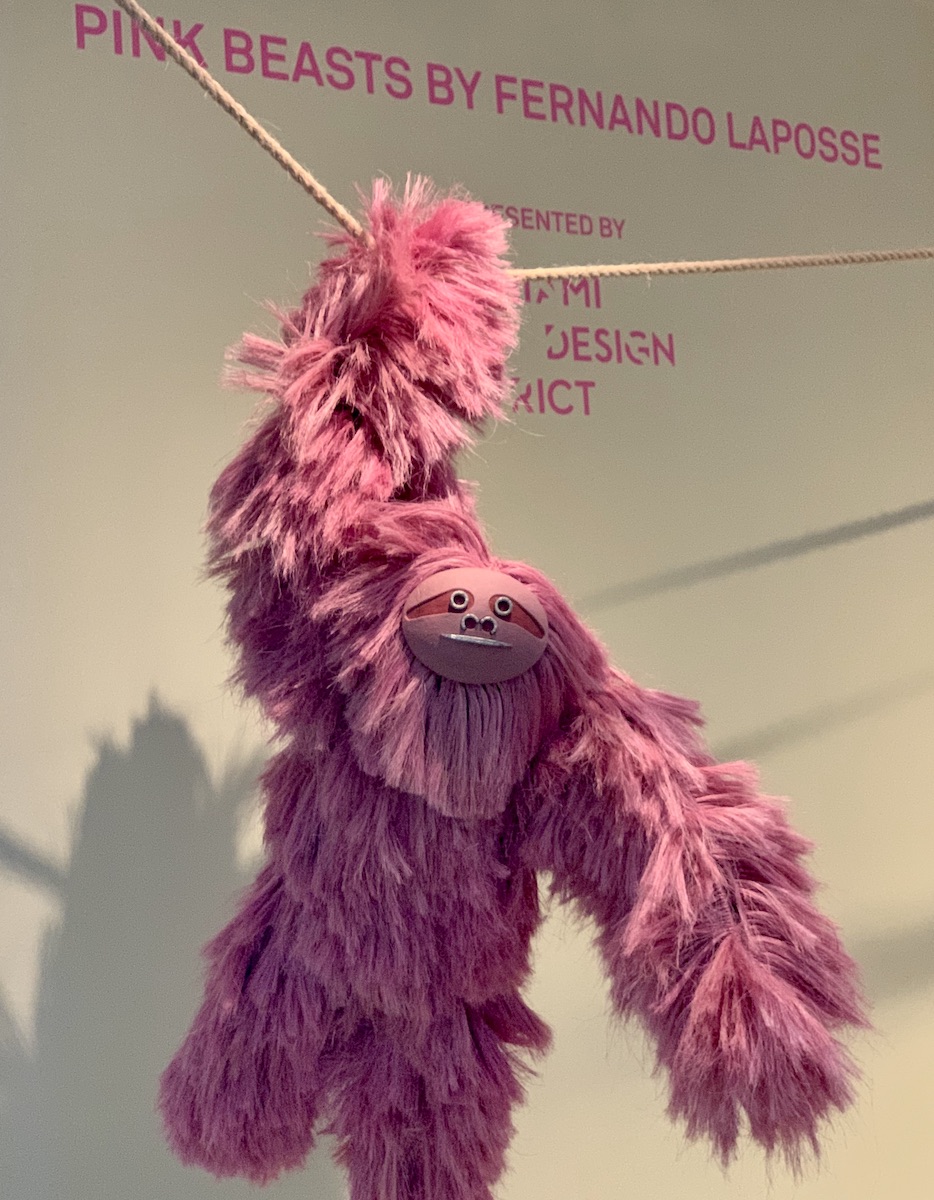 The installation is what the Mexican designer, who has a degree in Product Design, from Central Saint Martins – University of the Arts in London, which he calls Endemic Design, because  the composition of materials and their historical and cultural connotations are at the heart of the scene, in this case of Mexico, his native land.
The production of Fernando Laposse, whose work was handcrafted by a community of Mayan weavers in Yucatan, is based on the transformation of humble natural materials most often considered waste of refined design pieces, and it is not limited to the art installation, it also consists of benches and hammocks as exhibited by Ago Projects at Design Miami with locations in Mexico City and Greenwich Village in New York.
.