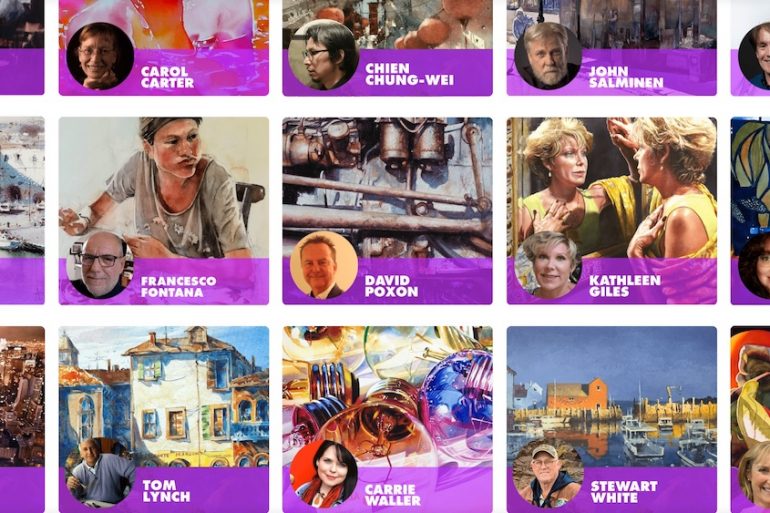 This post is also available in:


An old proverb states: new year, new life, a precept to which you can make an exception if the new year begins with Watercolor Live. 
Now in its second year, Watercolor Live has become the world's largest watercolor art education event. Conceived, as always, by the unstoppable Eric Rhoads, assisted by his team and Kelly Kane the event will be online from January 27 to 29, 2022. The official convention will begin the day after the "beginner's day" on January 26th, an optional but strongly recommended training day, to best benefit from the concepts imparted by the teaching artists. The beginner's day is recommended both to those who for the first time try their hand at watercolor technique and to those who wish to explore topics related to: composition, color, materials, values, techniques and special effects. Topics that will be addressed not only under the theoretical aspect, but also from a practical point of view with demonstrations of portrait, still life and landscape.
During the entire convention, there will be more than thirty artists present. Among the names already announced are: Sarah Simon, Wennie Huang, Vic Hollins, Julie Gilbert Pollard, Birgit O'Connor, Susan Blackwood, Richie Vios, Carol McSweeney, Kathleen Alexander, Poppy Balser, Joe Miller, Alvaro Castagnet , Francesco Fontana, Paul Jackson, Tom Lynch, Carol Carter, Michael Holter, Amit Kapoor, Kathleen Giles, Stewart White, Chien Chung-Wei, Cindy Baron, David Poxon, Laurie Goldstein-Warren, Carrie Waller, Thomas Schaller. 
In the different demonstrations, the artists will offer participants their techniques, the fruit of years of theoretical and practical study, revealing their tricks and secrets. Art historian Jean Stern will also present the history of watercolor, while John Salminen, an artist best known for his realistic urban landscapes, will direct the critical session of selected works presented by the participants. 
In addition to the artists, there will be the platinum sponsors of the event who, in addition to presenting the new products on the market, will hold real technical training sessions. Among them are: Pierre Guidetti, inimitable face of Savoir-Faire, Jeff Olson for Royal Talens and Joe Miller of Cheap Joe's Art Supplies in addition to Blick Art Materials and Laguna Plein Air Painters Association.
As in all the events organized by Eric Rhoads, great importance is given to moments of conviviality during which participants, by accessing Zoom, have the opportunity to make friends and share information. This happens both during the daily "breakout rooms" and in the post-day training with the "Paint Along/Cocktail Hour": during which participants can socialize while sipping a drink and representing a single subject made available for the evening.
If science holds that art is a process that can be learned by anyone, and you can get there 10 times faster if you follow the proven techniques of established artists, what are you waiting for to sign up? Become part of history with Watercolor Live and benefit from a discount ranging from $200 to $300 off the value of the convention-$100 off the cost of the Beginner's Day-available until January 23 clicking the image below.
Those who know the events organized by Eric Rhoads can only guarantee their success, however Rhoads is willing to refund the money spent in case a participant is not 100% satisfied.  What are you waiting for?