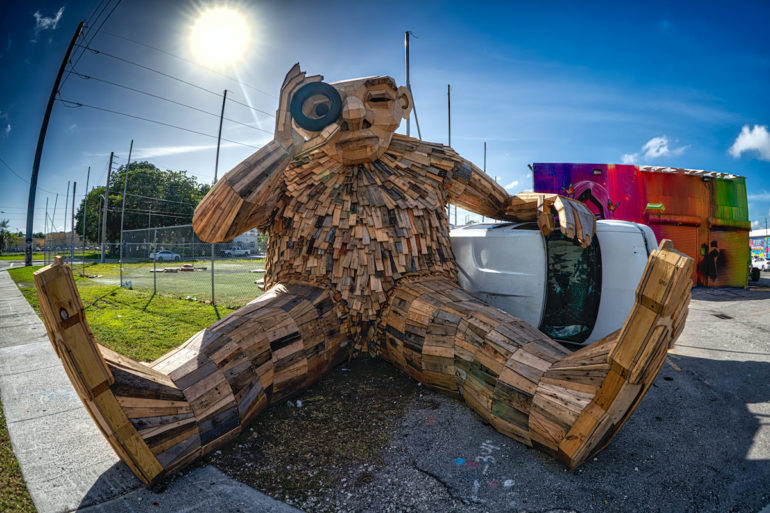 This post is also available in:


The giant sculpture "appeared", literally, one morning during Miami Art Week on the corner of 5th Street in Wynwood, is the work of Danish artist Thomas Dambo. Away from the hustle and bustle of 2nd Avenue, the work has been implemented since July 2019 and then moved to its final location. Dambo is a Danish artist who lives and works in Copenhagen and has a graffiti artist background. After presenting his graduation project at the Danish Design School in Kolding: an installation initially designed for interiors, he decided to extend the "Happy Walls" project outdoors and on a large scale. Happy Walls, present in many cities around the world, including Las Vegas, is an installation composed of 289 wooden blocks, representing the pixels, and placed on rows of various colors can be turned upside down to create words or phrases. The hashtag #happywall now has more than 17,000 photos on Instagram.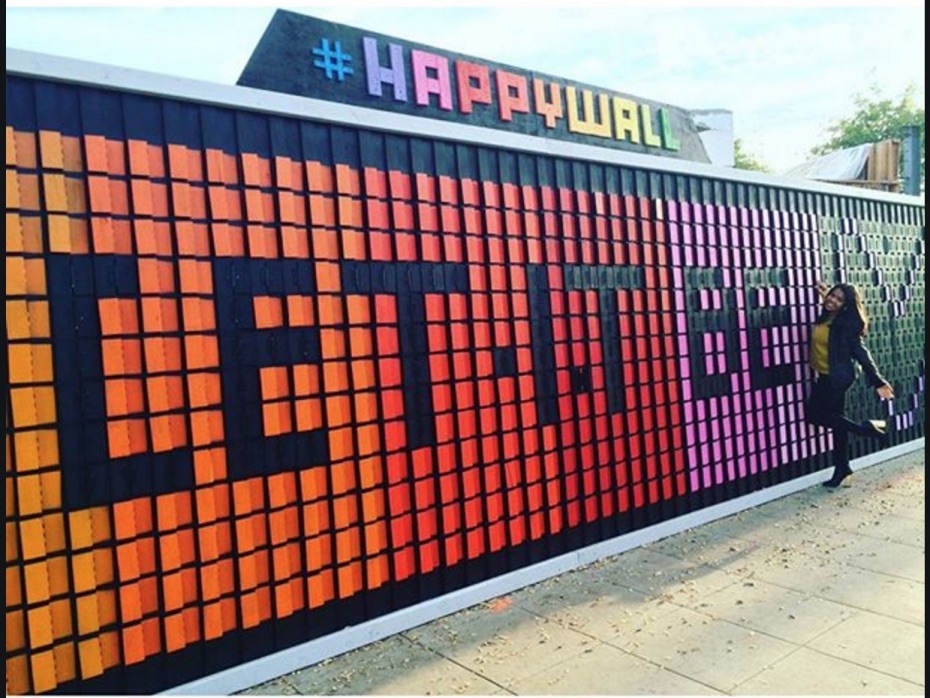 After graduation he decided to focus his skills on works that people can understand: "Not everyone understands graffiti, but even my grandmother understands the purpose of birdhouses",  said Dambo. With the project "Happy City Birds", based on bird houses and started in 2006, Dambo has created over 3500 houses with which he has also covered the walls of large buildings, composing them as if they were murals.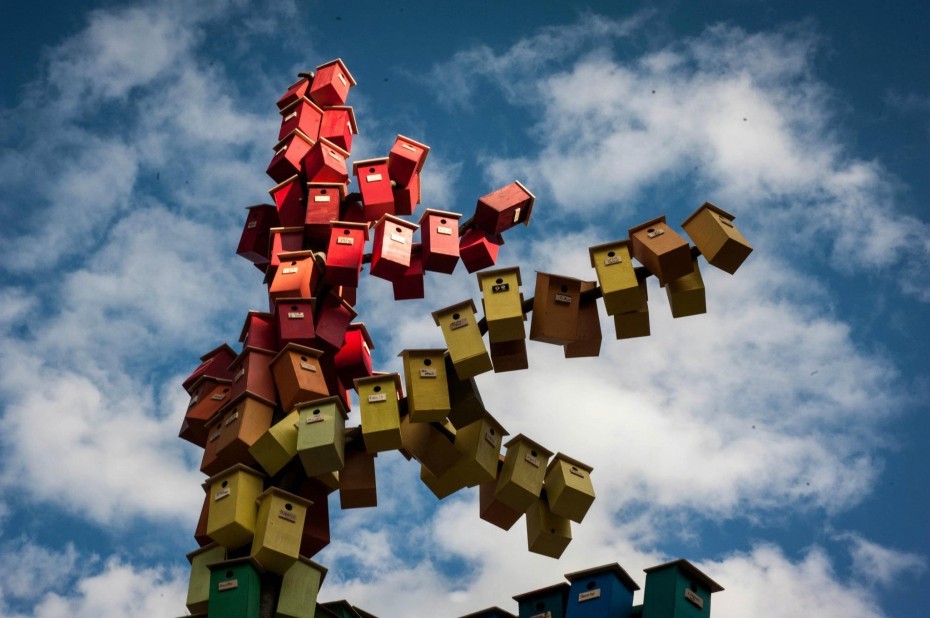 But his biggest and most "proactive" project is undoubtedly that of the "Giant Trolls" (giant trolls), of which the sculpture in Wynwood is part. The Giant Trolls are wood carvings, several meters high, that the artist makes using only waste wood, garbage and recycled materials, which are found around the city's garbage bins: "Our planet is drowning in waste and something must be done to create awareness of this huge problem," says Thomas Dambo.  The project carried out in Wynwood: "Joen the Troll" as well as the one in Pincrest Gardens, "Terje, Vertha and the Banian Tree", also in Miami, are part of this magnificent and ambitious project started years ago with the construction of "The Six Forgotten Giants" (The Six Forgotten Giants) built in different areas, and completely surrounded by nature, in the western part of Copenhagen.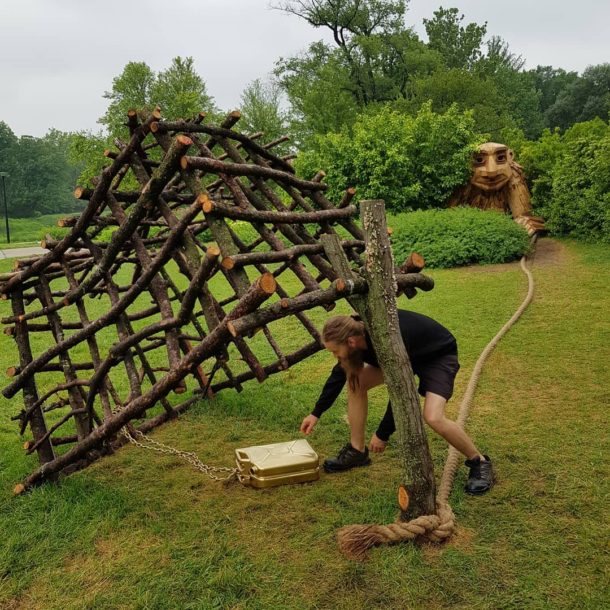 A project with which Dambo not only wants to take art out of the museum, but also invites spectators to go on a treasure hunt, not only to see the sculptures, but also to discover the gems hidden in nature. His works are in fact difficult to place in frenetic or densely populated environments to which he prefers solitary environments. The sculptures are a hymn to fantasy, discovery and interaction (in some sculptures it is possible to enter and play, becoming the favourite place for children). Dambo, also wants to inspire people to have fun and to think of garbage as a resource, for this reason he is helped in the realization of his works by volunteers who often inspire the artist to give the name to the sculpture. One example is the case of Kangaroo Kat, the sculpture made in Australia in the shape of a kangaroo: the name Kat was given in honour of a girl who volunteered to help Thomas and his team: "a great worker who always spread good vibrations and one day she even made tacos for the team," says Dambo.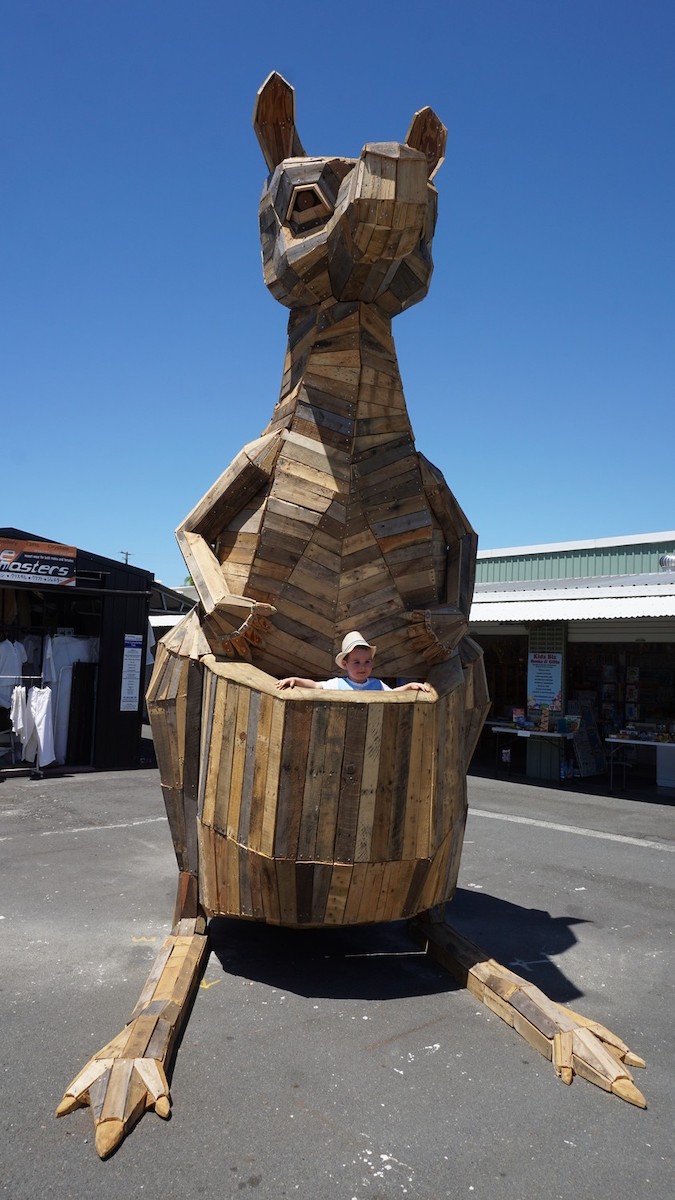 In the realization Dambo always inserts a funny component that hides a warning for us humans that need to protect the world, is this for example the case of "Furry Ema" or "Sneaky Socks Alexa" the sculpture in which: "Alexa loves to deceive humans: watching humans for many years, she learned that they love nothing but gasoline and gold, so now she has created the trap for them", says Dambo in reference to the sculpture, composed by a big and funny troll engaged in the act of catching humans inside a rat trap where he put a golden tank of gasoline. In this strange summer of 2020, Thomas Dambo created "The Journey to The Giant Troldefolkefest": 10 new troll sculptures in secret places in Denmark to be discovered on a giant treasure hunt. If you're in the neighborhood or have the chance to take a trip to Denmark, don't miss it. If you want to see his works, scattered all over the world, you just have to visit his website https://thomasdambo.com, where you'll find the map with the geolocation of his sculptures.  
from the title: Joen and the Giant Beetle by Thomas Dambo, 2019. Wynwood Walls, Miami
.