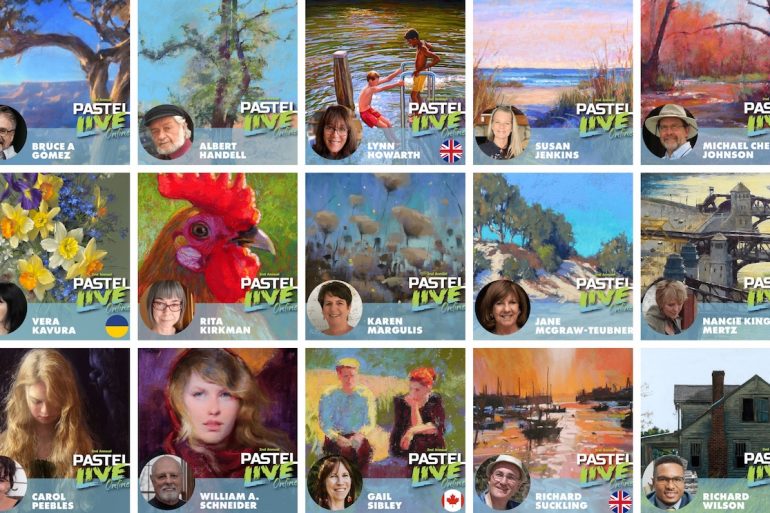 This post is also available in:


From August 18th to 20th, the second edition of Pastel Live, the exclusive event entirely dedicated to the art of pastel, returns by popular demand.
Pastel is an artistic medium born centuries ago and used by multiple artists, among them:  Leonardo da Vinci who mentioned it in the Codex Atlanticus, and the Flemish artist Jean Clouet expanded its use by making it a true art form, not aimed only at making preparatory sketches.
Nowadays, the multifaceted entrepreneur of Disneyland for artists, Eric Rhoads, founder and CEO of Streamline Publishing, provides for this event some of the most renowned artists in the international art scene who, with the experience gained through years of practice, will offer participants, not only the teachings but also the tips learned over the years. 
Joining Eric Rhoads this year will be a special presenter: Gail Sibley, a professional artist, blogger and teacher from the Canadian West Coast.
No matter if you are a lover of plein air, portraiture, floral art or still life, there will be demonstrations of all genres during the convention that will make you love this powerful medium of expression as vibrant as it is evocative. 
During the three-day convention, to which you can add the optional training day-entirely dedicated to the basics of pastel-participants will learn not only how to use the medium optimally, but also how to exhibit and sell your art. 
Artists participating in the second edition of Pastel Live will include Albert Handell, William A. Schneider, Michele Ashby, Brenda Boylan, Tom Christopher, Doug Dawson, Christine Debrosky, Lyn Diefenbach, Jen Evenhus, Bethany Fields, Michael Freeman, Suzanne Godbout, Bruce A. Gomez, Lynn Howart, Susan Jenckins, Michael Chelsey Johnson, Vera Kavura, Rita Kirkman, Karen Margulis, Jane McGraw-Teubner, Nency King Mertz,Carol Peebles, Gail Sibley, Richard Suckling and Richars D. Wilson, Jr. and Greg Barnes.
Join Eric Rhoads, the many sponsors and the extraordinary team at Streamline Publishing by staying in the comfort of your armchair at home, putting yourself to work in front of your easel or enjoying the luxury of looking back over and over again at a difficult-to-make demonstration or passage. In fact, Pastel Live offers you the opportunity to review events for a defined amount of time based on the type of subscription you make, varying from one week, to two months or one year.
We invite you to enjoy Pastel Live and subscribe you at the following link: 
https://pastellive.com/pastel2022?affiliate_id=3617854 
Miami Niche will be with you as usually in the daily diary made especially for you.
For those of you who are in disbelief or hesitant Eric Rhoads, as a guarantee of assured success, puts himself out there and is willing to refund you if you are not satisfied.
All you have to do is try it and let the excitement wash over you-you won't be able to do without it.