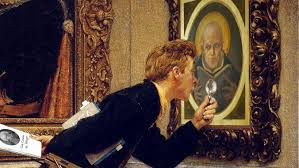 This post is also available in:

Slow Art Day is a global artistic event that aims to encourage people to discover for themselves the joy of looking and loving art. In consideration of the fact that it has been scientifically proven that the average time spent in front of a work of art is about 27 seconds it is clear that quality is the component that counts, not quantity.
The initiative starts from Phil Terry in 2008 who decides to do an experiment that can help change the perspective of a work of art: not looking at works as a whole but focusing on certain works in order to be able to grasp the nuances that would otherwise escape. The feedback was so positive that it brought Phil Terry to create a movement on a global scale, Slow Art Day.
The initiative, totally against the current social-mail perspective, has seen the participation of museums from all over the world, including Antarctica, which have organized over 1,500 events on the Slow Art Day, set for this year for April 6. The initiative, made in collaboration between the participating museum and the Slow Art Day consists of a certain number of art pieces, selected by the curator of the museum, that visitors are required to observe a set time, after which a discussion follows .
The museums that have so far participated in the initiative are the Patricia & Phillip Frost Art Museum-FIU which will activate a particular modality that combines yoga, by the FIU professor Dr. Andrea Seidel, with the painting Mandala, while the discussion on the works of art on display will be closed by the awareness research activity with the head of the FIU wellness program, Nathan Burandt and the Wolfsonian Museum in Miami Beach, which is planning a day to be discovered.