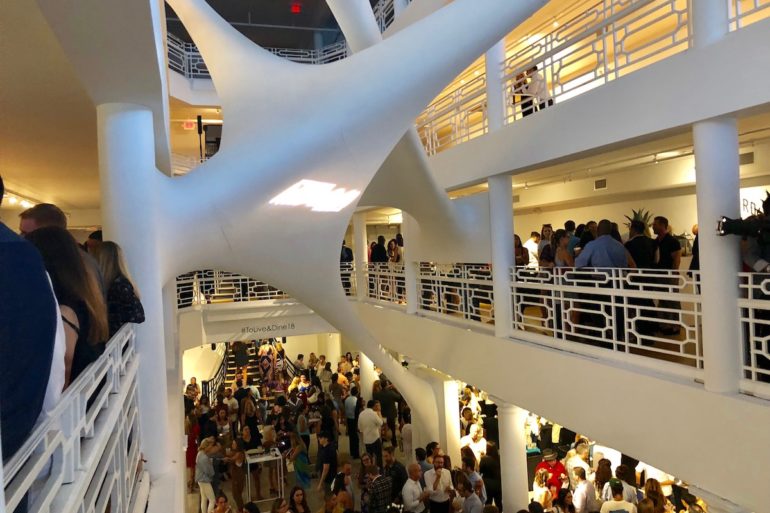 This post is also available in:

In the heart of the Miami Design District, the Moore Building is a historic building built in 1921 as a space for the lobby of the Moore and Sons furniture showroom, which was joined in 2005 by the extraordinary work of the architect, winner of the Pritzker Prize in 2004, Zaha Hadid,: Elastika.
The work was commissioned by Craig Robins, CEO of Darka, co-creator and co-founder of the Design District of Miami, and creator of Design Miami, who wanted a site-specific installation at Art Basel Miami Beach. Elastika represents one of the key concepts of Zaha Hadid's architecture for fluid forms and multiple points of perspective thanks to the diagonals without 90-degree angles that seem to take shape from the same walls. A structure able to fit perfectly into the Art Deco context of the building and to completely break its canons. The original building is entirely in parquet spread over four floors of porch spaces with a total area of ​​21,000 square feet (about 2000 square meters) able to accommodate about 2,250 people standing and 1,100 people for events that require the session.
Home to many events, private parties and receptions, The Moore Building hosted the To Live and Dine 2018: the best of the culinary experience in the Miami panorama on its tenth birthday, which also celebrates the release of Miami Magazine -Modern Luxury of July / August. The culinary event entertained guests by tasting bites of 20 of Miami's top 50 chefs, full of creativity and experimentation, and allowed them to collect school materials to support the Chapman Partnership's Children and Family.
.
.
At the Miami Magazine sponsored event, they participated: Bazaar Mar, Beaker and Gray, South Boulud, Byblos, Chotto Matte, Diez y Sei, Restaurant Ban, Ember, Essensia Restaurant and Lounge, Etaru, Fi'lia, Glass and Vine, Habitat , Kaido, Katsuya, La Central, Lobster Bar Sea Grill, Mason, Matador Room, Pubbelly Sushi, Skorpios, Soul Tavern, Stiltsville Fish Bar, Stubborn Seed, The Local House, The Strand Bar and Grill and Yardbird.
.