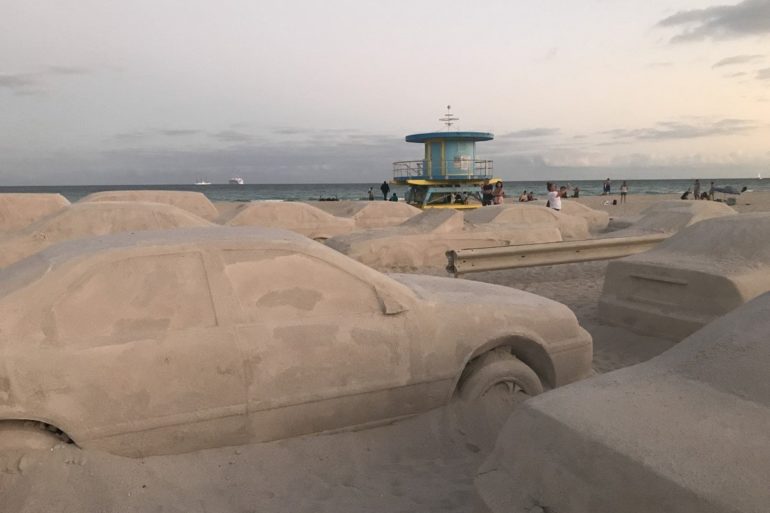 This post is also available in:

The city of Miami celebrates Miami Art Week with the monumental site-specific installation of the Order of Importance by Argentine conceptual artist Leandro Erlich. 
The temporary installation, entirely in sand, represents Miami Beach traffic in the 21st century: 66 full-size vehicles, including cars and trucks, queuing at an imaginary stand. The work will remain on the run until 15 December. 
An installation wanted by the city of Miami Beach, which has always been committed to supporting and developing quality programs, aimed at improving Miami Beach's institutions and cultural and tourism infrastructure with some of the most progressive public art programs in the world. 
The curator of the installation, who has worked closely with the head of cultural affairs of the City of Miami Beach, is the renowned Ximena Caminos, who says about the role of curator: "My goal is to create acts of urban acupuncture that harness the power of art as a tool for change to promote cross-pollination of ideas and civic engagement through the public." Ximena Caminos has a long experience behind her: former artistic director and president of Faena Art & Partner and CCO of the award-winning Faena Group (as well as ex-wife of the man in white, Alan Faena)  she was recently named Artistic Planner Visionary for The Underline , the largest public art project in the United States. Speaking about Leandro Erlich, Ximena Caminos said: "Erlich has an extraordinary ability to encourage us to pause for reflection on how we see the world around us. The work is the image of a contemporary Pompeii or a future relic, which also alludes to our fragile position in the great universal canvas."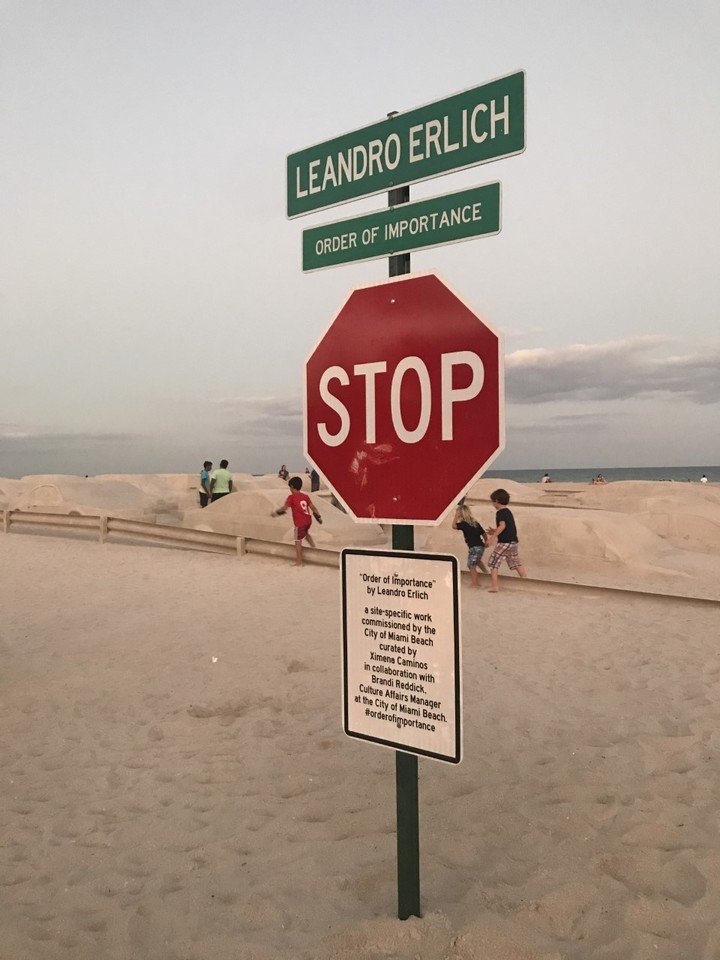 The work, in terms of greatness for the Argentine artist who combines elements of architecture, sculpture and theatre, wants to stop the viewer to gaze on what surrounds him: a pause for reflection on the world, about which the artist declares: "The climate change and its consequences are no longer a matter of perspective or opinion as the climate crisis has become an objective problem that requires immediate solutions and as an artist, they are constantly fighting to make people aware of this reality." 
The world-class artist boasts installations and works exhibited in both museums and private collections and has become the first non-Chinese artist to occupy the entire exhibition space at the CAFAM -Central Academy of Fine Arts in Beijing – with the show The Confines of The Great Void. 
A work of surreal beauty and poetry as well as an invitation to reflect, realized in one of the tourist destinations par excellence, committed to the front row for the protection of the sea and the environment.