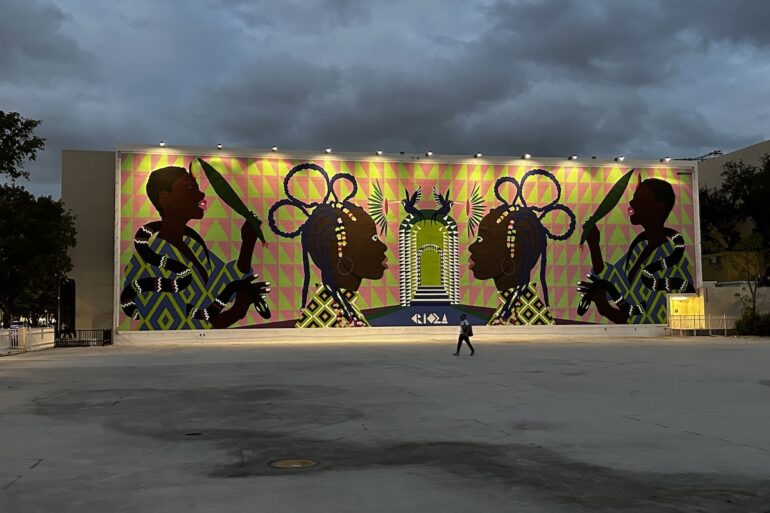 This post is also available in:

A stop at the Jungle Plaza in the famed Miami Design District is also an opportunity to see the largest then life mural -measuring 39 x 137 feet- by Brazilian artist Lidia, AKA Criola.
"Street art reaches where conventional art dares not go," declares the Afro-Brazilian artist who began painting when she was still a child, later graduating in Fashion Design from the Federal University of Minas Gerais. An element the latter plays a key role in each of her works in which the use of colorful and vibrant patterns and textures serve as an amalgam for storytelling.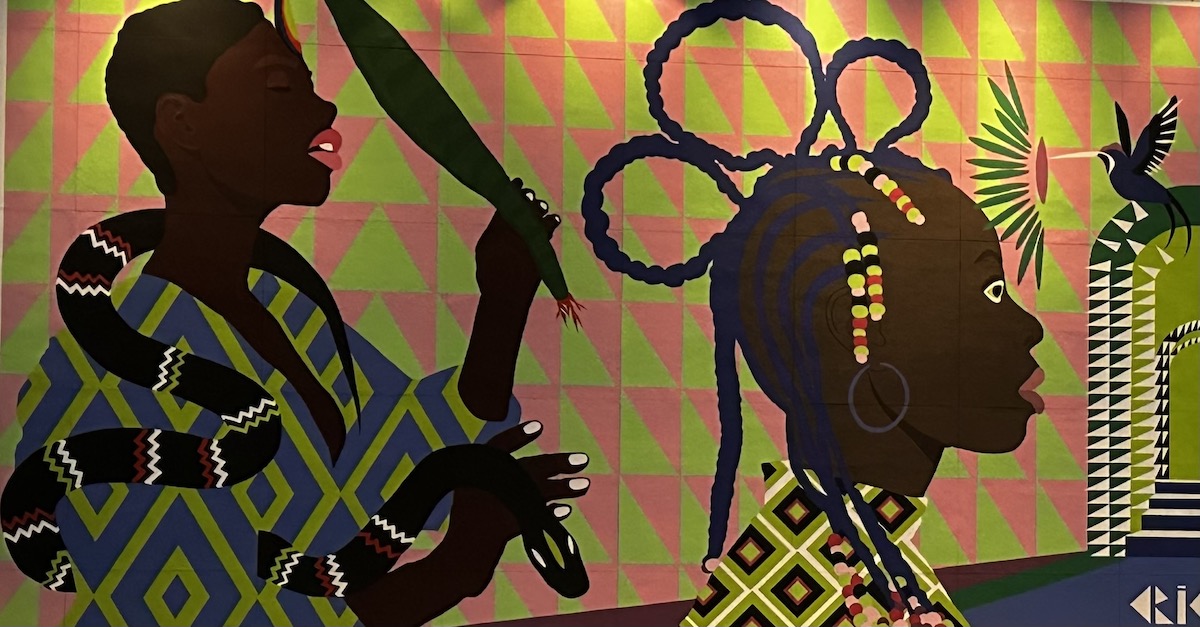 Her works address issues related to social justice and the African diaspora by denouncing racism and repression in all its forms and by referencing ancestral archetypes to question contemporary issues in which the role of women plays a defining role in society.
"Interdimensional Portal" features two black female figures, arranged in profile in a symmetrical mirror image, coming together in the central portal. The geometric composition is enriched by the typical elements of the Afro-Brazilian syncretic religion of Candomblé, the religion born out of a process of syncretism between the different traditional religions of West Africa and the Roman Catholic religion of Christianity: hummingbirds, snakes, and serpentenella plants. All of which emphasize, as is his wont, reflection about the triad: ancestry, spirituality and nature. 
Criola -considered a spokeswoman for the new generation of female visual artists who use graffiti as a tool for affirmation and empowerment of women, and her "Interdimensional Portal," await you in Jungle Plaza, Miami Design District.
(on the title, Interdimensional Portal by Criola in Jungle Plaza, Miami Design District)