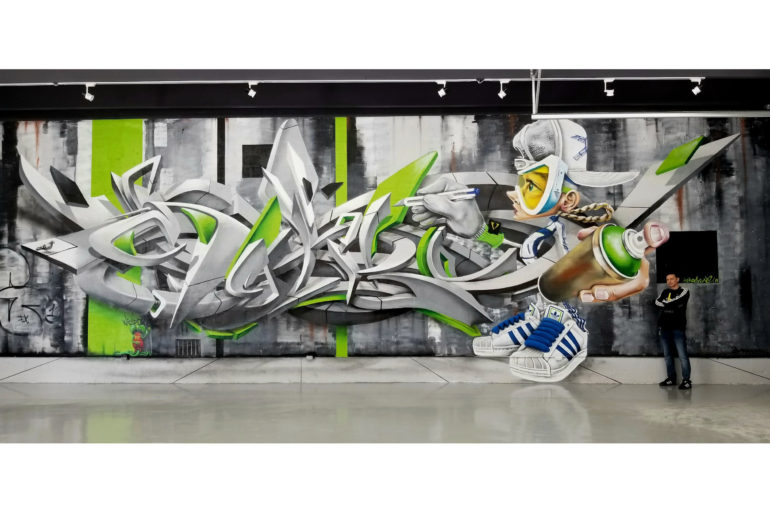 This post is also available in:

Smog-One. His name refers to the image of the dense mist that can be seen at sunset in the Parisian suburbs. When people go to bed, and graffiti artists, in many places illegal to this day, go down the streets to "bomb the walls", as they used to say in slang, when graffiti art was still considered an expression of revolt against the system.
Completely denatured by the artistic value that has taken over time, graffiti art has even crossed today, the world of mainstream art with exhibitions in the galleries of worldwide.
His real name is Patrice Moretti, his artist-name Smog-One dates back to the times when in order to be an artist, you needed a pseudo-name that only those in the circle knew- the adjective One identifies him as a lone writer, meaning that he didn't belong in any crew, at first.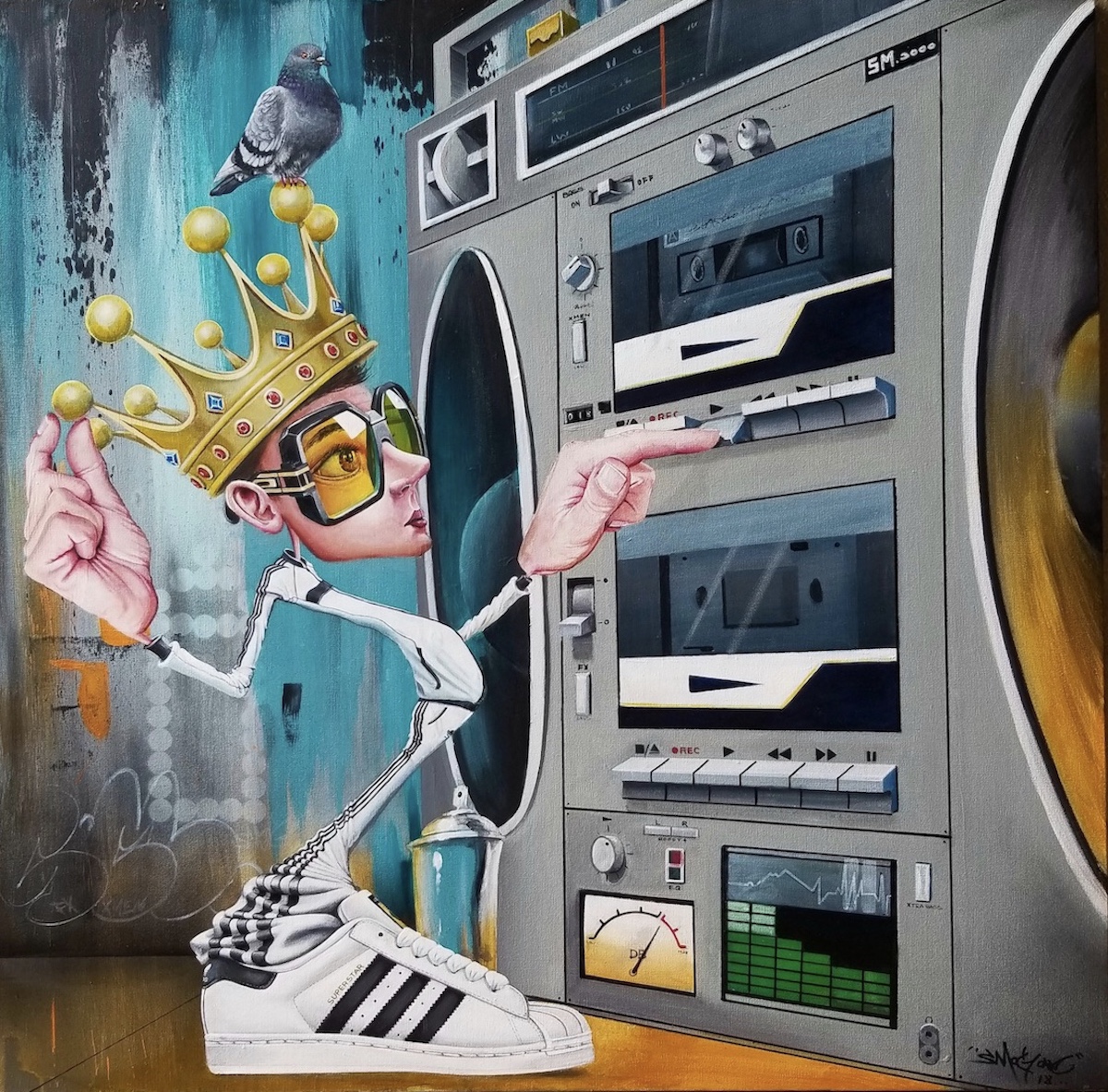 Born in Paris to a French mother and Italian father from Fano. When he was 12, his family moved to Florida, initially to Deerfield Beach. He remembers becoming fond of graffiti art during his high school and college years, later joining the Crew FS (Flavor Savers) and BSK (Blessed Style Kings), both from Miami, and illegal at the time. After working for a few years as a bartender in Florida's trendiest bars, among music-based evenings and good life, he decided to go back on the path of art, undoubtedly less profitable but more exciting.
To those who ask what strange transcendental meaning there is in his stylized images he replies that there is neither philosophy nor psychology: it is simply art itself, without forced search for particular meanings.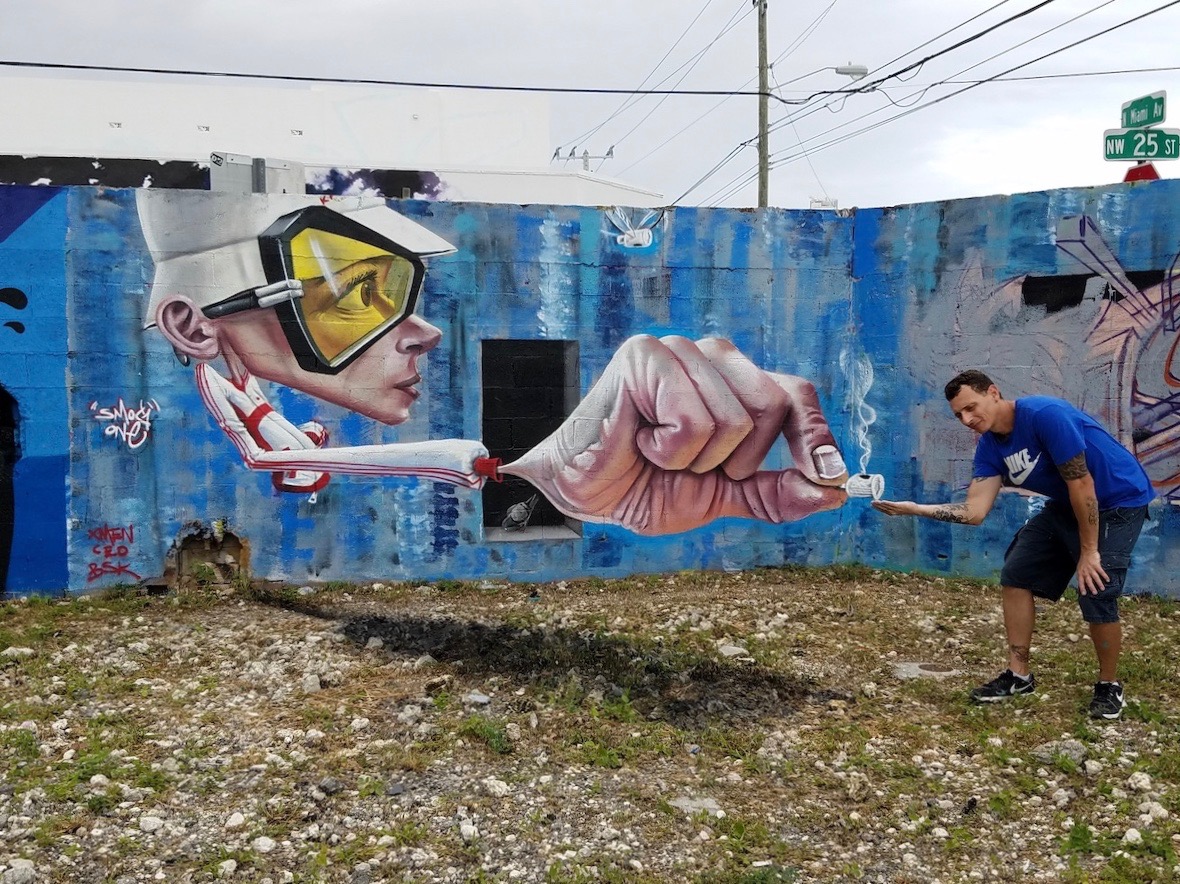 His hallmark is the pigeon, the bird that accompanied him both, in the streets of Paris and those of Fano, the city where his parents now live, and where he returns once a year: "One lives well in Italy, there is history there," says Smog.
Smog tells how his passion for drawing was born, suggesting to everyone who wants to approach graffiti art, to take a black book – the iconic notebook covered with a black cover, on which the writers sketch their preparatory sketches, and practice a lot: starting from small sketches and enlarging it up to measures replicable on the walls.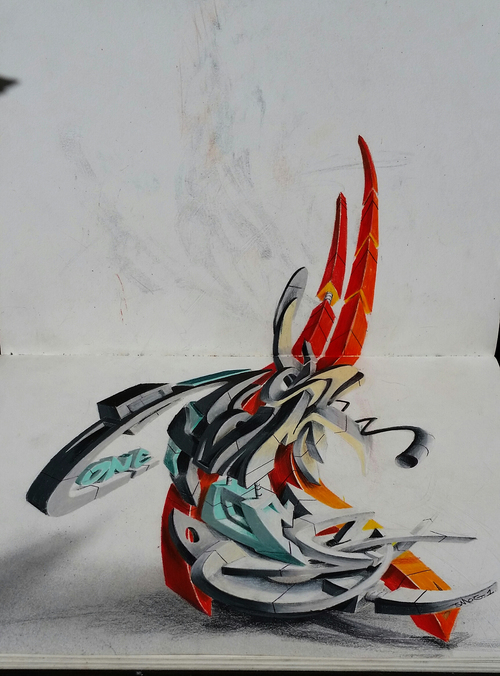 Smog is known in the environment as one of the most refined current graffiti artists, and although he represented several subjects, his stylized characters, the B-Boy -term that refers to the hip-hop dancers- are his distinctive trait: Large head, feet and hands, thread-like and sinuous body, spray can in hand, peaked hat, and exclusively Puma, Adidas and Nike on their feet, painted with such precision that you want to take them and put them on yourself. To further customize his characters, the ubiquitous pigeon, alongside which a little man also appears stylized in the shape of a crown – which also appears on his new logo, visible on a t-shirt and merchandising, soon available for sale. In some works  spray paint caps- essential in graffiti art – appear, taking the appearances of small winged creatures, represented in such a realistic way that they even seem to emit the buzz – the same buzz that comes out, when you press the spout on the canister of color – or they become small smoking spouts sign of the long work carried out on the walls, while from the boomboxes (giant radio recorders used in hip-hop) notes are dispersed, floating and hovering over the graffiti backgrounds of his characters. 
Smog-One is also recognized for his labels: his name and logos in 3D that he creates with lots of volume, first on preparatory sketches in cardboard, and then reproduces with spray cans.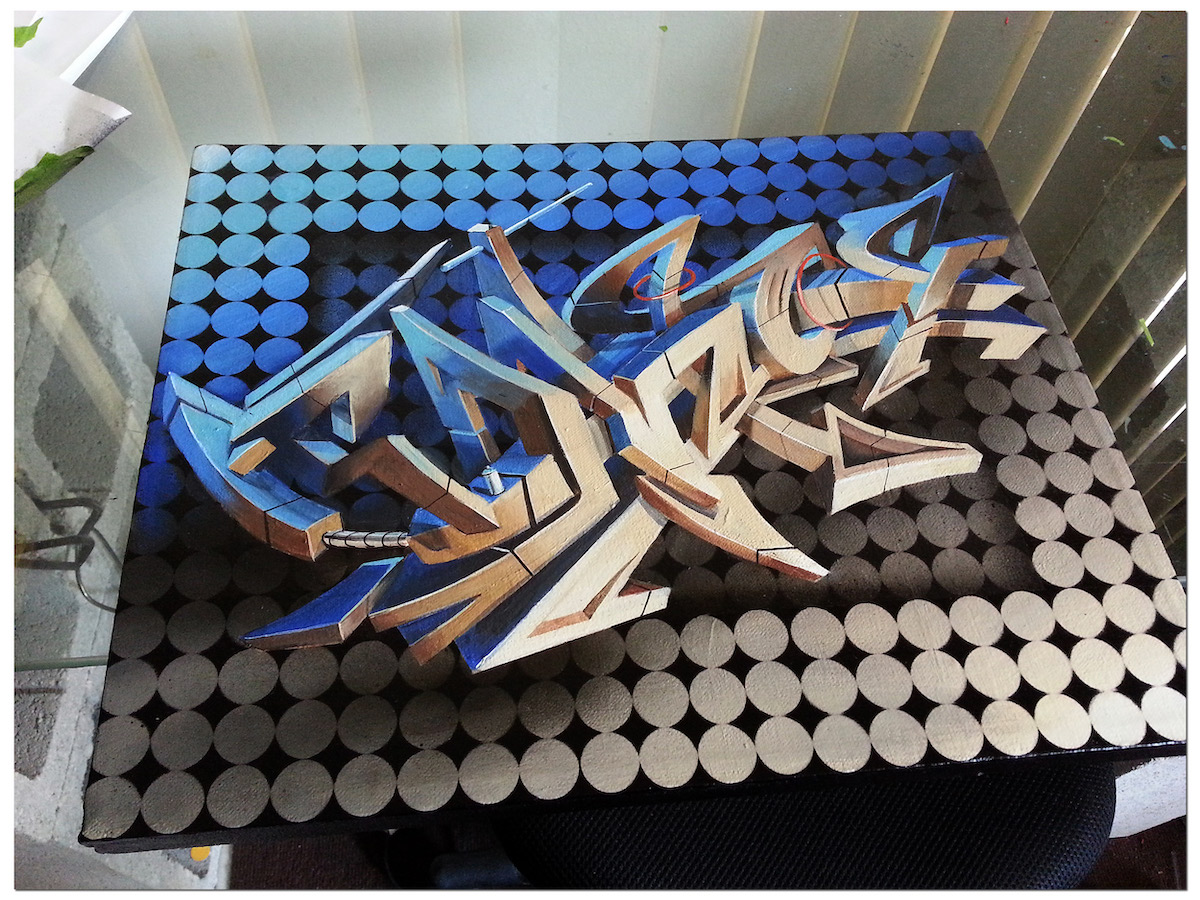 Smog-One is part of the FX Crew and the X-Men Crew both of New York. For those that do not chew the culture of hip-hop, the progenitors of the movement – real icons for young people of all latitudes – were originally DJs Kool Herc and Afrika Bambaataa of the Bronx, New York: they deserve credit for having channeled street violence in a peaceful form of cohabitation in which they challenged each other in dance shots instead of guns. There are conflicting versions with reference to the correlation of graffiti and hip-hop. Asking Smog-One how much hip-hop culture relates to graffiti, he replies that: "Graffiti are now part of hip-hop: they are considered one of the four founding elements of hip-hop (the other three are: MCing- Master Ceremony that rap, DJing – DJs making records and scratchy, and B-Boy and B-Girl -dancers dancing break dance). But it didn't start that way: Graffiti originally had nothing to do with hip-hop or other music, and the fact is, that lots of writers didn't listen to this kind of music. I think writers became part of hip hop culture when they made the movie Style Wars, in 1983, which involved them together ". Moreover, the crews are a group of different writers, who collaborate on artistic projects together, each with their own style but working in harmony. Besides, art crews are kind of a big family that shares the values ​​of loyalty and respect, and they have transformed several infamous neighborhoods into real artistic centers. In Florida it is the case of Wynwood or some areas of Fort Lauderdale where among hundreds of characters represented, those of Smog-One stand out. 
If the city and its streets, represent his exhibition gallery, Smog-One also produces works on canvas: He has recently reproduced a mural that was made in the Mass District in Fort Lauderdale many years ago, and represents the Joker.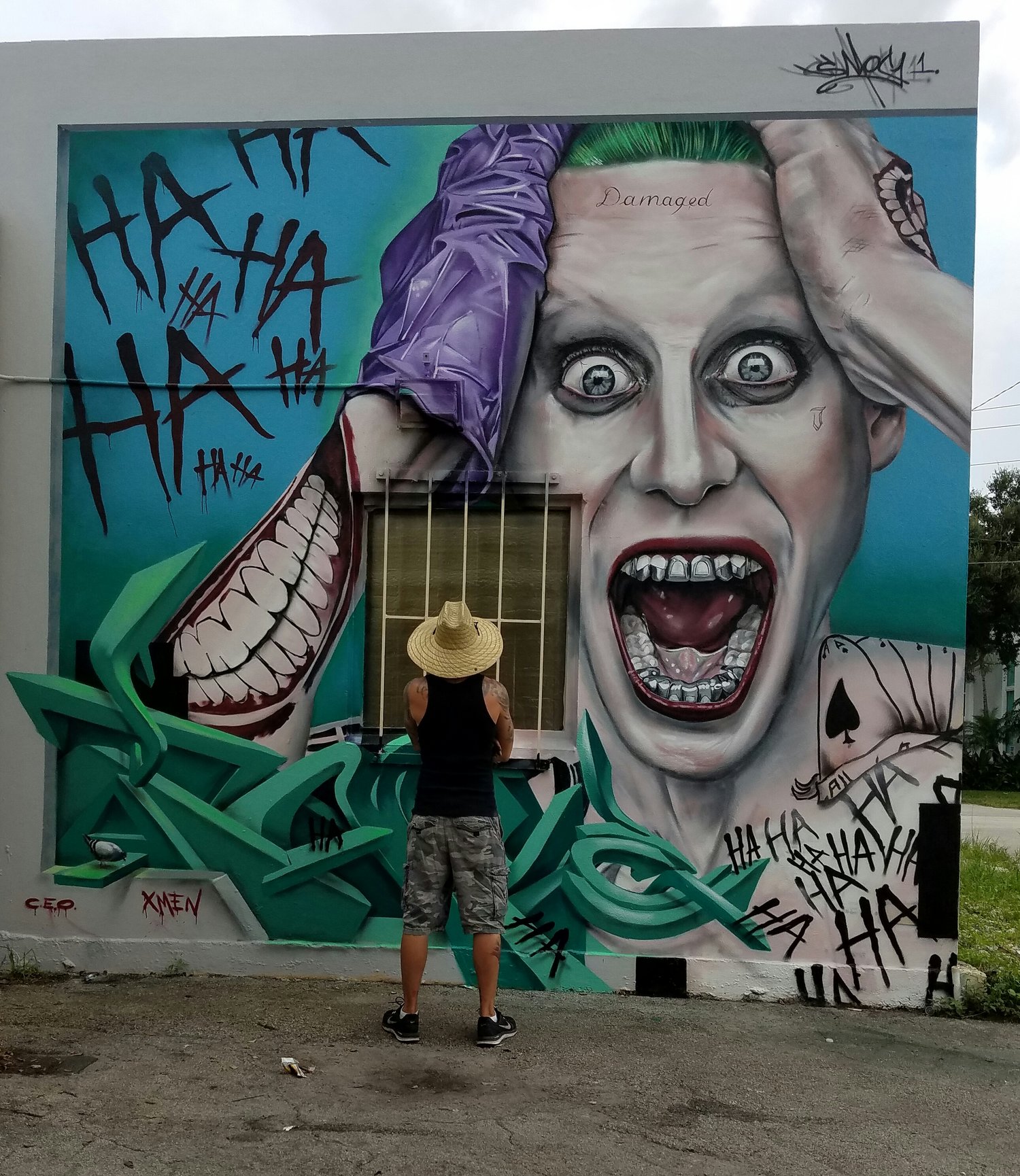 Waiting to see him involved in the Meeting of Style, an event that every year, during the Miami Art Week brings to mind the greatest graffiti and steel artists in the world. It will be possible to see Smog-One at the Wynwood Art Walk, in Miami on August 10th: a great opportunity not to be missed, to see one of the most interesting graffiti of the moment.
.