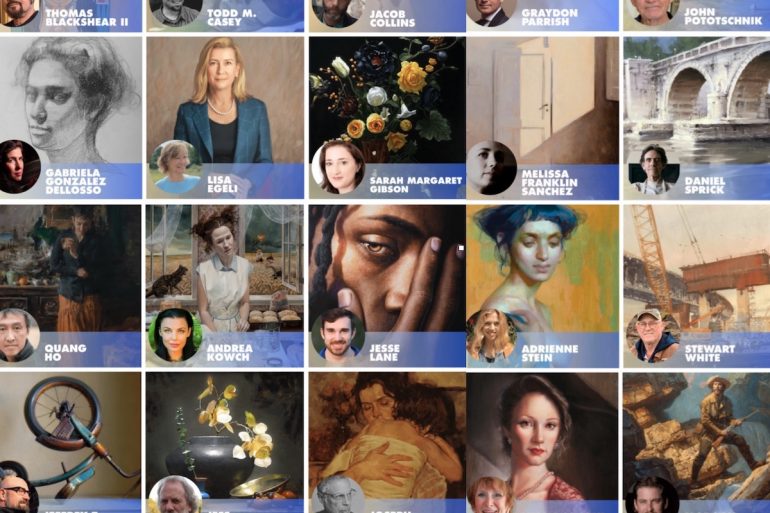 This post is also available in:


Back this year, for the second year in a row, Realism Live, the virtual event, born in the wake of FACE -Fine Arts Convention and Expo- to meet the needs born in times of Covid-19 pandemic. An event that promises to give great satisfaction and that is proposed to the public with incredible numbers. Realism Live is in fact the largest art event in the world that boasts the participation of over thirty artists who will follow each other in a three-day full immersion, from 11 to 13 November. 
To the three canonical days it is possible to add the beginner day on November 10: the additional training day is perfect for those who need to understand the key processes. It is no coincidence that the motto of the beginner day is: "make difficult concepts simple".  More than three thousand enthusiasts are expected to attend the convention, connecting from more than 15 different countries. Artists who will be part of the faculty include: Craig Nelson, Thomas Blackshear II, Sharon Sprung, Graydon Parrish, Luana Luconi Winner, Jeffrey T.Larson, Steward White, Vincent Xeus, Sarah Margaret Gibson, Melissa Franklin Sanchez & Ramiro Sanchez, Kevin Macpherson, Mary Whyte, Teresa Oaxaca, David Kassan, Lisa Egeli, Andrea Kowch, Daniel Sprick, John Pototschnick, Morgan Weistling, Adrienne Stein, Jeff Legg, Jacob Collins, Quang Ho, Todd M.Casey, Jacob Collins, Gabriela Gonzalez Dellosso, Joseph Lorusso, and others. Many illustrious names who shine in the panorama of contemporary American realism and who will dispense technical and theoretical notions and tricks of the trade related to: figurative art and portraiture, landscape (cityscape and seascape), still life and floral art. 
The event is organized by Peter Trippi and Eric Rhoads, respectively editor-in-chief of Fine Art Connoisseur and founder of Streamline Publishing: famous names in the field because they are already the creators of FACE (Fine Arts Convention and Expo), Plein Air Live, Watercolor Live and, as of this year, Pastel Live. 
In addition to promising great excitement, the creators of the event guarantee the opportunity to greatly increase the participants' artistic abilities. This is an option that would not be absolutely necessary -we tell you this with all our heart after taking part in many of their events over the years- but that guarantees the quality of the convention: absolutely flawless from all points of view, both in the practical sessions and in the lectures.
You could spend a fortune to enroll in an art school or attend workshops, but with Realism Live you get all the information at a very affordable price. 
In fact, Realism Live offers the possibility of reviewing recordings from 7 to 365 days, depending on the option chosen with the ticket. 
This way, even if you can't attend every live session, you can still review the sessions so you can absorb every single concept imparted.
In addition to the demonstration sessions and round tables with teachers there will be critical sessions (essential for artistic growth) and meeting during which there will be the opportunity to converse with a large community of artists with whom to entertain during the breakout sessions or paint along after the day (a session of drawing and painting at the end of the evening during which models will be available to represent, at no extra cost): a nice opportunity to make a few words, share a piece of life or create a beautiful friendship based on common interests.
Register before November 7th and you'll have the opportunity to benefit from a demo session with Marc Dalessio (a $197 value) and an exclusive pre-event Q&A session with Joseph Lorusso (Monday, November 8, a $247 value)
Realism Live is ultimately an event not to be missed because you're not born an artist but you become one with perseverance, passion and thanks to events like these that collect the best information saving participants hours of consulting books or blogs. It is not necessary to spend a fortune when you have the opportunity to attend comprehensive and complete seminars like this one.
Click the banner below to subscribe.