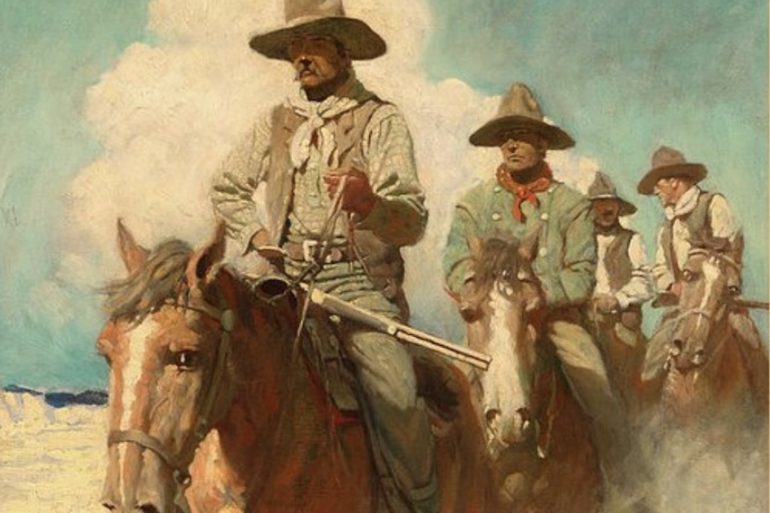 This post is also available in:


American realist artist and illustrator, Newell Convers Wyeth (1882-1945), was one of America's greatest illustrators whose illustrations were designed to be quickly understood, created over 3,000 paintings and illustrated 112 books, 25 of which were for the Simon & Schuster Scribner Illustrated Classic.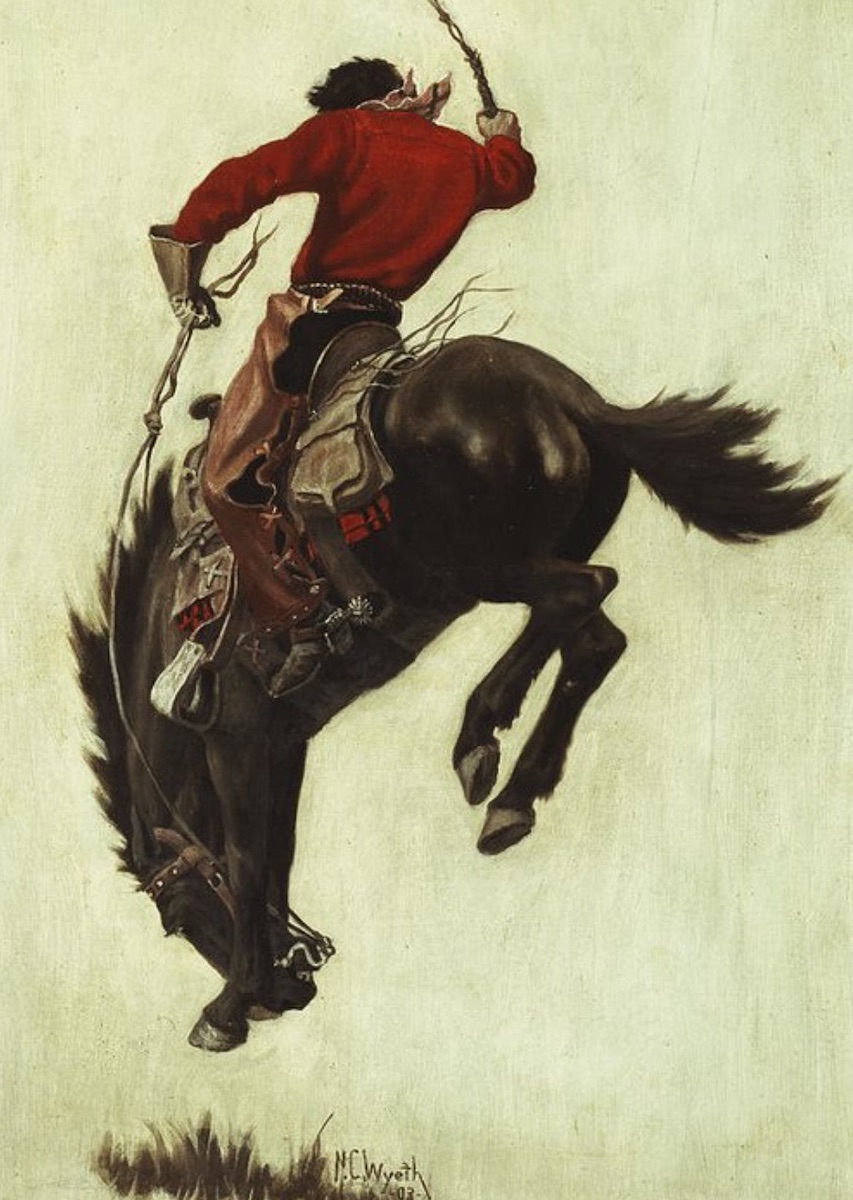 Born in Needham, Massachusetts, his grandparents and parents came from Switzerland where his mother met great men of letters and raised his son with a particular interest in literature and art. He attended the Mechanics Arts School to learn the basics of drawing, the Massachusetts Normal Art School (now Massachusetts College of Art and Design) where the painting instructor Richard Andrew advised him to become an illustrator, and finally the Eric Pape School of Art to learn the art of illustration about which he said in 1908: "Painting and illustration cannot be mixed, the one cannot merge with the other", a consideration that deserves to be deepened. He learned the art of illustration from George Loftus Noyes and Charles W. Reed, and when he learned that two of his acquaintances had joined Howard Pyle's School of Art – the "father" of American illustration – Wyeth immediately joined the group embracing methods and ideals. Although he had learned the technique of enamelling from Pyle, unlike him Wyeth painted with faster strokes and often relied on the presence of disturbing shadows in the background.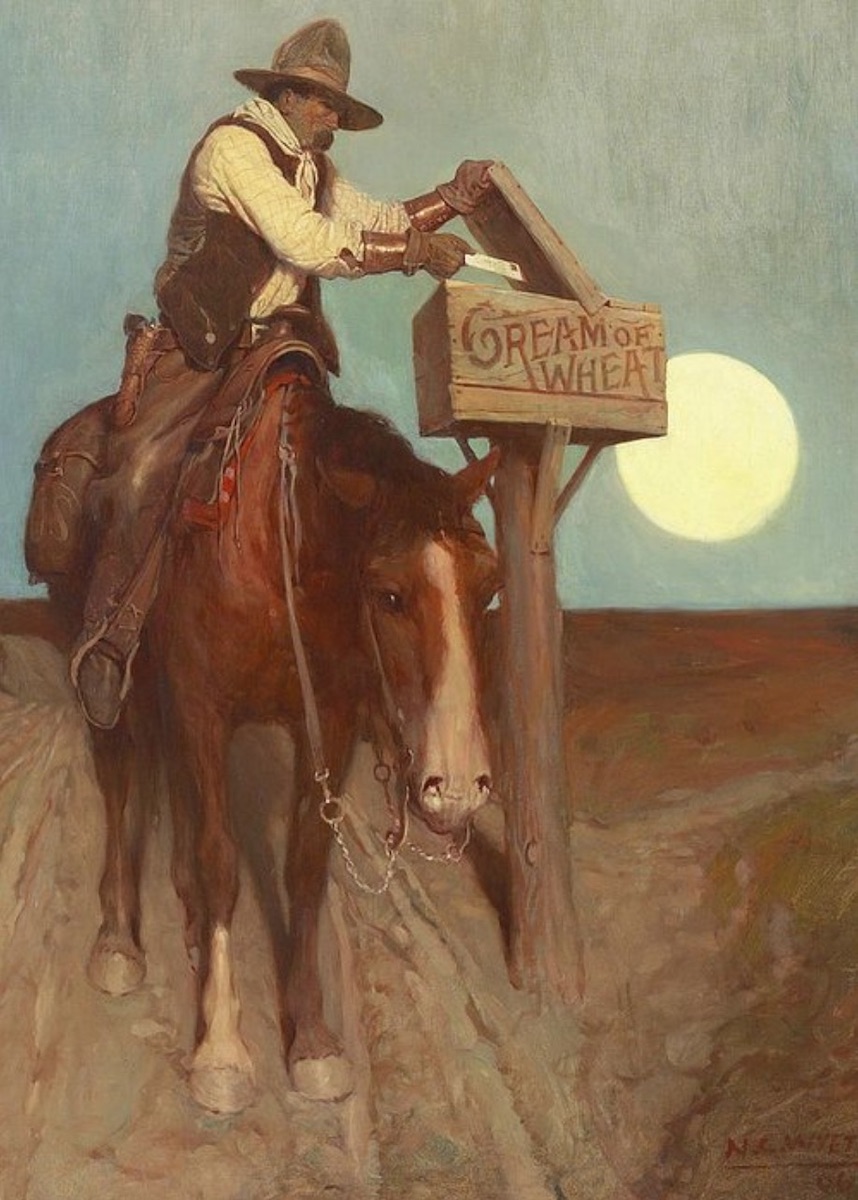 In 1904, on Pyle's advice, he moved to the Western United States for a period of time, inspired by the images of cowboys and Native Americans that dramatized the Old West. After moving to Colorado, he was able to approach the local culture by working physically as a cowboy: moving cattle and taking care of ranch chores. He met the Navajo tribe in Arizona from whom he learned about Native American culture. But in 1911, despite his dreamy works, Wyeth began to move away from the American western to devote himself to classic literary illustrations of which Robert Louis Stevenson's Treasure Island (1911) was considered by many to be his masterpiece. He later also illustrated other literary classics, among them: Robin Hood (1917), The Last of the Mohicans (1919) and Robinson Crusoe (1920). During his life Wyeth has made posters, calendars and advertising posters for important clients, such as Lucky Strike and Coca-Cola, worked for Steinway & Sons on paintings by Beethoven, Wagner and Liszt, and painted murals of historical and allegorical subjects for important institutions, including the Federal Reserve Bank of Boston, the Hotel Roosevelt, and the National Geographic Society.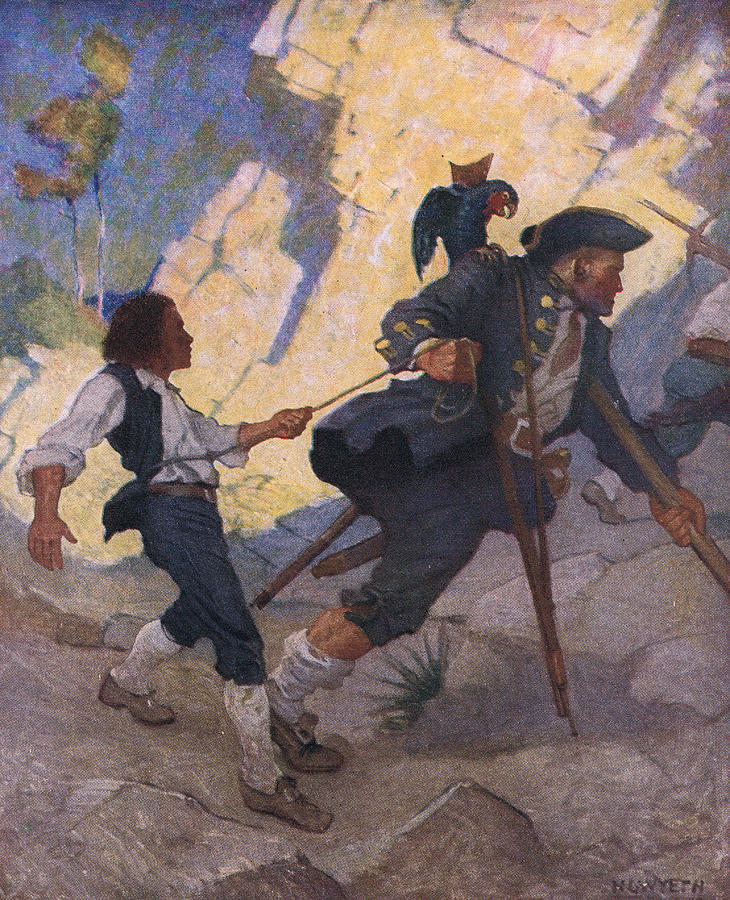 Wyeth in his career has experimented with different styles starting with Impressionism, then following the Divisionist principles of Giovanni Segantini, and finally devoting himself to the realistic American regionalism of Thomas Hart Benton and Grant Wood, characterized by thin oils and egg tempera. Wyeth produced many works for the speed of their execution, often working on a larger scale than necessary, adapting to his energetic and grandiose vision, which often evoked his ancestral past: he could conceive, draw and paint a large painting in just three hours. 
A member of many important American art institutions, including: the National Academy, the Society of Illustrators, the Philadelphia Watercolor Club, Wyeth shortly before his death in 1945, he received the honorary title of Master of Art at Bowdoin College. His home and studio are open to the public, and it is possible to see almost a century later his studio set up as if he had just left for the journey in which a freight train killed him and his nephew at once: the palette he used on the day of his death is next to his last canvas. Newell Convers Wyeth, was the father of Andrew Wyeth and the grandfather of Jamie Wyeth, both of whom became famous American painters.