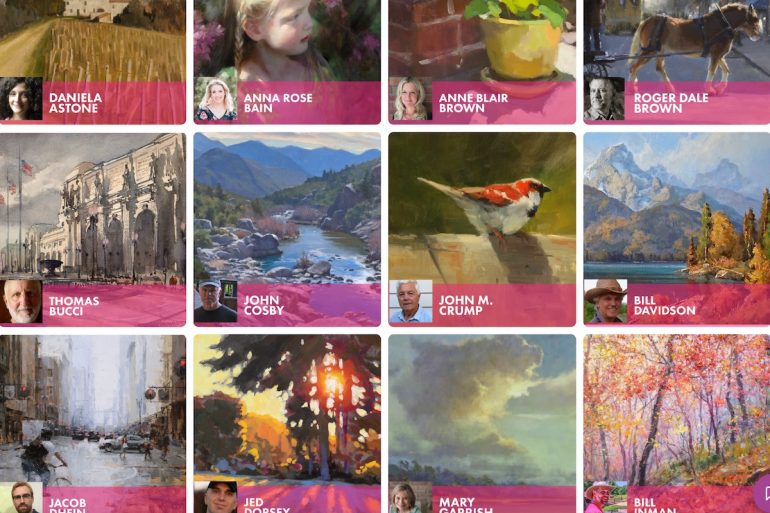 This post is also available in:


Do you love plein air painting but have never dared to experiment with it? 
Would you like to paint with the freshness of the Impressionists but are afraid you can't? 
Eric Rhoads joined by Kelly Kane, and the Streamline Publishing team invite you to get involved. They do that with PleinAir Live from March 10-12, 2022 with optional beginner's day access on March 9th.
Plein Air Live 2022 is the event that focuses on plein air painting applied to different techniques: a useful tool not only for landscape artists but for artists in general as it can open your mind and greatly improve your artistic and cultural background: "Give Us Just 3 Days, And We'll Hand You ALL The Best Painting Secrets From 30 Of The World's Best Plein Air Artists… Speeding Your Progress Faster Than Any Art School In America!" declared Eric Rhoads, Chairman, Publisher and CEO of Streamline Publishing. 
The public, remaining comfortably seated in the armchair at home or working at the easel of his studio, will have the opportunity to know and interact with some of the best artists plein air existing, learning from them the techniques refined in years of activity, all without any expense of travel or stay. 
In this third edition of the event there will be more than 30 artists who will offer insights, pearls of wisdom and tips to put into practice, immediately, or at a later time.  PleinAir Live, in fact, like all Streamline Publishing events, offers you the opportunity to review the recordings of the demonstration sessions, as many times as you want, allowing you to watch over and over again a difficult step to achieve or a demo that you missed during the live show. 
For those who would like to approach plein air painting from scratch or would like to learn about the different artistic mediums applied to plein air painting, it is advisable to participate in the beginner's day on the 9th: an essential day to be able to fully benefit from the three-day convention.
Artists at the third annual PleinAir Live 2022 will include Daniela Astone, Anna Rose Bain, Anne Blair Brown, Roger Dale Brown, Thomas Bucci, John Cosby, John M.Crump, Bill Davidson, Jacob Dhein, Jed Dorsey, Mary Garrish, Bill Inman, Ryan Jensen, Susan Kuznitsky, T. Allen Lawson, Kevin Macpherson, Tiffany Mang, Daniel Marshall, Nancy King Mertz, Lori McNee, John Pototschnik, Richard Robinson, Dave Santillanes, Mark Sasha, Keiko Tanabe, Kim VanDerHoek, Jim Wodark.
In case you still have any doubts, and for a greater guarantee of success, Eric Rhoads ensures a 100% refund in case you are not satisfied with the event.  
Don't waste your time, alienate your fears, we guarantee that your approach to art will take on different and exciting contours than ever before, and we bet you won't want to miss a single event! 
We at Miami Niche will accompany you every day on social to introduce you individually to the artists of PleinAir Live, 2022, you instead, make your choice and take advantage of the offer valid until March 6 (at 11:59 PM-PT) and sign up by clicking on the image below: