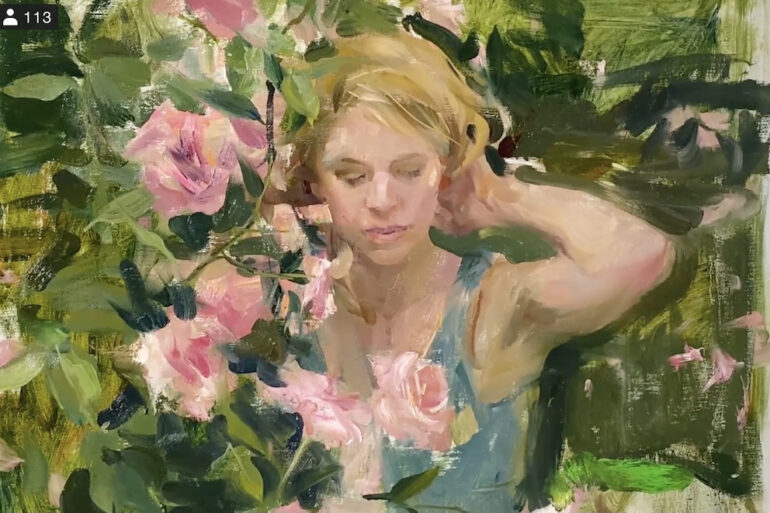 This post is also available in:


Today there will be another extraordinary day full of events that will "enlighten" you before returning to your studios to put into practice the notions acquired during this wonderful convention that has seen some of the most renowned artists of the American realistic-figurative art scene.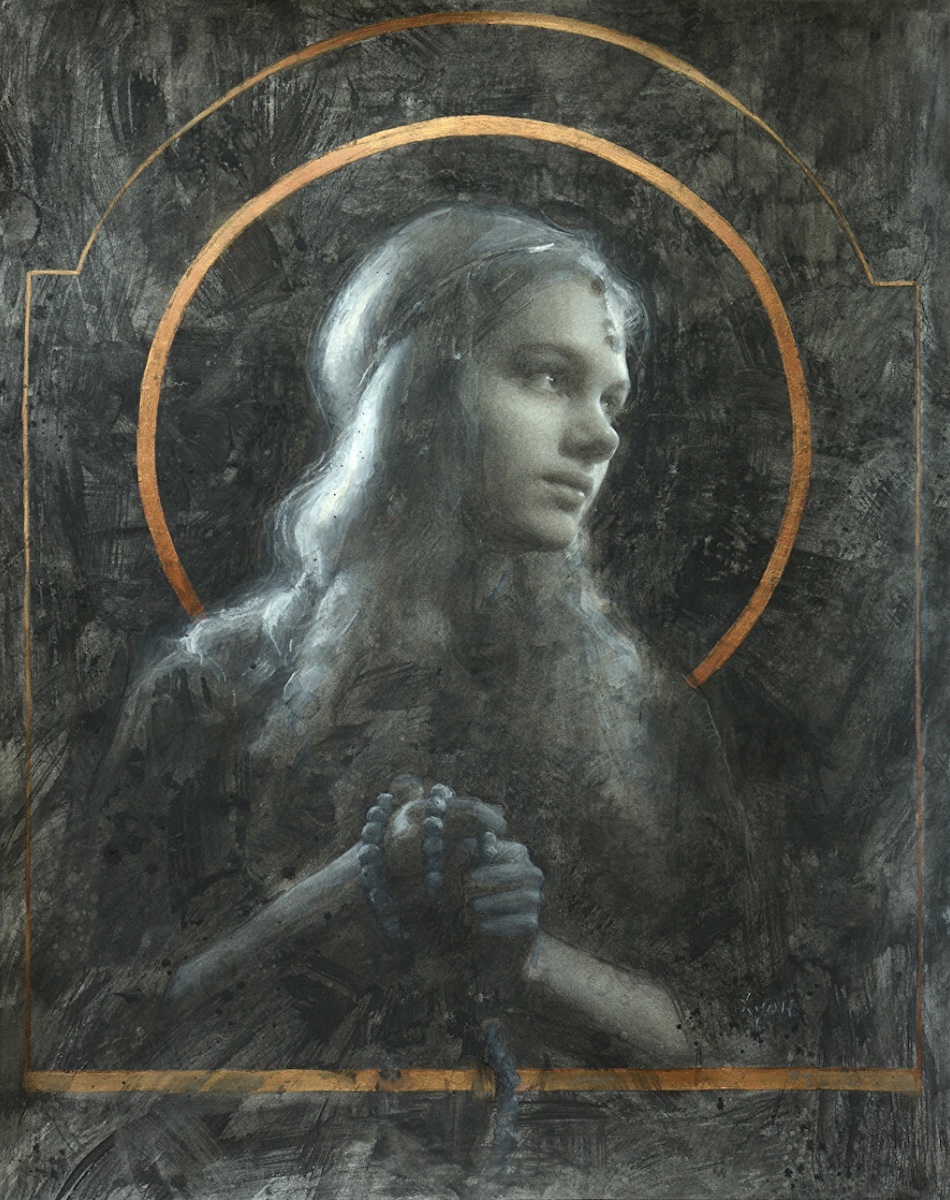 The Art of The Portrait began with an inspirational hour with Susan Lyon addressing a frequent theme that every artist has experienced, precisely because of their more sensitive and consequently more vulnerable nature. These are the dark moments, the moments of discouragement during which you look at others seeing them as always better than you feel: the moments when you are unable to focus on the meaning of being an artist, debasing yourself and underestimating yourself. 
In retrospect, the artist traced her career, remembering her school years and the thoughts that did not allow her to focus on her choice to become an artist. A situation that came up again later when she felt stuck in front of the easel. 
She was able to get out of this "self-sabotage" situation and excel by putting meditation and confrontation into practice: meditation through reading books and regular practice; confrontation, sharing her negative thoughts with her husband, family, and other artists who have gone through the same experience and helped her focus her priorities and eradicate her sense of inferiority and discouragement. 
It's important says Lyon: "to focus on why we became artists in the first place, the gratitude of being one, and to re-establish the feeling of picking up a pencil or brush."
"We are the engine of ourselves," says Lyon, who emphasizes how patience and self-confidence allow us to observe, understand and develop artistic expression.
Today, Susan Lyon, third prize winner at the Portrait Society of America's International Competition, 2021, is honored to be a mentor and to share the anxieties that have led her to her levels of excellence.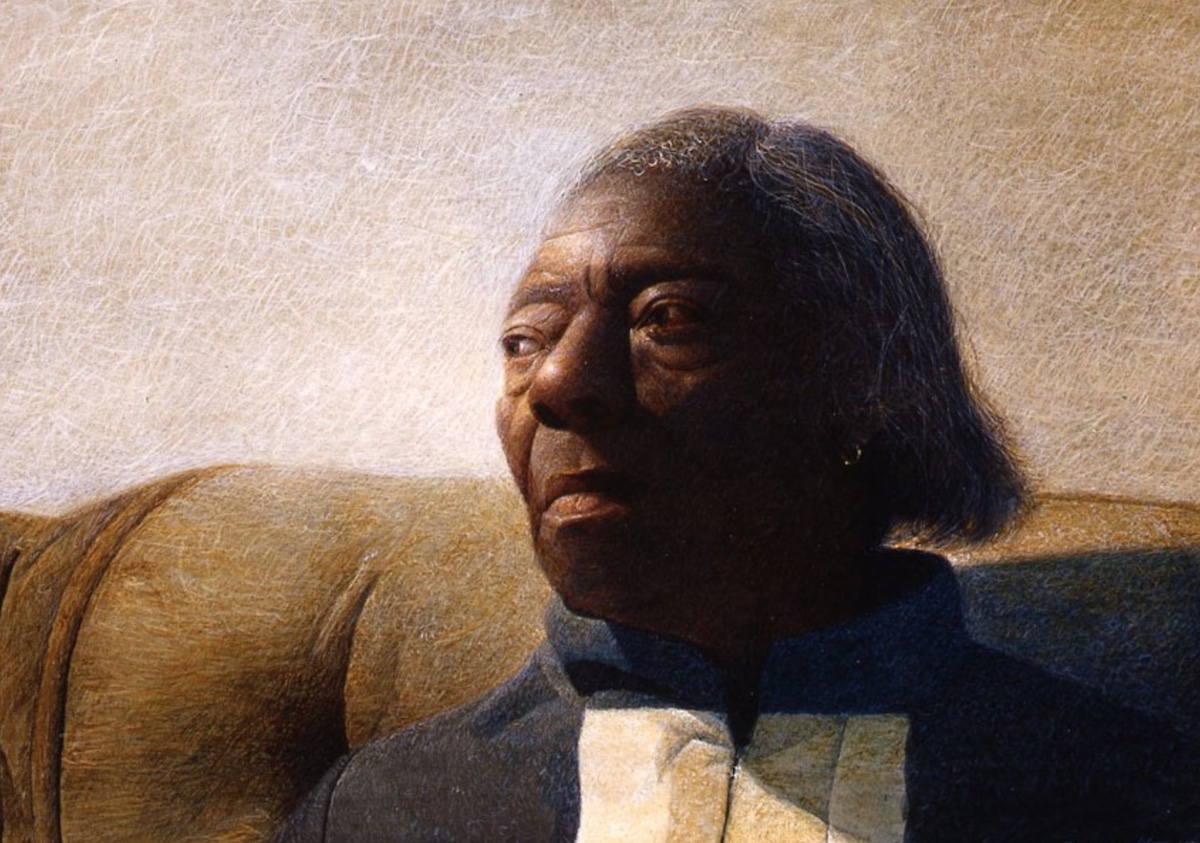 James Mitchell in duet with Michael Shane Neal addressed themes particularly appropriate to contemporary society by continuing the conference with his extraordinary example of resilience. 
He did so by sharing with the public part of his life during which he managed both to emerge from the poverty in which he lived and to establish himself on the art scene in a nation divided between race and cultural identity. 
He did so with all the sincerity and honesty that, looking at his work, one would expect to find. 
Born in 1957, Mitchell faced the years of civil rights and racial segregation -the Supreme Court declared all forms of segregation unconstitutional only around 1970-and the notion, ingrained even in his family, that an African-American boy had no right to study. Least of all art. 
His fortitude and desire to succeed in his goals led him to graduate from Columbus College of Art & Design in Columbus, OH, receiving strong disapproval from both his mother and the African-American community to which he belonged.  
The only person who has always supported and encouraged him was his grandmother: his reference point that he wanted next to him, along with the rest of the family, both in Pennsylvania where he had moved to study, and in Tallahassee where they had returned to live. 
"When he did my first solo show, people were amazed because they thought it was unlikely that an artist of color would paint this kind of art", says Mitchell, who adds,"the problem isn't the people, it's the system that causes us to think this way." 
The artist approached realism by studying not only realistic painters but also appreciating the abstractionism of Motherwell or Picasso Modernism because: "Art helps us bring out the best in us and I'm like a sponge, I'm not interested in distinguishing who we are by race or religion". 
The way of thinking out of the box, which allowed him to appreciate reality and differences beyond prejudice or cultural beliefs has always been his winning weapon that led him to meet the first African-American president of the United States of America and to win over 400 awards, including the prestigious gold medal of the America Watercolor Society. 
Mitchell declares that it was only after the sale of his books – he has produced two books in which he focuses mainly on watercolors, his favorite medium, although his experience has led him to excel in other techniques as well – in New Orleans that he realized he had finally reached the hearts of African-American people. 
And to those who ask him how he wants to be remembered in the future, he replies, "for humanity and justice, without labels of race or religion."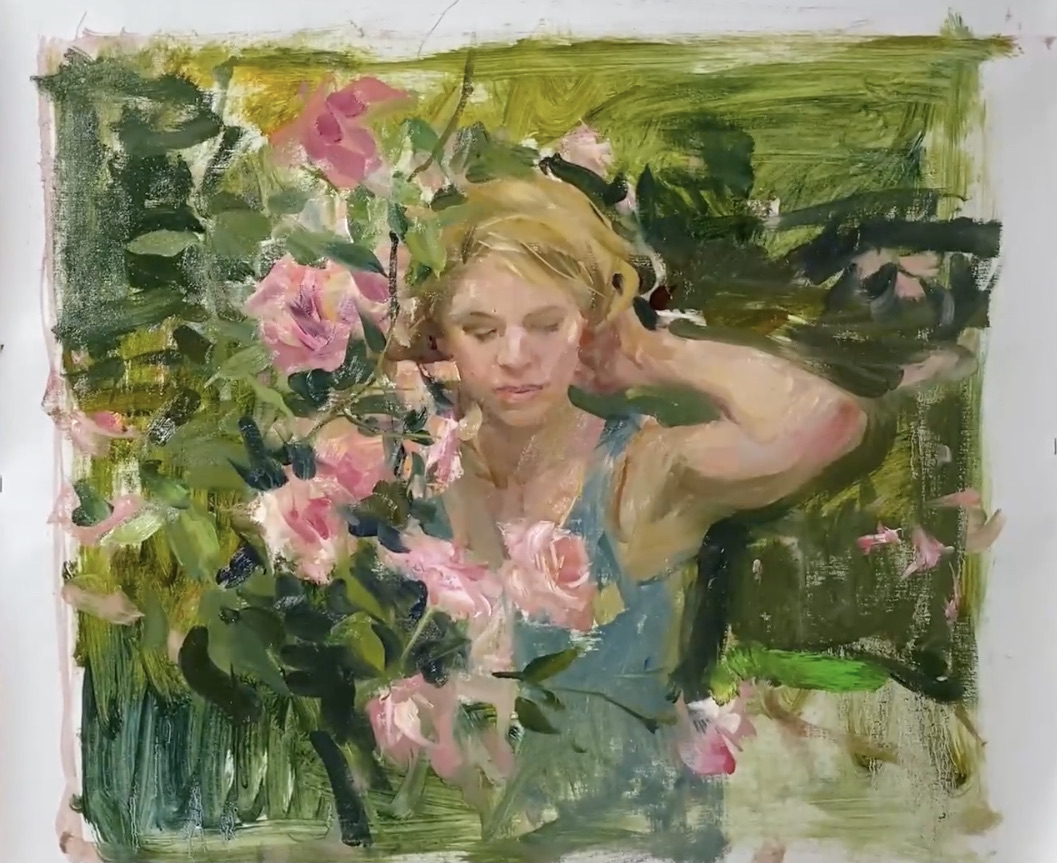 The afternoon continued with a demo by Quang-Ho, who "between form and spontaneity", portrayed his wife and artist Adrienne Stein outdoors. The oil work was portrayed from a photograph, a medium that Quang-Ho prefers to use only if done personally, so as to focus on the features that interest him, intervening on tone and value directly in the composition. 
Ho's approach to portraiture is very personal and in addition to starting with the representation of semitones for the construction of the figure, he begins with the realization of the background which he considers: "fundamental in the creation of the figure because it is an integral part of the design" and which continues even after the realization of the figure until the work is finished. 
According to the artist, the shapes also represent the essence of the composition, because they are made of color and value, just as there is no right or wrong way to proceed in starting the composition because what matters is to find harmony between color and values in a process that must be absolutely personal. 
Quang-Ho reiterates, as already emphasized during the conference, the importance of taking risks, stressing how important it is to have a focus and make artistic choices that highlight the details that are intended to be narrated. Choices that in his case are taken on the basis of the impulses of the moment and that can also be difficult but absolutely necessary:" I move mountains when I'm painting. Not a big deal", says the artist, arousing the hilarity of the public. 
The final work is a masterpiece in terms of the dialogue between shapes, tones, colors, textures, edges and lines: "the poetic interpretation of a photograph come to life on canvas," as one participant put it.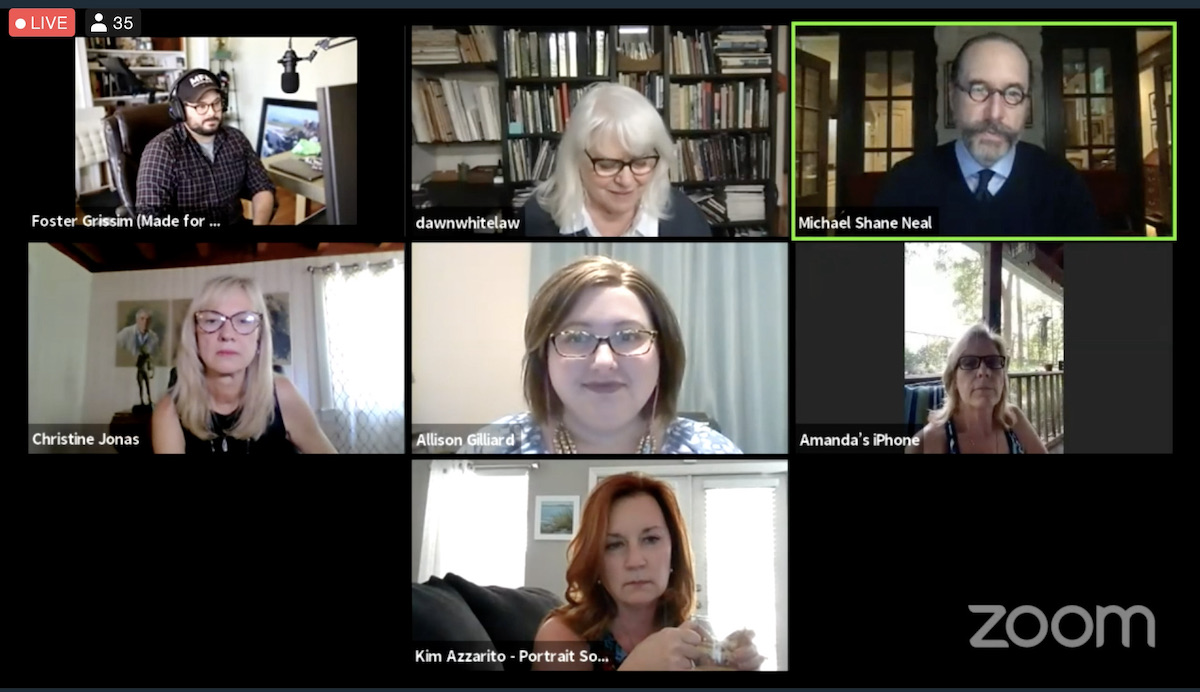 It is Michael Shane Neal, the Gentleman Artist and President of The Portrait Society of America, who officially closes the XXIII edition of The Art of The Portrait by giving heartfelt thanks to the participants, the artists who took part, Christine Egnoski-Jonas, Executive Director, Foster Grissim, Acting CEO of MFA – Made For Artist.  
As a reminder that all programs have been recorded and will be available from May 24-June 23 under the "Videos" tab on the conference website, the Portrait Society of America looks forward to seeing you in attendance next year in Atlanta, GA