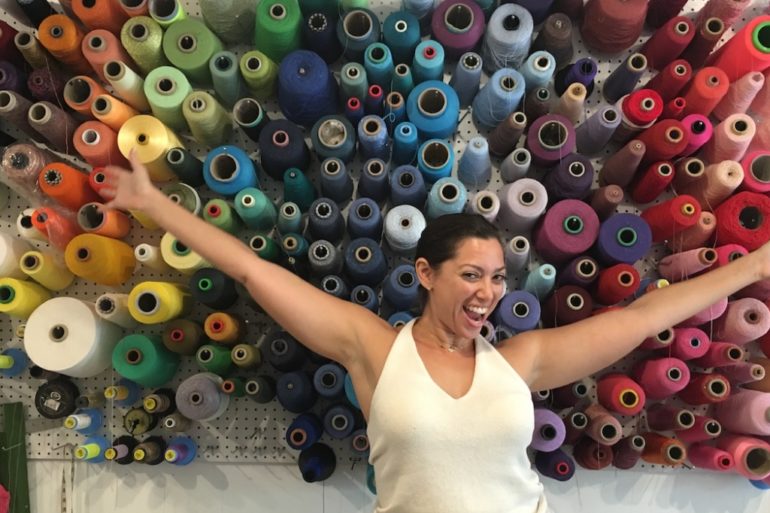 This post is also available in:

Karelle Levy, founder of the KRELwear brand, Swedish mother, Tunisian father, born and lived in Paris until the age of 6 and moved to Florida, Miami. After completing her studies, and being passionate about art, she decided to enroll in one of the most renowned art schools of America, the Rhode Island School of Design, with a major in Textile Design, becoming fashion / textile designer and performance artist. Four hours away from New York, from this long-standing school, have come out of thick characters in different artistic fields: from Dale Chihuly with glass, to Bruce Helander artist and successful gallery owner of Palm Beach, just to name a few.
Karelle Levy: Miami's most fashionable artist-designer, wearing one of her clothes is like wearing a work of art. Several awards won during her 20+ years of career: nominated best local designer in the Miami New Times in 2005 and 2010, twice champion of Style Wars published by the New York Times, presented as Gen Art Fresh Faces of Fashion, receiving praise exceptional from Art in America, New York Times, Metro New York, Art Info, Ocean Drive, Women's Wear Daily, Lucky, 944 Magazine and Miami Herald.
The direction she decided to undertake is undoubtedly linked to childhood: it was her grandmother who taught her how to knit because knitting and sewing had such a value back in the days that a woman could be considered a good woman and a good mother just based on those skills.
Karelle's art, starting from this basic concept, full of memories and values, has been able to go further, combining the emotion of childhood memories with innovation and continuous research. In love with Miami, the city that had welcomed her at the age of six, she decided to start from here with her story opening a shop in Wynwood, in the days when Wynwood had not yet undergone the redevelopment of the territory that followed as the Miami artistic area. Back then it was not really synonymous with secure. In 1997 she bought his first loom. Started off creating swimwear, followed by sweaters, dresses, headphones, skirts and much more to sell them to stores, but the crash of 2008 significantly reduced the economy. Reducing therefore also the production aimed at retailers, going from 43 stores to 3. After two sabbatical years, she began to produce in Ironside, now home to her boutique and where she began to sell to stores.
The brilliant idea of ​​Karelle, not improvised but the result of study, competence and knowledge was to produce a line of knitwear for women, men, children and animals in a tropical climate like that of Florida. The idea of ​​juxtaposing the term "knitwear" with the tropical climate is quite an effect, and yet, only by touching  her creations you can appreciate and love the freshness of organic cotton and silk with which she produces bikini, dresses, caftans, skirts and sweaters. In addition to these fabrics she uses metalleria, rayon, and polyesters, some pieces can contain up to 20 varieties of yarns.
This was Karelle Levy's first brilliant idea that won over a wide audience including the world of celebrities including Nicki Minaj, Alanis Morrisset, Christina Ricci, Carmen Electra, Pink, Cameron Diaz and Natasha Lyonne.
Starting from the production of bikinis, she has developed several lines that also focus on neutral colors as customers also appreciate these shades, even if black and white are colors more suitable for New York customers. Despite the wall entirely covered with colored yarns that constitutes a work of art in itself, Karelle for her creations absolutely prefers the variety of colors that are her signature. The colors of the Sunshine state. To my question: "what is your favorite color?" She responds with the sincerity that characterizes her: "the rainbow". I stop asking and smile, because in this answer there is all the colorful world of Karelle and even if the colors of the rainbow are only 7, she combines them, weaves them, mixes them, draws with fabric on the fabric in such a way that a simple optical play turns out to be fundamental in slimming the figure and making a woman feel comfortable and at ease. The comfort zone is essential.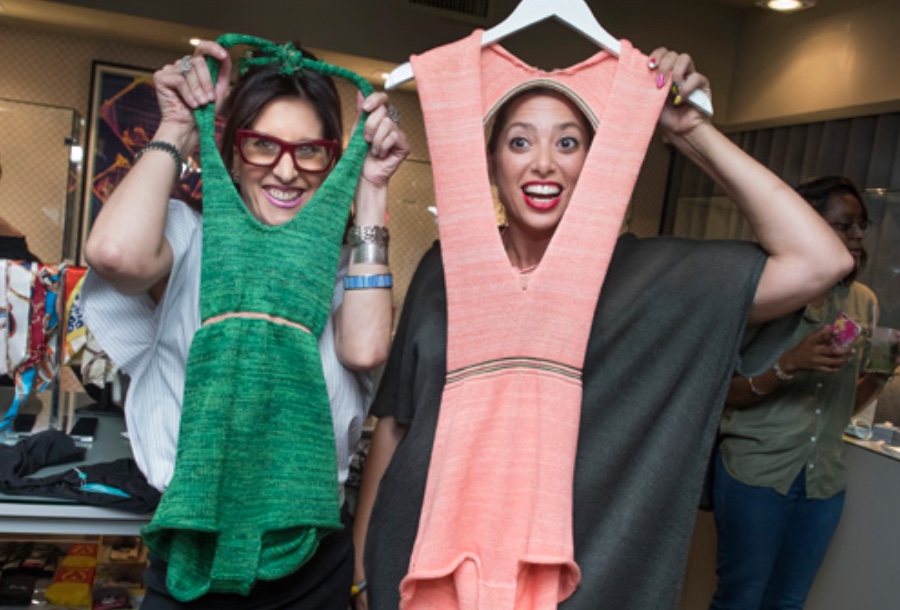 But Karelle did not stop here and invented Krel 2GO. Born from an almost provocative amusing situation in which a friend asks her to make a dress, with a maximum time available for 20 minutes. For which I think the reaction  for most people would be a loud laugh probably losing a few minutes from the 20 available. For Karelle, on the contrary, not only did she not lose heart, but she found in this situation the sprint to devise the Quickie Couture: offer a piece of clothing in extremely limited time with a circular frame and under the stupefied eyes of the client. Hence the idea of ​​Quickie Couture: starting from pre-made fabrics, made on the basis of the parameters you requested, according to your style, it is able to offer clothing items in 30 min / 1 hour at most with a cost that varies depending on the complexity of processing from 20 to 400 $. She has repeatedly exhibited his work at the Scope Art Fair in Miami, as clothing mixes with performance art.
And as a ritual since then, for every head of Quickie Couture, she takes a photograph, a Polaroid, which retains in her albums as if for each photograph there was a thread of connections that connects people who have posed to her world, with her greatest passion, in which she leaves a piece of herself. She filled over 4 and a half albums, for a total of over 2000 photographs. This says a lot.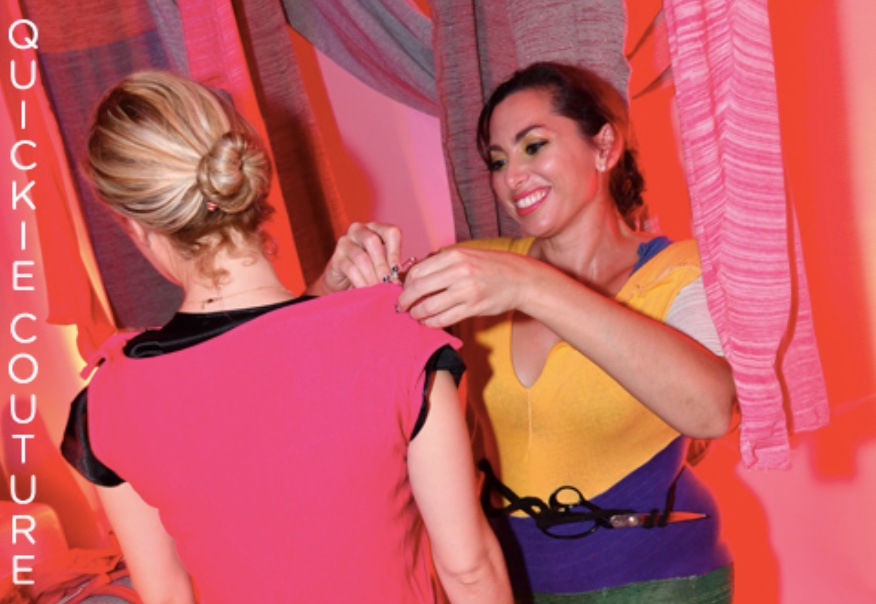 But if, as they say in Italy: "who stops is lost" Karelle does not risk anything and her research continued leading her to create DisGlow, a collection of garments made of fluorescent wires that glow in the dark and in the UV lights triggering the high-tech threads, creating an amazing glamor effect. This idea, initially put in place in a private event, was re-proposed to the public becoming a must have among the girls who live crazy nights in the best nightclubs in Miami. "The beauty of Miami – she says – is that it is a truly free city, where everyone can dress as he wishes"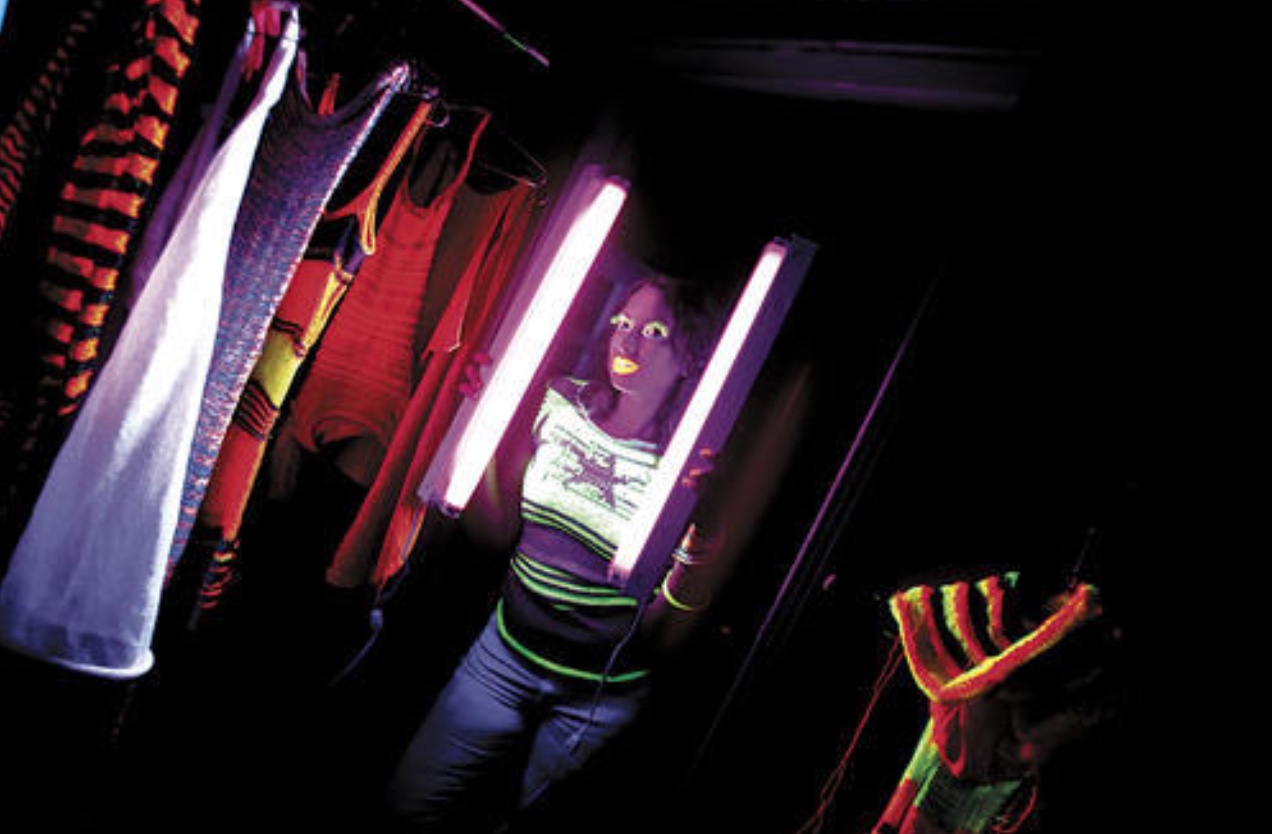 With the help of the new equipment, much faster but requiring two weeks of programming for each new model to be produced, Karelle manages to create "toobular" clothes, which are essentially fabrics that wrap the body without seams because the processing takes place simultaneously front and back in a very short time.
Production wise, it has zero production waste because the remaining scraps are sewn together creating a sort of gigantic quilt made up of many colors and shapes that she uses as works of art hung on the wall or curtains for the dressing room. Let us not forget that the nature is always that of the artist. Talking in total ease, as if we had known for a long time she told us that you have to work hard in life and that to moments of relaxation she prefers work, because when you like your job it does not cost sacrifice, it is no longer work, it is pleasure.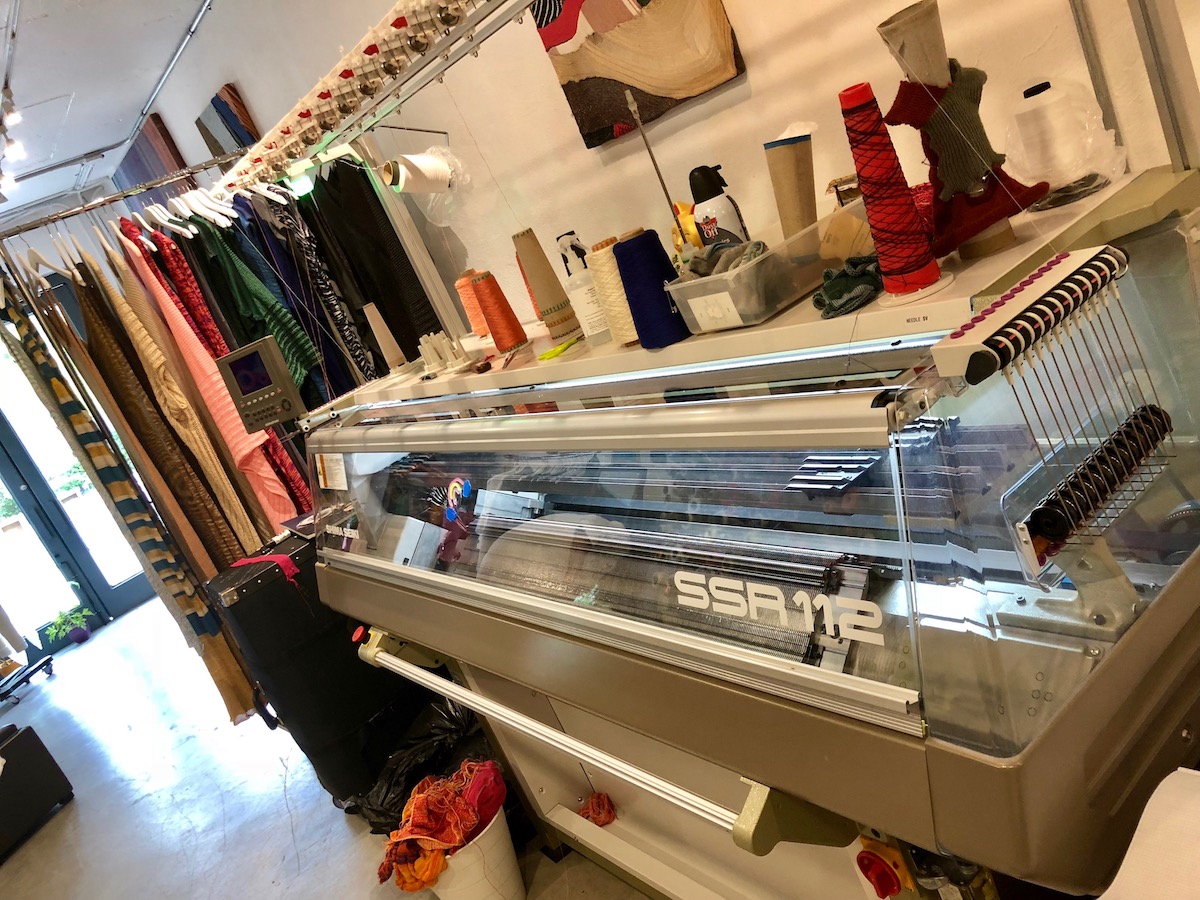 Karelle Levy exhibits her productions in pop-up stores, hotels and boutiques and in addition she organizes knitting workshops.
But if you really want to test the incredible colorful world of Karell, take a ride from Krelwear, at 7520 NE 4th Ct # 107 Ironside.
You will not be disappointed.