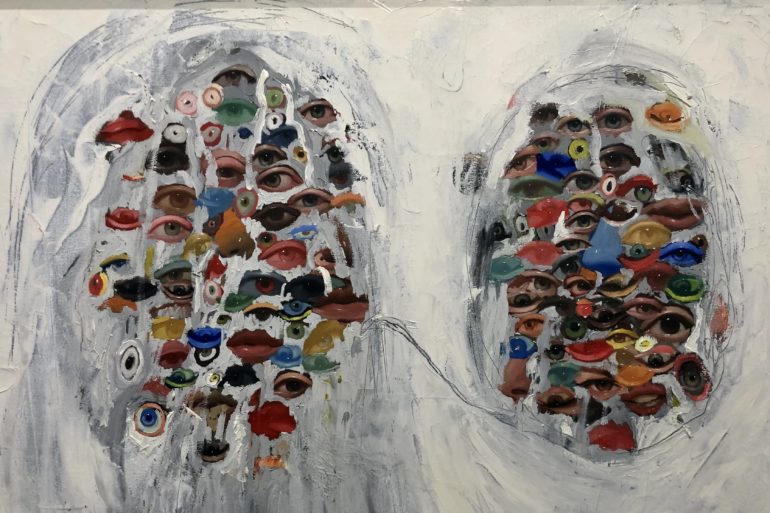 This post is also available in:

La Miami Art Week è la settimana più folle di Miami. Incalza come un turbine con fiere, esposizioni ed installazioni sparse che cominciano con preparazioni, allestimenti e press release mesi prima dell'apertura ufficiale, che avviene durante la prima settimana di dicembre e coinvolge fiere internazionali (prima su tutte per ordine di importanza e numeri, Art Basel), musei, gallerie, collezioni private, complessi e studi artistici, che richiamano a sé migliaia di persone da tutte le parti del mondo. Le motivazioni sono facili da evincere: in primis la Miami Art Week ha assunto proporzioni smisurate con la possibilità di fare acquisti di qualità anche a prezzi ragionevoli, in secondo luogo Miami, la Magic City, è sempre un paradiso tropicale, un luogo nel quale perdersi nella bellezza e nel relax dei ritmi sudamericani: un piacere da vivere intensamente. Ultimo ma non ultimo a dicembre Miami gode di un clima eccezionale.  
Chi si avventura per la Miami Art Week ha la possibilità di spaziare tra arte -in tutte le sue forme- design e party all'ultima moda nelle ore più folli della notte: a Miami l'azione degli street artists si combina alla stravaganza del fashion che durante la Miami Art Week sa essere follia allo stato puro.  
Prima di avventurarsi è bene però avere un'informazione dettagliata circa le mostre e loro location, esposizioni  ed  eventi in circolo: 
Fiere a MIAMI BEACH: 
ART BASEL (5-8 Dicembre) -Miami Beach Convention Center, 1901 Convention Center Drive.
DESIGN MIAMI 3-8 Dicembre) -Meridian Avenue & 19th Street;
AQUA (4-8 Dicembre) -Aqua Art Miami at the Aqua Hotel, 1530 Collins Avenue;
INK Miami, (4-8 Dicembre)-The Dorchester Hotel in South Beach, 1850 Collins Ave,

 
PULSE (5-8 Dicembre) -Indian Beach Park, 4601 Collins Ave;
SCOPE (3-8 Dicembre) Miami Beach Pavilion, 801 Ocean Drive;
UNTITLED (4-8 Dicembre) Ocean Drive and 12th Street;
Fiere a MIAMI :
ART MIAMI (3-8 Dicembre) Art Miami Pavilion, One Miami Herald Plaza (NE 14th Street & Biscayne Bay), Downtown Miami, FL 33132
CONTEXT (3-8 Dicembre) The CONTEXT Art Miami Pavilion One Miami Herald Plaza (NE 14th Street & Biscayne Bay), Downtown Miami, FL 33132
NADA (5-8 Dicembre) -Ice Palace Studios, 1400 North Miami Avenue;
PINTA (4-8 Dicembre) Mana Wynwood, 2217 NW 5TH Avenue;
PRIZM (2-8 Dicembre)

 

Alfred I. Dupont Building, 169 East Flagler Street Miami;
RED DOT MIAMI (4-8 Dicembre) Mana Wynwood, 2217 NW 5th Ave. at NW 22nd St
SPECTRUM MIAMI ART SHOW (4-8 Dicembre) Mana Wynwood, 2217 NW 5th Ave. at NW 22nd St
SATELLITE (4-8 Dicembre) -18 NW 14th Street.
Le collezioni di:
RUBELL CONTEMPORARY ARTS FOUNDATION (Allapattah) (nella nuova sede inaugurata in occasione della Miami Art Week, Dec 4-6, 9 am – 5 pm; Dec 7-8, 10 am – 5 pm)

 

al 1100 NW 23 St, Miami FL 33127;

 
DE LA CRUZ COLLECTION (Miami Design District)

 

3-7 Dicembre 9:00 AM to 4:30 PM, al 23 NE 41st St, Miami, FL 33137;
THE MARGULIES COLLECTION AT the WAREhOUSE

 

(Wynwood Arts District) Mon–Sat 9–5; Sun 9–2, al 591 NW 27th St, Miami, FL 33127;
CRAIG ROBINS COLLECTION AT DACRA (Design District) 3-8 Dicembre 9AM-6PM, 3841 NE 2nd Ave. Suite 400.
I musei 
MIAMI BEACH: 
THE BASS MUSEUM OF ART – 2-4 Dic. 10AM-5PM, 5 Dic. 10AM-4PM, 6-8

 

Dic 10AM-5PM, al 2100 Collins Ave, Miami Beach, FL 33139. In esposizione: Mickalene Thomas (BETTER NIGHTS); l'italiana Lara Favaretto (BLIND SPOT); Heague Yang (IN THE CONE OF UNCERTAINTY); Edison Peñafiel (WALGREENS WINDOWS).
THE WOLFSONIAN-FIU 2-8 Dic.10PM-6PM, 1001 Washington Ave, Miami Beach, FL 33139. In esposizione: A UNIVERSE OF THINGS: MICKY WOLSON COLLETCS; CUBAN CARICATURE AND CULTURE: THE ART OF MASSAGUER; ART AND DESIGN IN THE MODERN AGE: SELECTIONS FROM THE WOLSONIAN COLLECTION.
JEWISH MUSEUM, 10AM-5PM, 301 Washington Ave, Miami Beach, FL 33139. In esposizione: MIRA LEHR: A WALK IN THE GARDEN; ZACHARY BALBER: TAMIM
MIAMI:
PÉREZ ART MUSEUM MIAMI (10AM-6PM)- 1103 Biscayne Blvd, Miami, FL 33132. In esposizione: TERESITA FERNANDEZ: ELEMENTAL; JOSÉ CARLOS MARTINAT: AMERICAN ECHO CHAMBER; ZHAO GANG: HISTORY PAINTING; THE OTHERS SIDE OF NOW: FORESIGHT IN THE CONTEMPORARY CARRIBEAN ART; GEORGE SEGAL: ABRAHAM'S FAREWELL TO ISHMAEL; WHT CARRIED US OVER: GIFT FROM GORDON W.BAILEY; BÁRBARA WAGNER & NENJAMIN DE BURCA: ESTÁS VENDO COISAS
ICA (Institute of Contemporary Art Miami) -3 Dic. 7–10pm; 4 Dic.11am–7pm; 5 Dic.11am–5pm; 6 Dic.11am–10pm; 7 e 8 Dic. 11am–7pm, 61 NE 41st St, Miami, FL 33137. In esposizione: STERLING RUBY, ERIC-PAUL RIEGE: WEAVING DANCE; YAYOI KUSAMA.
PATRICIA & PHILLIP FROST ART MUSEUM 10AM-5PM, 10975 SW 17th St, Miami, FL 33199. In esposizione: ART AFTER STONEWALL, 1969-1989; CONNECTIVITY: selections from the Collection of the Frost Art Museum.
MOCA (Museum of Contemporary Art) 10AM-5PM, 770 NE 125th St, North Miami FL 33161. In esposizione: CECILIA VICUÑA: ABOUT TO HAPPEN; ALICE RAHON: POETIC INVOCATIONS.
MOAD (Museum of Art and Design) 1-6PM, 600 Biscayne Boulevard, Miami, Fl 33132. IN ESPOSIZIONE: WHERE THE OCEAN MEET; FORENSIC ARCHITECTURE:TRUE TO SCALE.
WYNWOOD WALL, 10:30 AM-11:30 PM), 2520 NW 2nd Ave, Miami, FL 33127;
MUSEUM OF GRAFFITI,

 

11:AM-7PM, aperto dal 5 Dic., 299 NW 25th St, Miami, FL 33133
AROUND MIAMI
LOWE ART MUSEUM, 10AM-4PM, 1301 Stanford Drive, Coral Gables, FL 33124. In esposizione: DIAGO: THE PASTS OF THIS AFRO-CUBAN PRESENT; CARLOS ESTÉVEZ: CITIES OF THE MIND; ARTLAB@ THE LOWE: RUSSIA UNFRAMED.

 

NSU ART MUSEUM FORT LAUDERDALE, 11AM-5PM Dic. 1 E Las Olas Blvd, Fort Lauderdale, FL 33301. In esposizione: HAPPY!; WILLIAM J. GLACKENS: FROM PENCIL TO PAINT; I PAINT MY REALITY: SURREALISM IN LATIN AMERICA; TRANSITIONS AND TRANSFORMATIONS.
ART COMPLEX and Gallery
Oolite Arts, 924 Lincoln Road, 2nd Floor, Miami Beach, FL 33139
Fountainhead

 

Studio, 7338 NW Miami Ct, Miami, FL 33150
Bakehouse Complex, 561 NW 32nd St, Miami, FL 33127
El Espacio 23, ( il nuovo centro di Jorge Pérez) al NW 23rd Street, Allapattah, Miami
Esibizioni, eventi e Installazioni da segnalare durante la Miami Art Week:
–  MOS (Meeting of Styles underground Art Basel) 6-8 Dic Little Haiti;
PAOLO DE CUARTO, CONTINUUM PRE-BASEL at the Rudolph Budja GALLERY,

     

2 Dic. 7-9PM;
FAENA FESTIVAL THE LAST SUPPER (2-8 Dic) an exploration of spirituality and food, abundance and sacrifice, indulgence and abstinence, and archetypal symbolism and contemporary aesthetics. 3201 Collins Ave, Miami Beach, FL, 33140;
DESIRE: An Art Basel toast to wanting more, from Lamborghini luxury to Micky Wolfson's most coveted finds, at the Wolfsonian-FIU, 6 dic. 6-11PM;
ART AFRICA MIAMI'S 9TH EDITION, 3 Dicembre 12-2:30PM, 919 NW 2ND Ave, 33136;
MOMENTUM: Nautilus by Arlo, 1825 Collins Ave, Miami Beach, 33139;
Pink Beast by Fernando Laposse 2019 in the Design District;
Les Lalanne at the iconic Raleigh Gardens;
Order of Importance by Leandro Erlich (on the seaside of the Collins Ave);
A Tribe from Wonderland by Stefano Ogliari Badessi at DAM, Miami.
Gli artisti:
Art Basel ha organizzato il programma Artist Studio Visits con il quale si offre la possibilità di incontrare gli artisti e visitare gli studio nei loro studi a Wynwood, Downtown Miami, Miami Beach, Coral Gables e altre località. Per l'elenco degli artisti e studi partecipanti, fare riferimento alla mappa interattiva suAl link seguente è possibile consultare la lista di artisti che collaborano con Art Basel:
artbasel.com/miamibeach/artiststudiovisits.
(On the title: Mother with Child by Emilio Villalba, 2018 @Modern Eden. Scope)