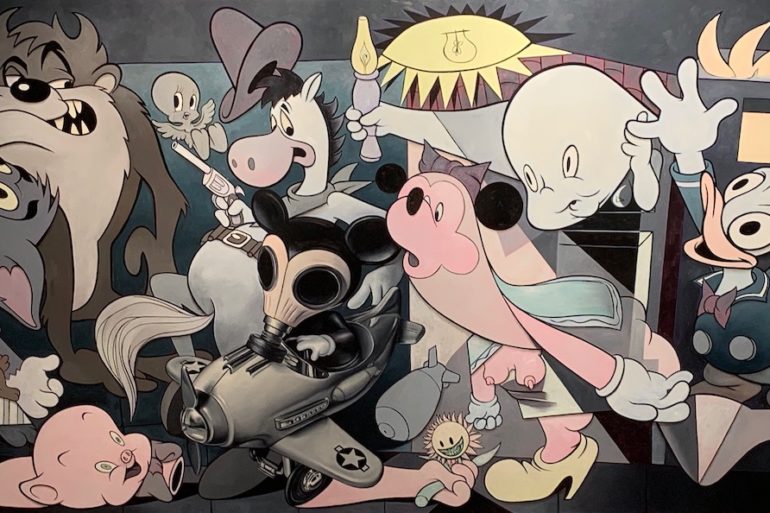 This post is also available in:

Art Wynwood torna, nella sede di Art Miami e CONTEXT Art Miami, in occasione del long-week-end del President Day, dal 14 al 18 Febbraio, consacrando l'ottava edizione dello show, con attribuzione, come oramai da cinque anni, del premio dedicato alla memoria di Tony Goldman, ideatore del Wynwood Walls and doors. A fare gli onori di casa quest'anno, vincitore del Art Wynwood Tony Goldman Lifetime Artistic Achievement Award, il leggendario Ron English. 
Consegnato nel corso di una cena riservata al Boulud Sud dalle mani di Jessica Goldman Srebnick, figlia di Tony e CEO della Goldman Properties, il premio è attribuito annualmente a chi nel settore si è saputo distinguere. A Ron, fondatore del termine POPaganda va riconosciuto il merito di avere mescolato abilità tecniche miscelando personaggi dei cartoon a opere d'arte con particolare cinismo e ironia nella rappresentazione della cultura americana di cui è diventato famoso il suo personaggio mosso a critica dei colossi del junk food americano, Supersize Me. I proventi della serata VIP di Art Wynwood andranno all'Institute of Contemporary Art di Miami, distintosi per aver promosso la sperimentazione continua nell'arte contemporanea, favorendo lo scambio di arte e idee a livello nazionale ed internazionale.
Sessantacinque le gallerie presenti provenienti da 12 paesi,  che hanno esposto qualche opera blue-chip di artisti post-war e moderni con netta maggioranza di opere contemporanee, qualcuna di chiara ispirazione alla street-art e al surrealismo con un ventaglio artistico notevole che l'anno scorso ha richiamato a sé ben 25.500 persone. 
Oltre al celebrato Ron English, che ha esposto Saturday Morning Guarnica, Charlie Eyes Lucy, Duck Alright e Boxer (tele a quattro mani con Daniel Johnston), Three-Eyed Spongebob, Star Skull Basquiat, e Mousemask in the Combat Zone e Mighty MC in the Combat Zone per la Allouce Gallery, fra le opere più costose in esposizione l'opera in acciaio inossidabile di Anish Kapoor, Untitled del 2006. Proveniente da una collezione privata europea, è venduta a $1.250.000 dalla Galleria ARCHEUS/POST MODERN, esposta con altre opere di Robert Rauschenberg,  David Hockney e il Red Lenin di Andy  Warhol.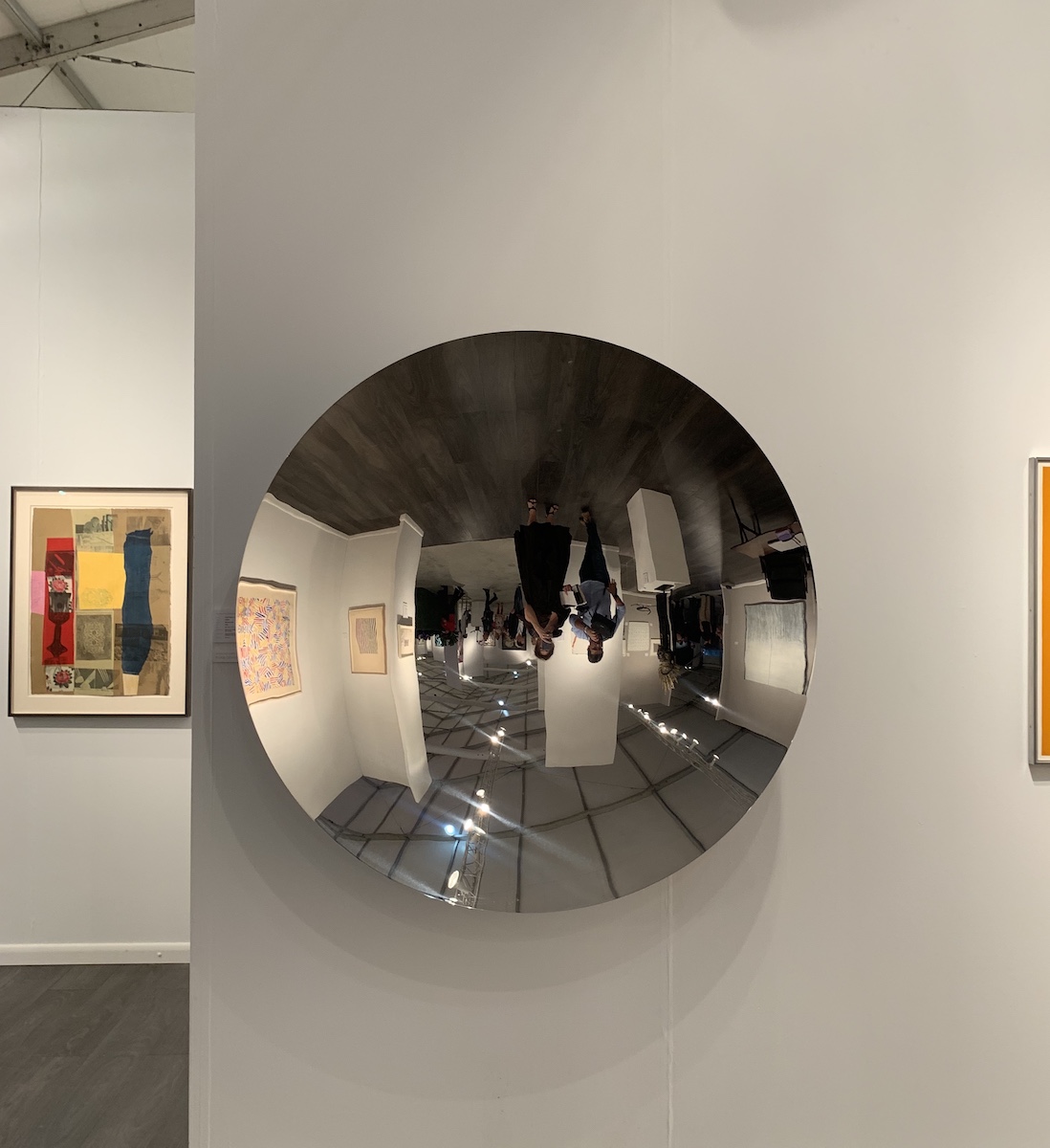 La grande arte cubana è invece di scena alla Galleria Cernuda di Coral Gables che propone opere di Mario Carreño, René Portocarrero, Victor Manuel García , Amelia Pelàez, con l'opera a tecnica mista Interior with Balcony del 1947 venduta a $400.000, e l'olio di Wilfredo Lam con Untitled (Rendez-vous at Twighlight) del 1962 proveniente da  Milano e venduto a $350.000.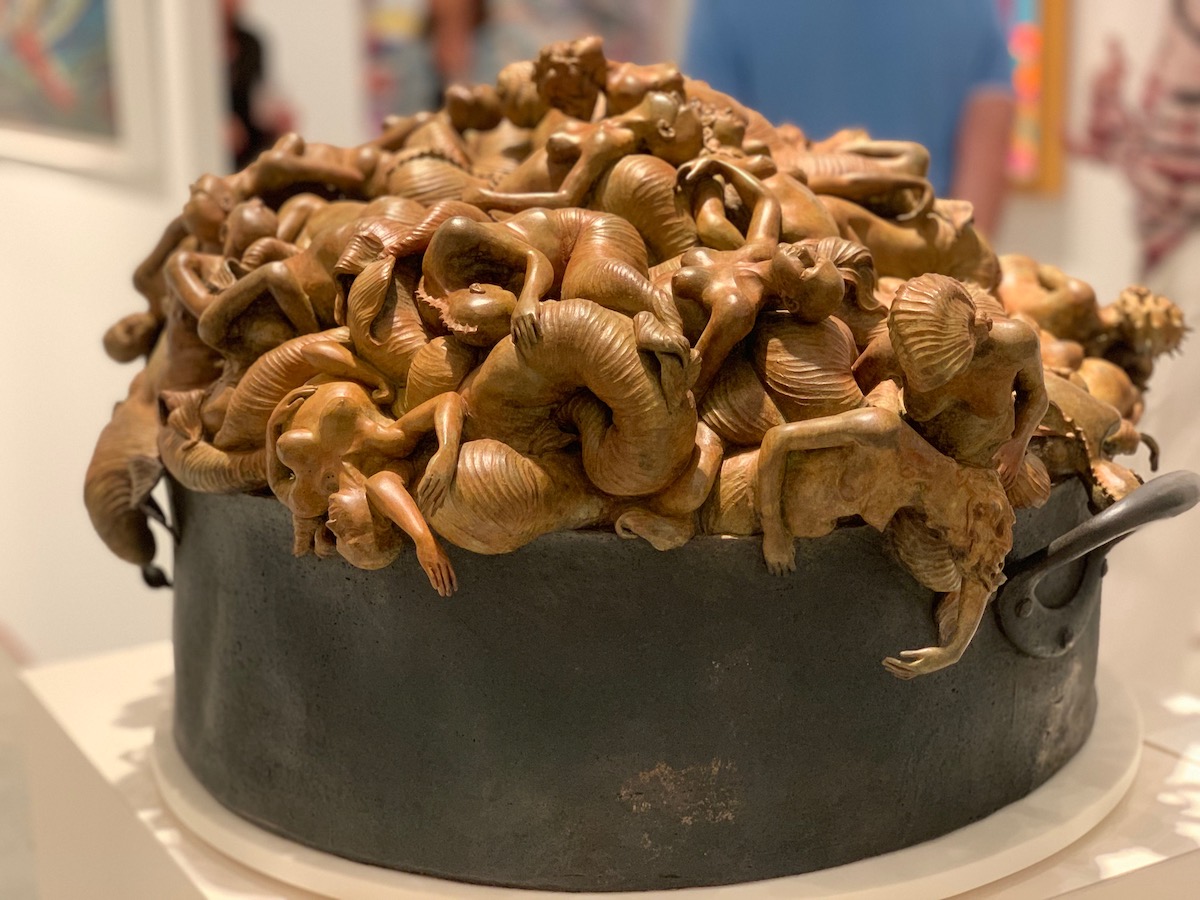 Fra le opere contemporanee tanta pittura ma anche ceramica e bronzi combinati o meno, a  materiali alternativi. La poesia pura delle opere interamente realizzate a mano di Kirsten Stingle di Atlanta alla Bel Air Fine Art di Miami è un mix di ceramica e pittura che rivive nelle splendide sculture che evocano le immagini dell'ambiente illustrativo. In esposizione The Air We Breathe ($8 200), Whisper ( $4800), Ricochet ($ 4200), Soul Performer ($ 3800) e Dangeros Beauty ($1850).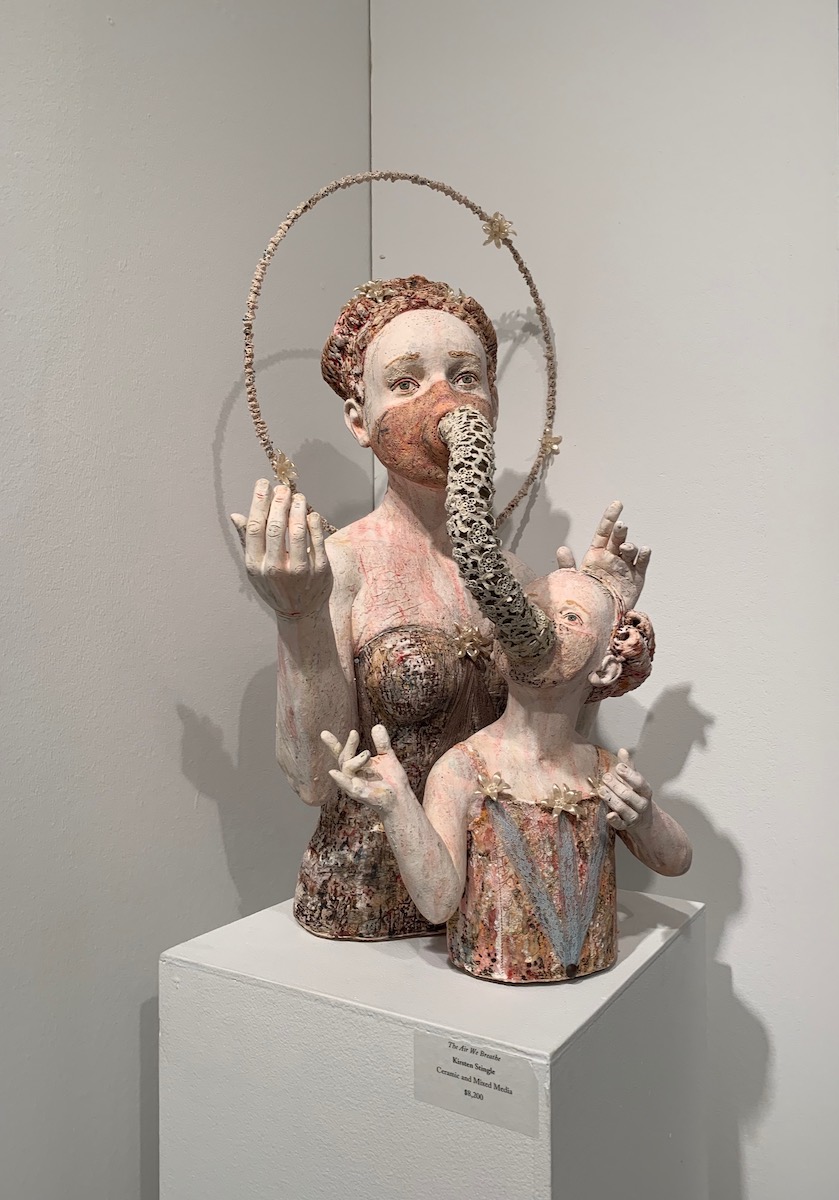 Si ispira al dramma dei migranti l'opera if I Knew di Milena Martinez-Pedrosa al Martinez-Pedrosa Studio di Miami: una testa semi-interrata circondata da rose e falene dorate per l'opera conservata in una teca. Le sculture bi-faccia di Frank Hyder esposto alla Project Gallery, a metà fra le uova di Fabergé, per cui ha lavorato ed i ricordi della Polinesia Francese, in cui ha vissuto. Frank Hyder è il fondatore del The Janis Project e l'ideatore delle sculture gonfiabili di grandi dimensioni all'ingresso di Art Wynwood. Sempre all'esterno l'opera Crabit, il gigantesco volatile di Mike Renard. La satira delle opere in bronzo di Renard (M-Ray), esposto alla Galleria ArtLabbé sono opere ricche di significato che denunciano il consumismo, l'indifferenza e l'avidità dell'uomo che non rinuncia alle guerre per sfruttare le risorse e il pianeta. In esposizione: la Piovra i cui tentacoli rappresentano le famiglie mafiose e la corruzione, ($ 15000) e Rhino Beetle, che rappresenta la fragilità delle specie in pericolo di estinzione. Sempre in bronzo l'opera Navigator's Dream dell'acclamato artista cubano Roberto Fabelo, sempre esposto alla galleria Cernuda Arte, a metà tra una pentola colma di sirene e un barcone carico di migranti inermi. Anche quest'opera richiama l'amaro tema dell'immigrazione, i cui personaggi attendono con soggezione un evento che non accadrà mai, rimanendo perduti nel silenzio.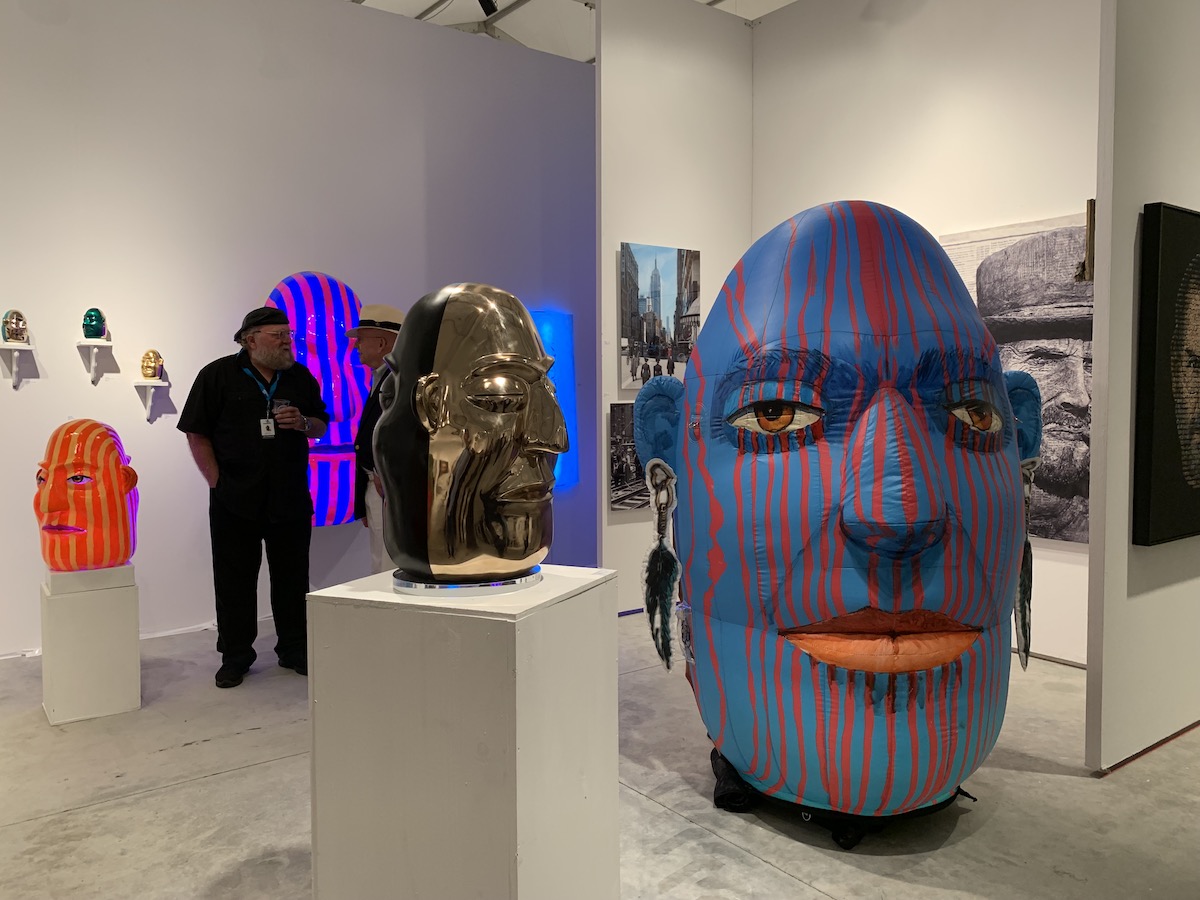 Italiane le opere di Giulia Ronchetti esposte al DAM dal co-fondatore e curatore Valeray Francisco: Giulia, che tra le esposizioni vanta l'allestimento delle vetrine Hermés Italia, utilizza immagini del mondo animale, alchemico e dei vecchi erbari. Italiano anche l'artista Giovanni Confortini, a metà fra l'iperrealismo e il metafisico, con le sue opere esposte alla Galleria Mart di Miami (Galleria d'Arte Martinelli), da Raffaele Martinelli e Liliana Bressanelli. Brendon Murphy con la sua esplorazione tra bellezza, potere e necessità di comprendere i logaritmi per una vita felice, porta le sue equazioni su tela e nelle sculture. In esposizione alla Contessa Gallery, due sculture di grandi dimensioni: War and Peace Series, Tree Pose del 2018, che rappresenta un soldato mentre fa yoga  ($180.000) e BOONJI Spaceman, un astronauta in ritorno dal futuro con la formula magica ($150.000). Sempre di Contessa Gallery l'arte essenziale di Mr.Brainwash che crea con vinili rotti su tela la figura di Freddy Mercury ($133.000) e il volto di Bob Marley ($73.500) e le opere di street art di Hijack, Life through Street Art del 2017 ($ 55.000) e Beating Heart del 2018 ($ 45.000). Tradizionale e sempre di grande impatto l'arte figurativa del talentuoso Cesar Santos, che con le sue opere in olio e gesso e a carboncino ha esposto alla Waltman Ortega Fine Art di Miami.
I vari Giantfoot dev'autodidatta istintivo Idan Zareski irrompono in tante misure alla Markowitz Fine Art di Miami, mentre lo stile semplice, quasi ingenuo di Kaï, arriva a criticare la società e a condannare l'ingiustizia sociale.
Tanta arte mescolata a problematiche attuali a conferma del fatto che l'arte veicola meccanismi ben più complessi che non limitano lo sguardo ad un like.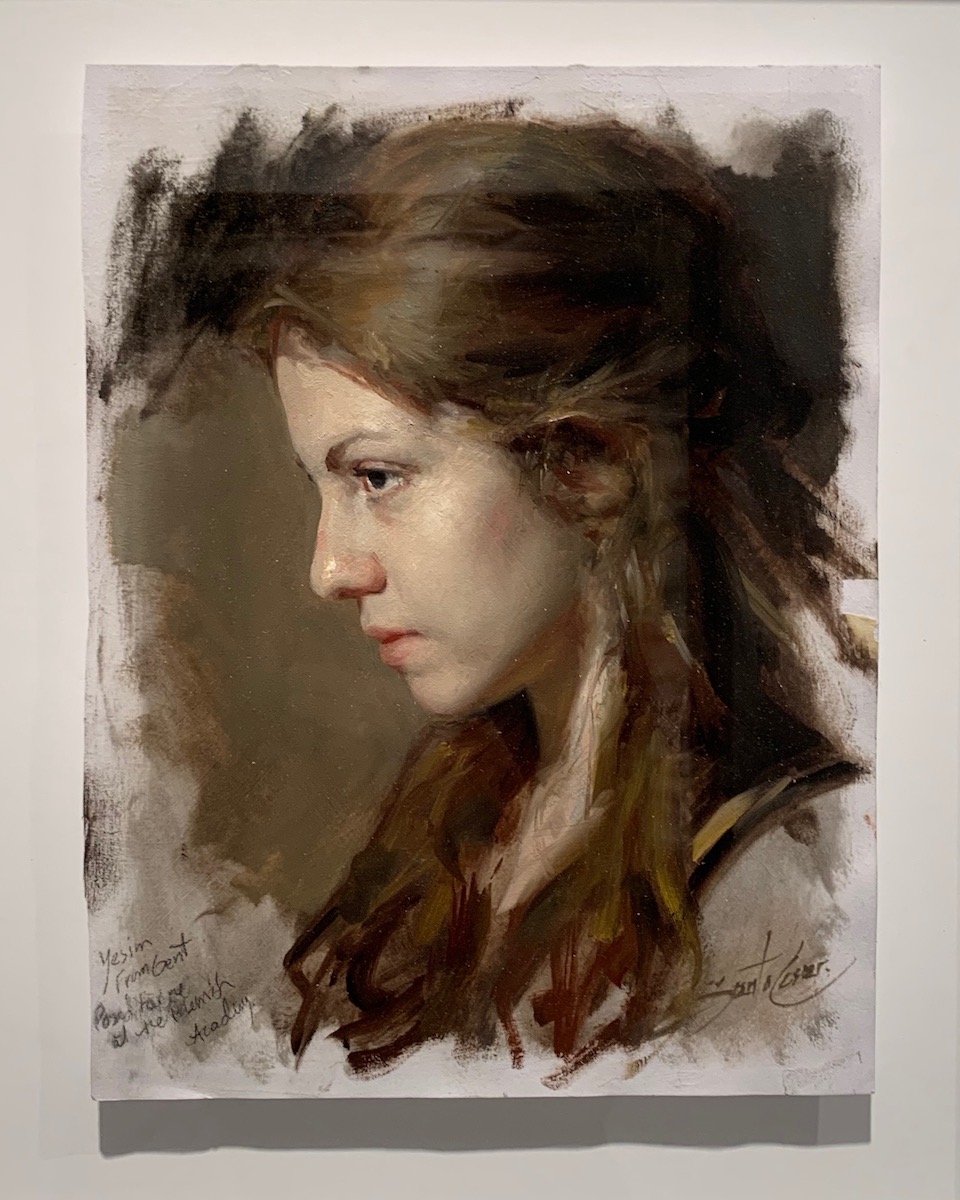 .