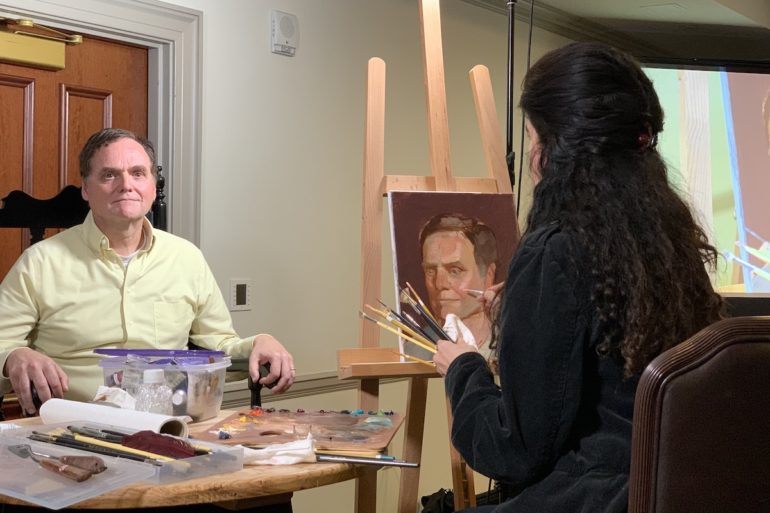 This post is also available in:

Gabriela Gonzalez Dellosso this year was part of the faculty of the renowned FACE -Fine Arts Convention and Expo-for the 2019 edition that brings together the greatest artists of Fine Arts present on the national and international territory, and that took place in the beautiful setting of Colonial Williamsburg. 
Gabriela is an artist with a sensitivity, a grace and a talent out of the ordinary that can be perceived not only in her works but also in her person. 
During the third edition of FACE, she demonstrated her  talent to the public on two occasions in extremely short times, and in complete antithesis with her usual way of working, which also takes months to make a piece. In the first demo she paid tribute to the great Daniel E.Greene, in a period of time that barely exceeded the hour of performance and which saw, at the same time, the performance of another superlative artist, Joshua LaRock, who instead portrayed Daniel's wife, Wende Caporale: both historical artists who received the prestigious Lifetime Achievement Award at FACE 2019. The second demo lasted just over two hours in which Gabriela portrayed Robert Vooahas as she explained her approach to portraiture step by step. Two demonstrations that are far from easy for her, who describes herself as "a very slow artist", she says with a smile, but yet she has been able to achieve everything in the best way. The credit must surely be attributed to the masterful skills she has honed over time, her aptitude for being a problem-solver by nature, and last but not least to the ability to analyze and synthetize gained during her years of study at the faculty of psychology.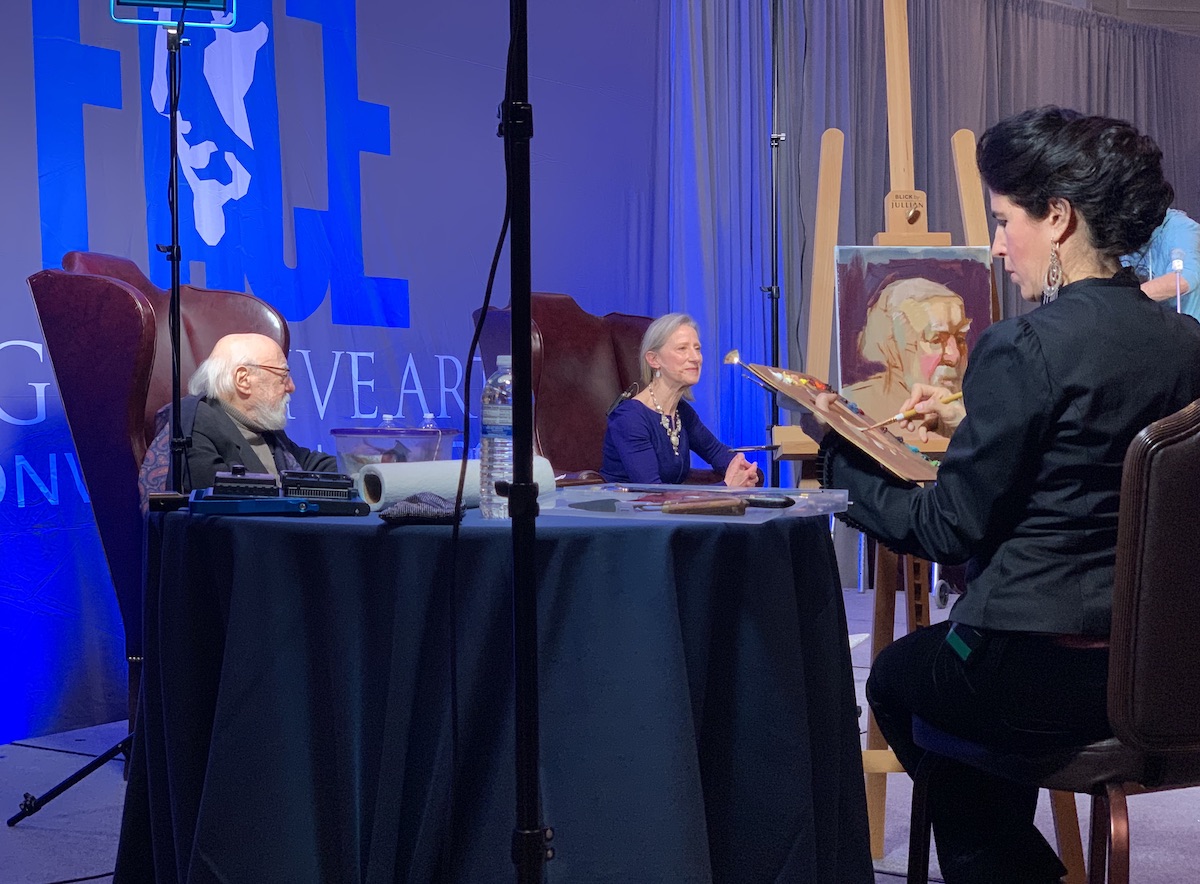 Gabriela Gonzalez Dellosso's training path is as fascinating as her predominantly large works. While at FACE she has in fact created two small-format oil works, in the traveling exhibition that saw her protagonist first at the Hecksher Museum of Art in Huntington, Long Island (which includes one of her works in the permanent collection: Bride II) and then at Polk Art Museum of Lakeland, FL, where the exhibition A Brush with HerStory was inaugurated, on display until April 12, 2020, in which she exhibits large and medium-sized works. The artist loves oil technique and prefers to work on large formats that lend themselves well to the use of the medium. Her other great love is drawing but in her career as an artist she also used crayons and watercolors with which she made for many years her preparatory sketches. Gabriela prefers to work on large-format works that obviously take longer, but her philosophy of composing for quality and not quantity is appreciated by the Harmon-Meek Gallery in Naples, FL, which represents her, respecting her timing and artistic choices. 
Gabriela Gonzalez Dellosso began to draw as a child when inspired by nature she began to write stories, the result of her vivid imagination that accompanies with drawings as if they were comics. In college she decides to abandon art in favor of science convinced that with art you cannot live. She then enrolls in the faculty of psychology, attracted by the mechanisms of the human mind and their interactions related to different philosophies of thought, but it is precisely in the third year of studies that her ex-husband urges her to pursue the artistic path. The acquaintance with her ex-husband's uncle, a famous illustrator who has worked for important magazines, makes Gabriela think that she sees in art also a means of subsistence, contrary to the ideas of the past. She quit psychology and with the support of her father received her BFA at the School of Visual Arts. Once she graduated, she got married and started working as an illustrator. But despite working on important works such as Anne of Green Gables, a classic of children's literature, she realizes that illustration is not for her because she realizes that she doesn't like to illustrate other people's stories: she likes to represent her stories through her characters.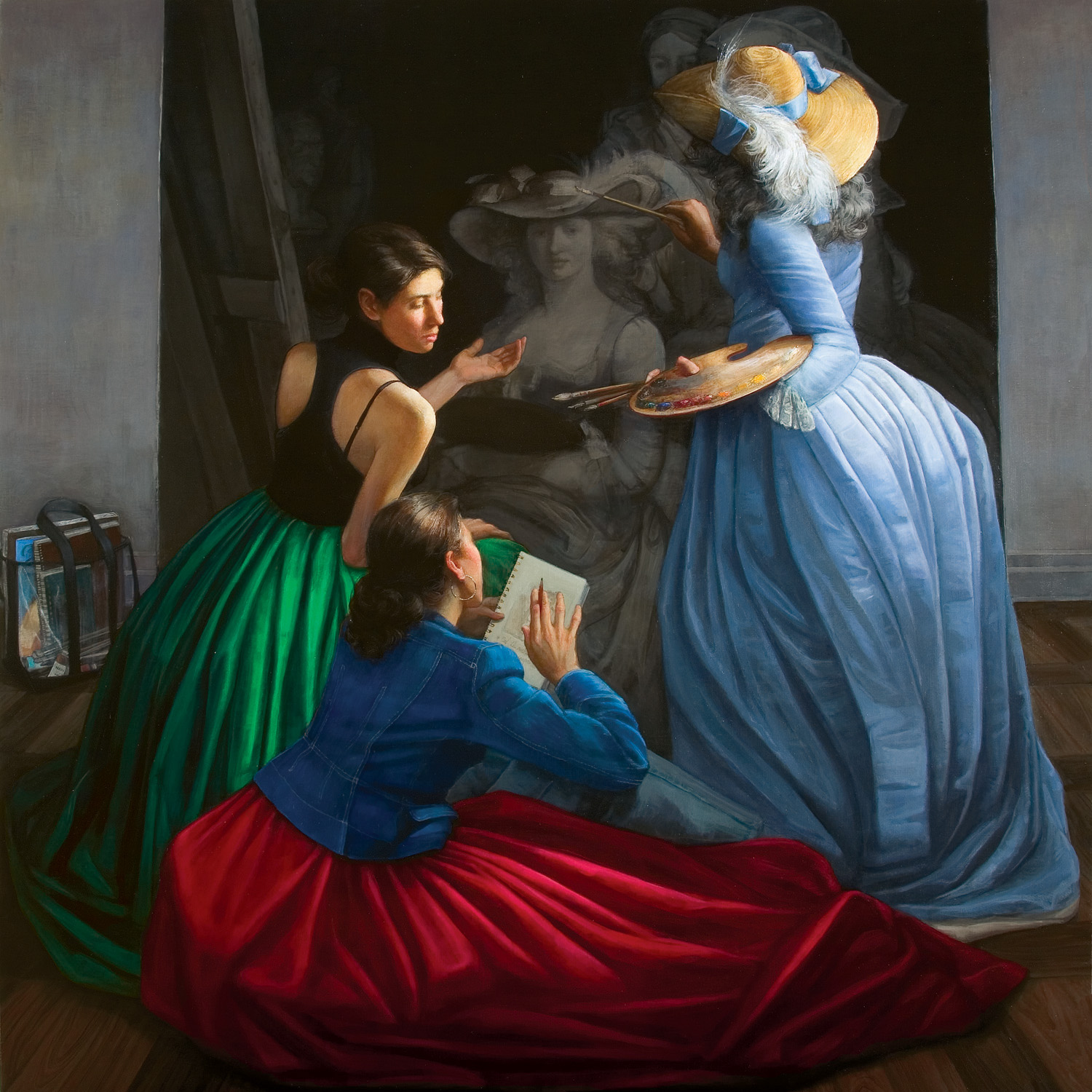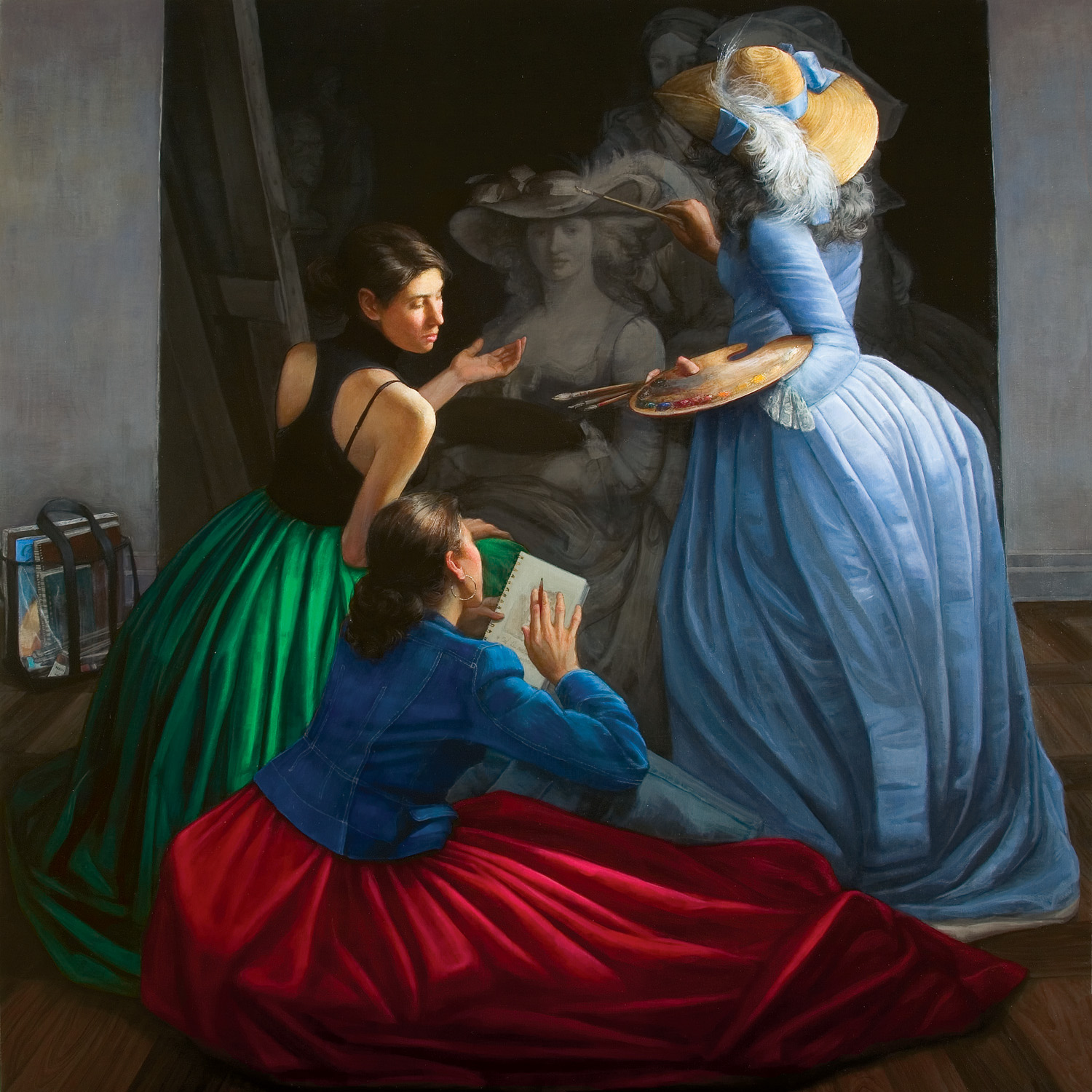 She then enrolled in The Art Students League in New York, which she frequents in the morning and where she has the opportunity to experience the live painting of which she falls madly in love, while in the afternoon she continues to work as an illustrator.   
Gabriela, mindful of the various life experiences, is more than ever convinced that no one passes on the tracks of someone's life by chance and the obvious example was the ex-husband: if she had not met him she would now be a psychologist: "A good psychologist" says her smiling, and adds: "But fate wanted it so." 
Gabriela Gonzalez Dellosso is used to – thanks to a process that she has managed to mature over time with experience – proceed in the construction of a portrait from the structure of the face, as if it were a kind of box that is composing slowly, like a puzzle in which you  seemingly distinct elements, of which she says: "Nothing pleasant to see during the process", eventually converge in a harmonious and balanced composition. 
Gabriela knows exactly what steps she needs to take to converge the twist of the lights and shadows, the 2D and 3D of the image and the modelling that she manages to figure in her mind before the work is even completed. "And it's the final part, the "polishing,""And it's the final part, the "polishing," that I consider the funnest part", Gabriella says, also stating that sometimes it takes her months of work.
Although she often does live painting she tends never to copy the subject but to characterize it with her point of view and her imagination, as she did as a child, and this is another characteristic that distinguishes her style: she does not perform works on commission but she paints her ideas that may not please others, but that as long as  they satisfy her then: "That's fine", regardless of the judgment of others. Gabriela always completes her work because: "You never know to the end what the work of your life can be."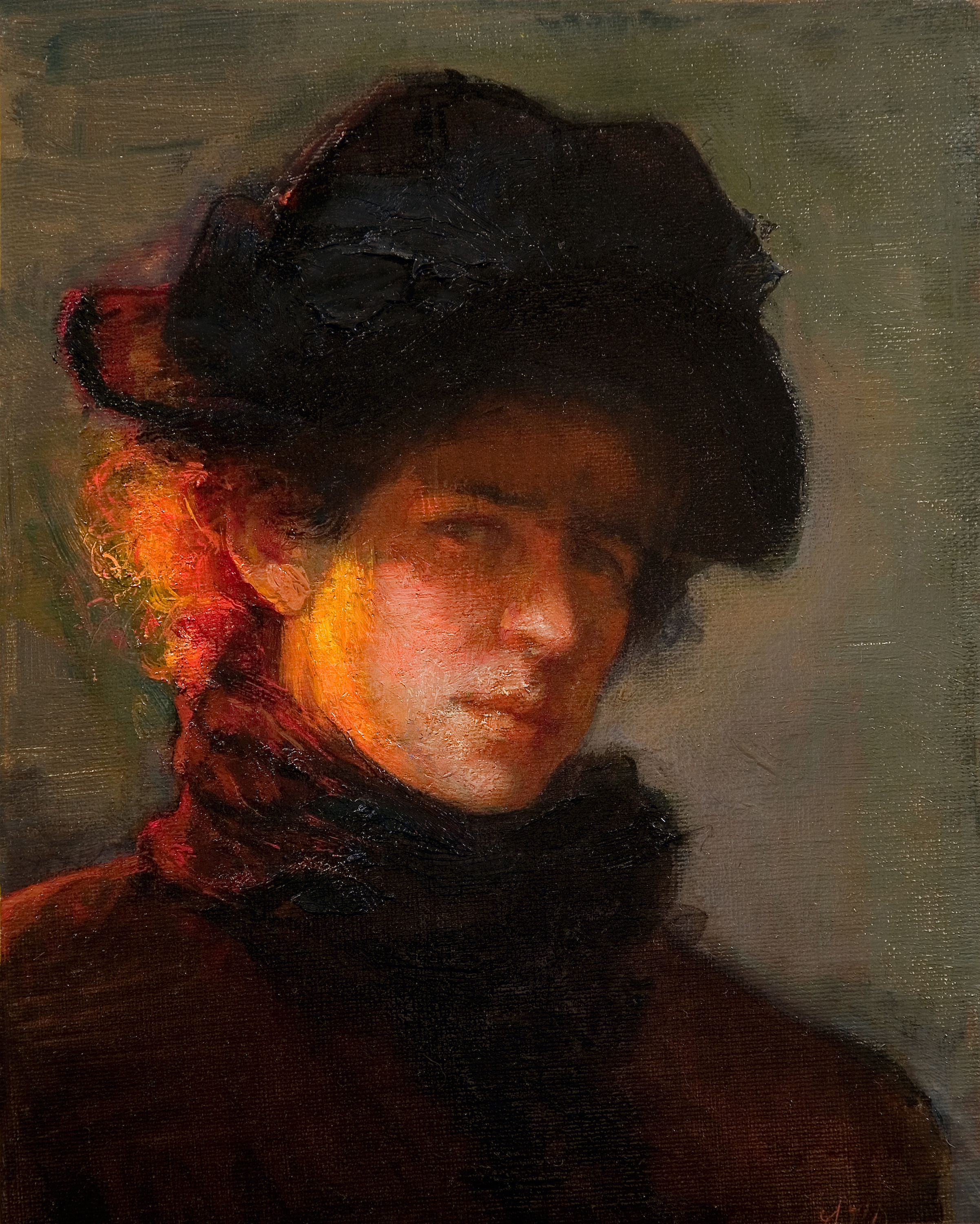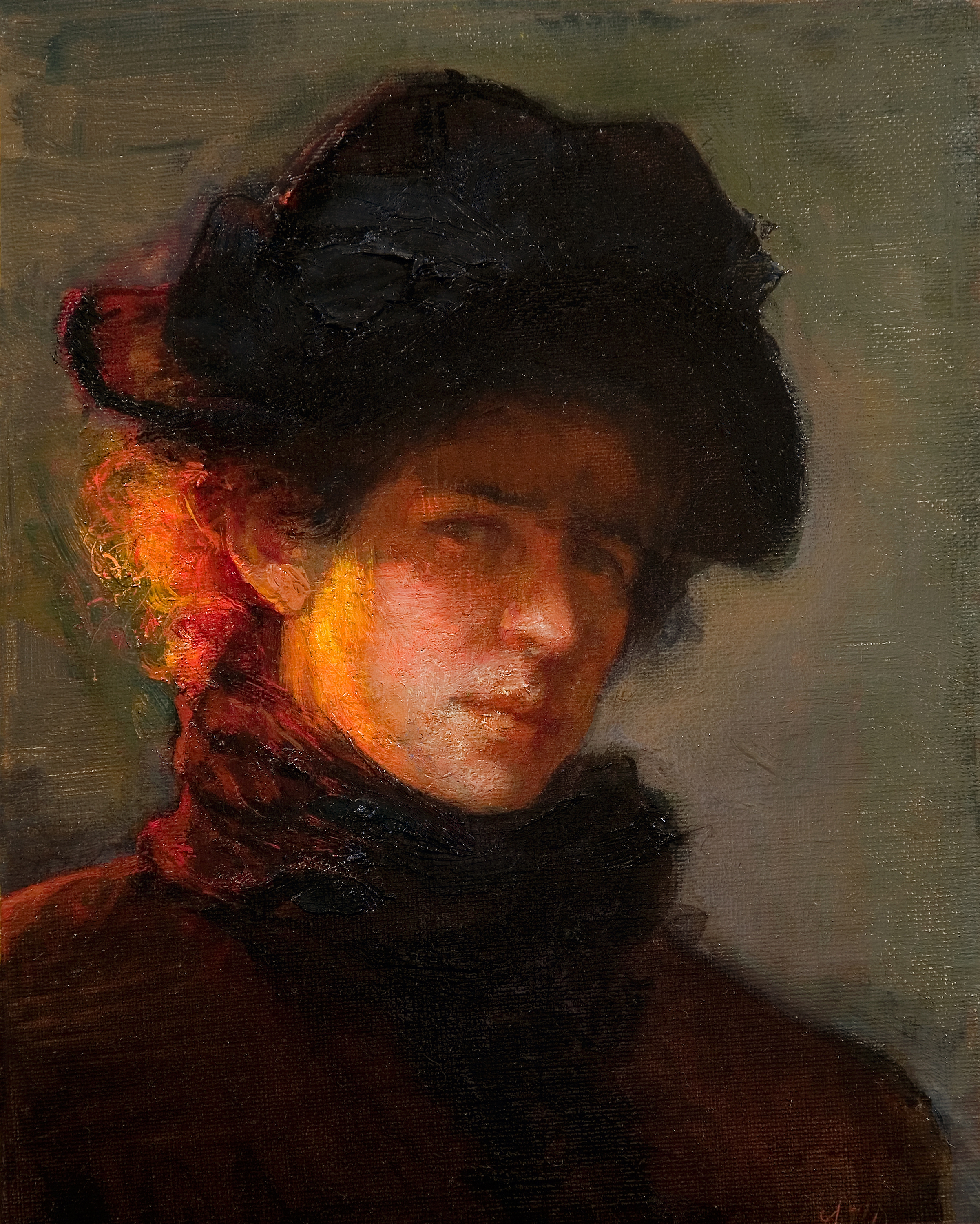 The artist used to use a rich palette of colors and many brushes, at least ten, with which she managed to orchestrate the colors and their values: a kind of further care in her masterful work.
Speaking of psychology Gabriela Gonzalez Dellosso is undoubtedly influenced by the study of psychology for her way of being sensitive and very, very analytical: "The study of human minds, ideas and the way they interact is the basis of psychology but also of the approach in which a painter who makes figurative art knows how to tell the story of the subject he represents: It is fundamental", she says.
On December 14th the exhibition A Brush with HerStory officially opened at the Polk Art Museum in Lakeland, FL.  
Miami Niche attended the celebratory evening attended by both Gabriela and her inevitable mother, who accompanies her everywhere: a nice and spry lady whom she calls her lucky charm, always present and in the front row even during the demonstrations of her daughter at FACE. 
And although her mother's eyes do not lie, she says of Gabriela: "In life she is pessimistic, she never answers "yes" because she is too apprehensive". Gabriela looks at her smiling and counters by saying: "It is not about apprehension but rather about objectivity and analysis".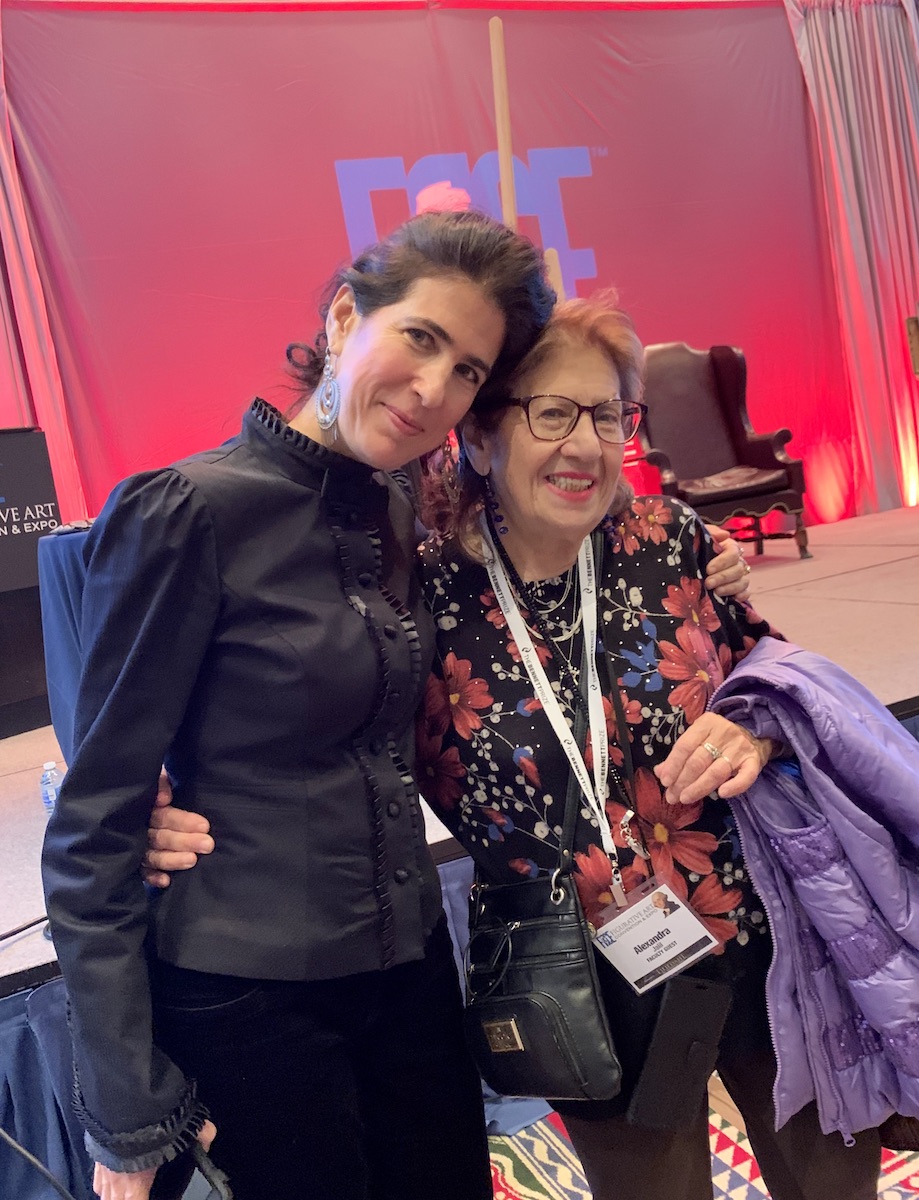 In reference to the exhibition, of which Fine Art connoisseur Magazine wrote a fine article published in the magazine in October, the idea is to represent a series of works that was born by chance as an idea in 2008 when, in the company of the mother during a visit to the MET, she discovers an artist she had never heard of before: Adélaïde Labille Guillard (1749-1803) author of the work: "Self Portrait with Two Pupils". The canvas conquered Gabriel Gonzalez Dellosso to the point of wanting to know the author's story to discover that despite the surprising gifts had not been admitted to the Académie Royal de Peinture et de Sculpture of the time, because then they could be admitted only four women per course. 
Hence the idea of representing women in art history. Women who have always played a marginal role compared to men. But she does it in a particular way: she combines the somatic traits of the artists of the past with their own, because their lives are now part of hers.  The result is an extraordinary work , and the confirmation comes from the fact that her first three works dedicated to Frida Khalo (1907-1954), Artemisia Gentileschi (1593-1653) and Lila Cabot Perry (1848-1933), composed in 2008 were sold out in a short time.  She decided to implement the body of work by creating: the Italian Sofonisba Anguissola (1532-1625), the Spanish surrealist Remedios Varo (1908-1963) and The Mentor, painted in 2010, which represents a reinterpretation of the work that has bewitched her: a tribute to Adélaide Labille Guiard (1749-1803).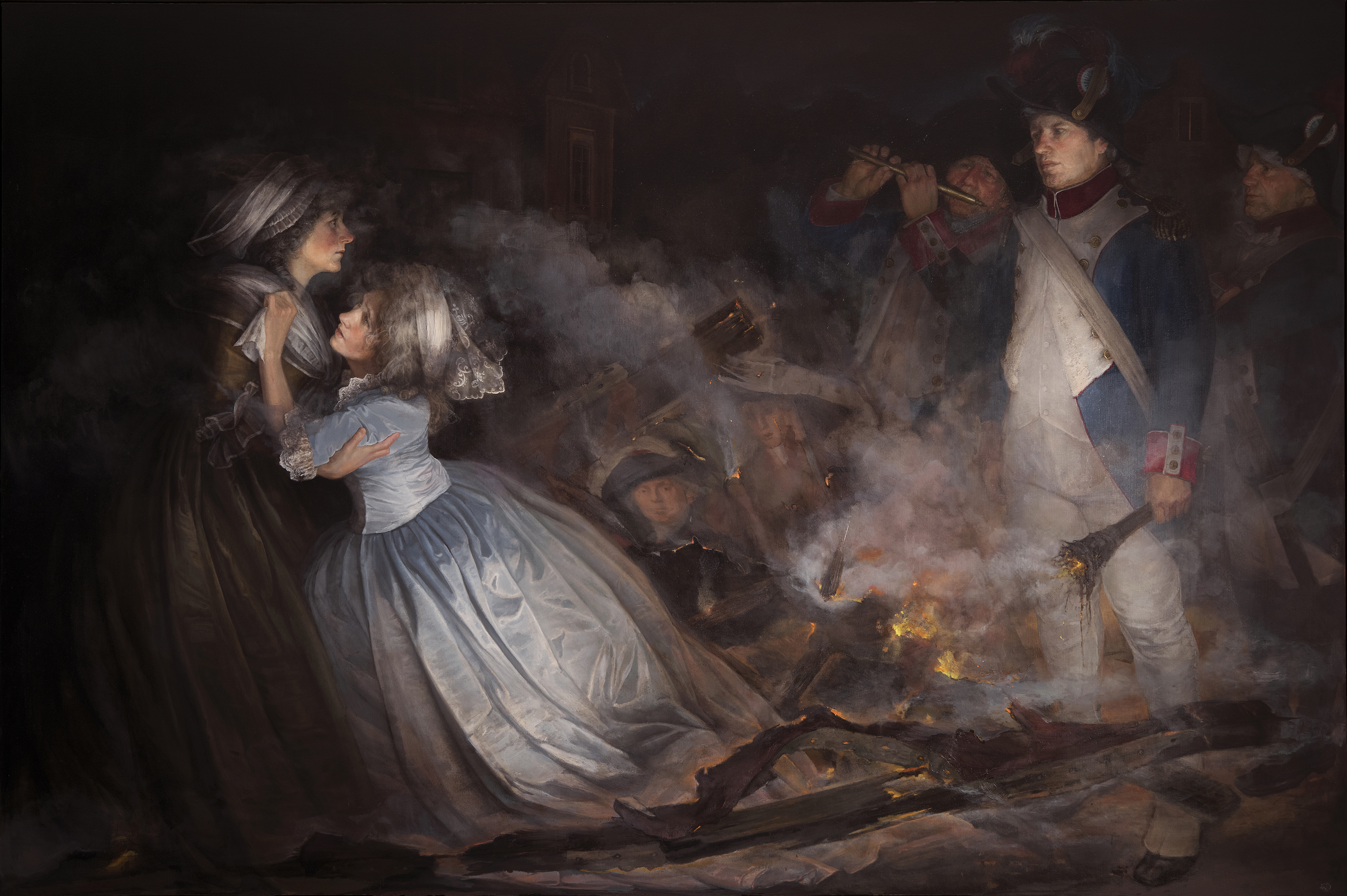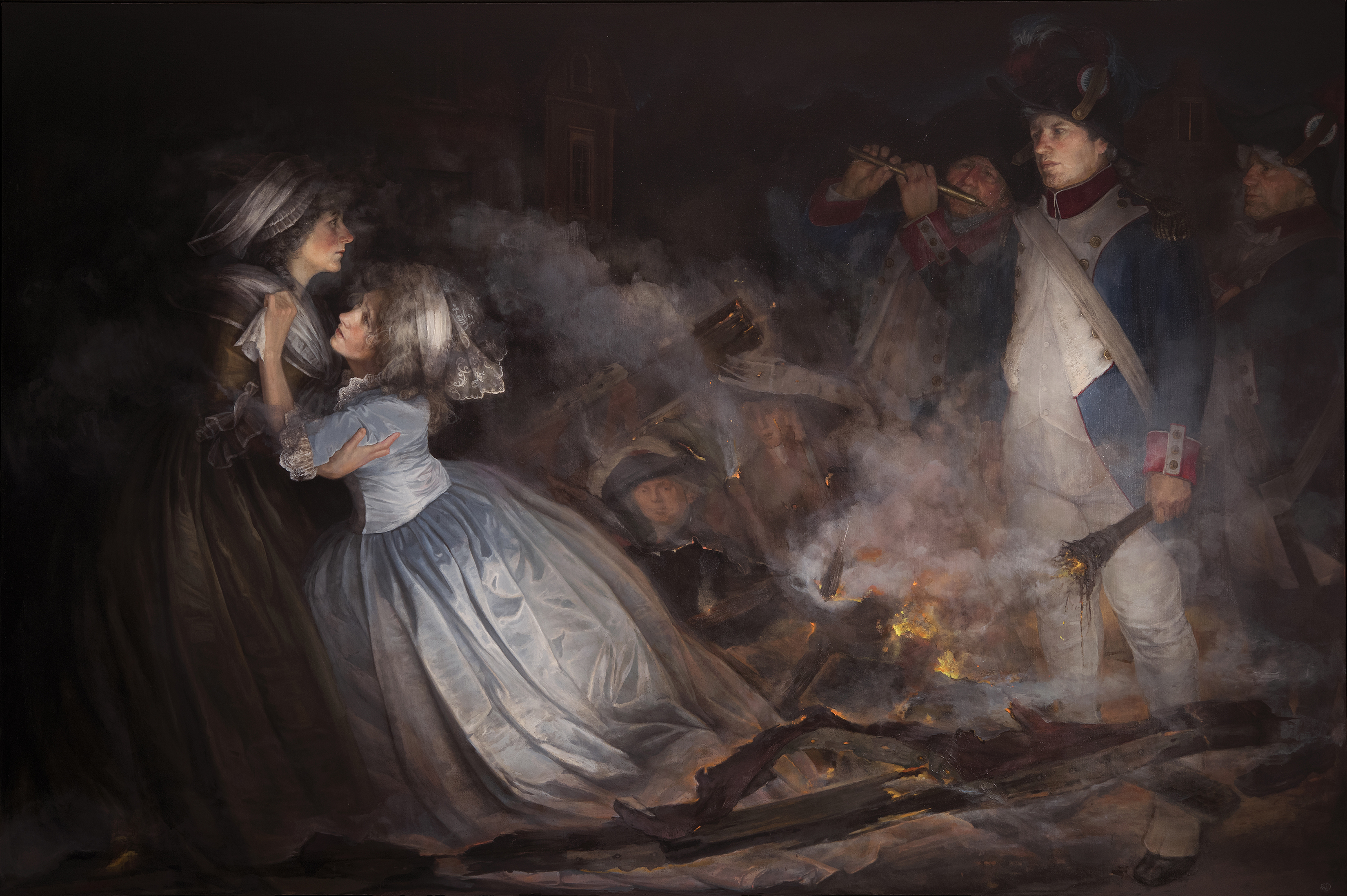 The exhibition features large canvases, including the aforementioned The Mentor (Self-Portrait), Genevieve Estelle Jones's Dream (Self Portrait), Homage Composition to Anne Vallayer Coster, Clara Peeters and Rachel Ruysch, The Burning of Adelaide Labille-Guiard's Masterpiece (Self Portrait Homage) and Varo's Moon (Self-Portrait). 
Among the works on display there is also the Homage Ode series, in which the works of Gabriela Gonzalez Dellosso are accompanied by small poems composed by the artist and lateral pictorial works that enrich the artist, a bit like she did as a child with her imaginary stories that she represented in the form of comics. The Homege Ode is dedicated to Amelia Peláez (1896-1968), Artemisia Gentileschi (1593-1653), Elizabeth Vigée Le Brun (1755-1842), Lavinia Fontana (1552-1614), Rachel Ruysch (1664-1750), Kathe Kollwitz (1867-1945), Giovanna Garzoni (1600-1670), Anne Vallayer-Coster (1744- 1818), Remedios Varo (1908-1963), and Sofonisba Anguissola (1532-1625).
Gabriela Gonzalez Dellosso's career is very rich and varied: she teaches painting at The New York School of Arts and at the JCC of Manhattan. In addition to the participation in FACE, and the current traveling exhibition, in 2018, thanks to her aunt who posted many of her works on social media she was contacted by Melvin Hoyos, director for the culture of city of Guayaquil, which wanted ten of her works for the personal, Illuminates, set up at the MUMG-Museum Municipal de Guayaquil-, in Equador on display from August 16 to September 13, 2018.
Next year, however, the artist will be an artist in residence in Bulgaria, in a city near Sofia where she will eventually set up an exhibition.
Also scheduled for next year are the release of the Streamline DVD in January with which she will teach step-by-step her compositional process.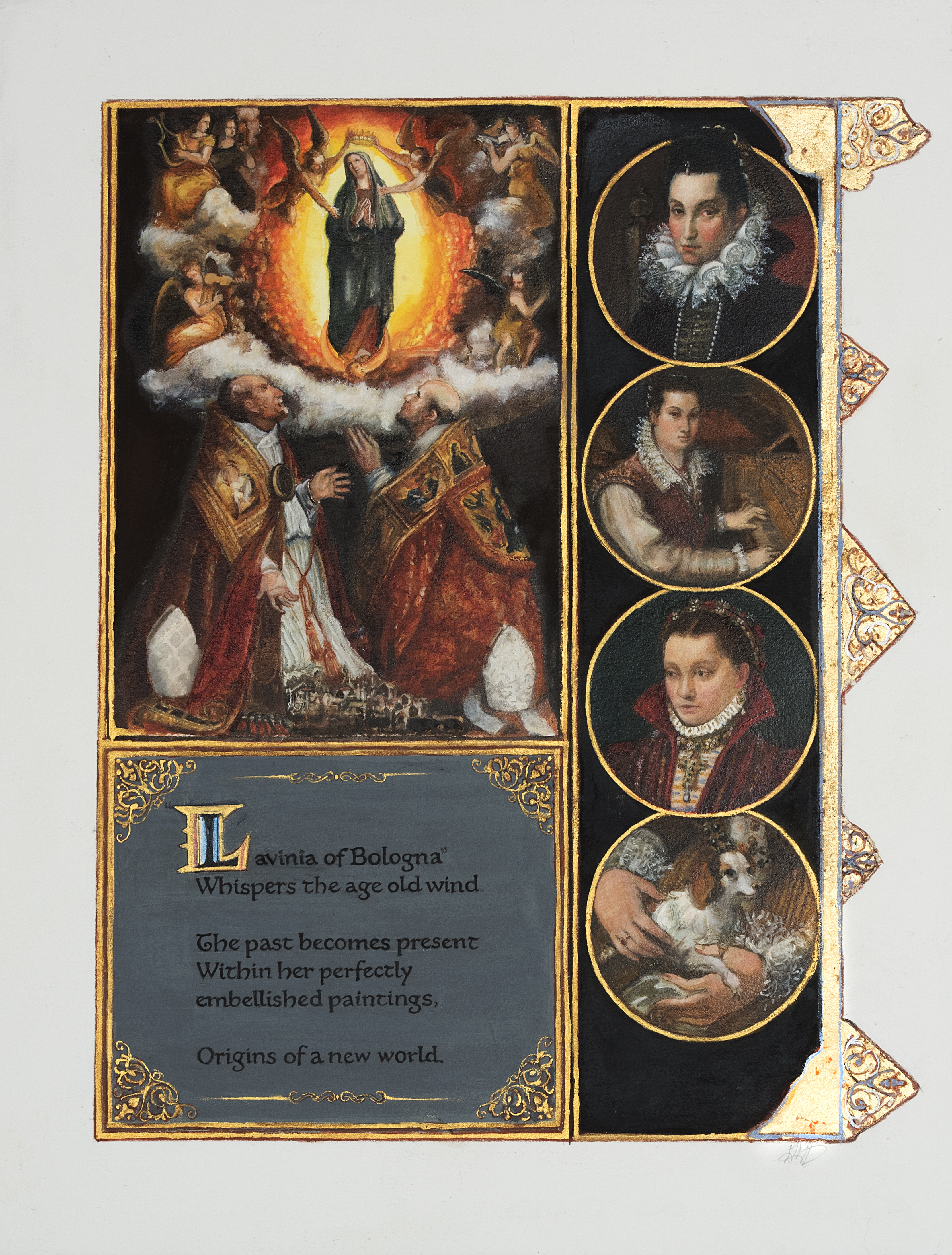 For those who happen to be in the area during this period do not miss A Brush with HerStory also because digital images are not able to make the beauty of these works and because art at the end of the day is like the nature to which Gabriela was inspired as a child: you can take a photograph and observe it but live a sunset and savor it well, that's a whole other story.
(In the title: Gabriela at FACE paints Robert Vooahas)
.