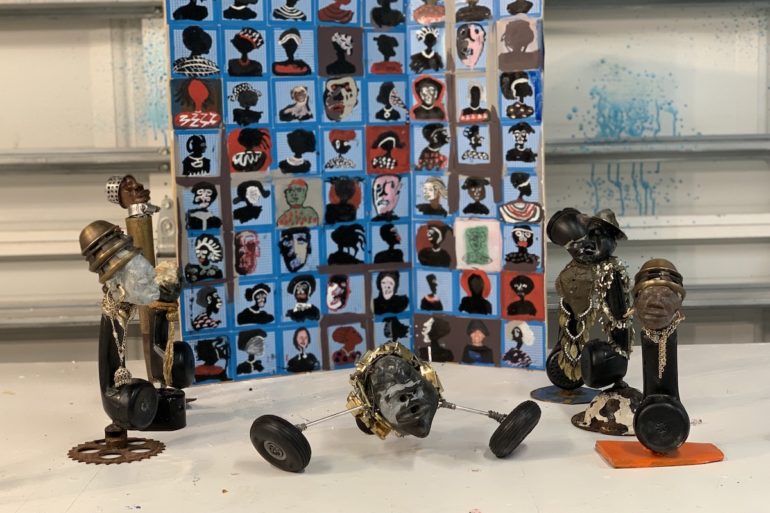 This post is also available in:

The Fountainhead Residency greeted the resident artists of the month of May: Elechi Todd from Trinidad and Tobago, Terence Musekiwa from Zimbabwe and Narsiso Martinez from Los Angeles.
Three artists with different artistic techniques and different artistic backgrouds: Elechi, son of a Montessori teacher who unquestionably taught him rigor and discipline (it is also noted in the organization of the material presented to visiting guests), he followed his artistic passion proceeding to achieve personal goals, absolutely self-taught. 
Terence, the son of an African sculptor from the Shona tribe, who had promised himself, not to be part of the art world, in which he found himself in a totally casual manner. 
Narsiso, immigrated to the United States from Mexico, started to work in fields as a laborer, in order to raise the money needed for art studies.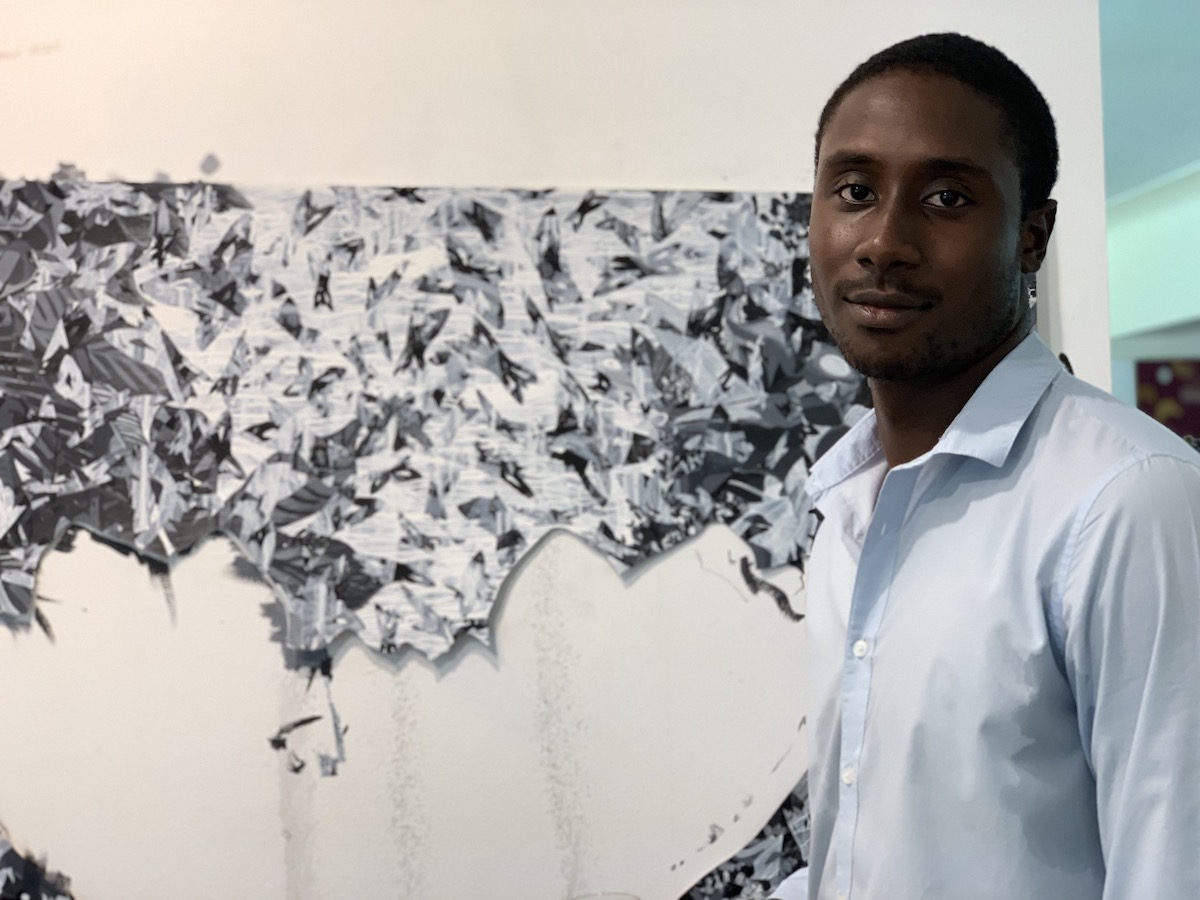 Elichi Todd was born in Trinidad and Tobago, to an engineer father and a Montessori teacher mother. The two hoped that the child could aspire to a "higher and more profitable" profession than an artist. The divorce of the parents combined with his reflexive nature, and a speech made to him by his art teacher (who advised him to pursue his path with passion), convinced him to jump into the artistic world. The need to "listen" to each other and get to know each other led him to live on his own.  While visiting different countries of the world, he found artists who were for him a source of inspiration: George Condo, Alexandre Manuel Dias Farto, known in art under the name of VHLS, (famous street artist originally from Portugal and also known in Miami) and How Nosm, originally from Trinidad. His art, as a self-taught artist, has ranged across different artistic disciplines, each of which is reworked in his own way. Todd often uses his own body as a central element of his work that he treats with extreme creativity, reworking it graphically and photographically until he takes on different appearances, including those of the butterfly. The art of Elichi, like the process of becoming a butterfly, goes through different phases to reach its maximum expression. Elichi's experimental art takes shape spontaneously starting from a glimpse of landscape that captures his attention, like a stub or the strands of the electric wires in his homeland. His style is also defined by shapes that he cuts and combines differently sometimes in negative sometimes omitting them completely. His works in black and white combine a flat network of fluid images composed of primitive lines and designs, tone-on-tone or with a slight variation of nuances to the flat brushstroke, which enrich the texture recalling the art brut of Jean Dubuffet and the primitive art by Jean Michael Basquiat. Todd has also composed works of street art, initially signing himself with his symbol that resembles a stylized bird. He lives and works in Trinidad where he has co-curated and participated in several collective exhibitions with other local artists, reviving abandoned and underused spaces. In particular The Paper Show, 2015 and Common Thread, 2018. He has also performed internationally in group shows in Portugal and London.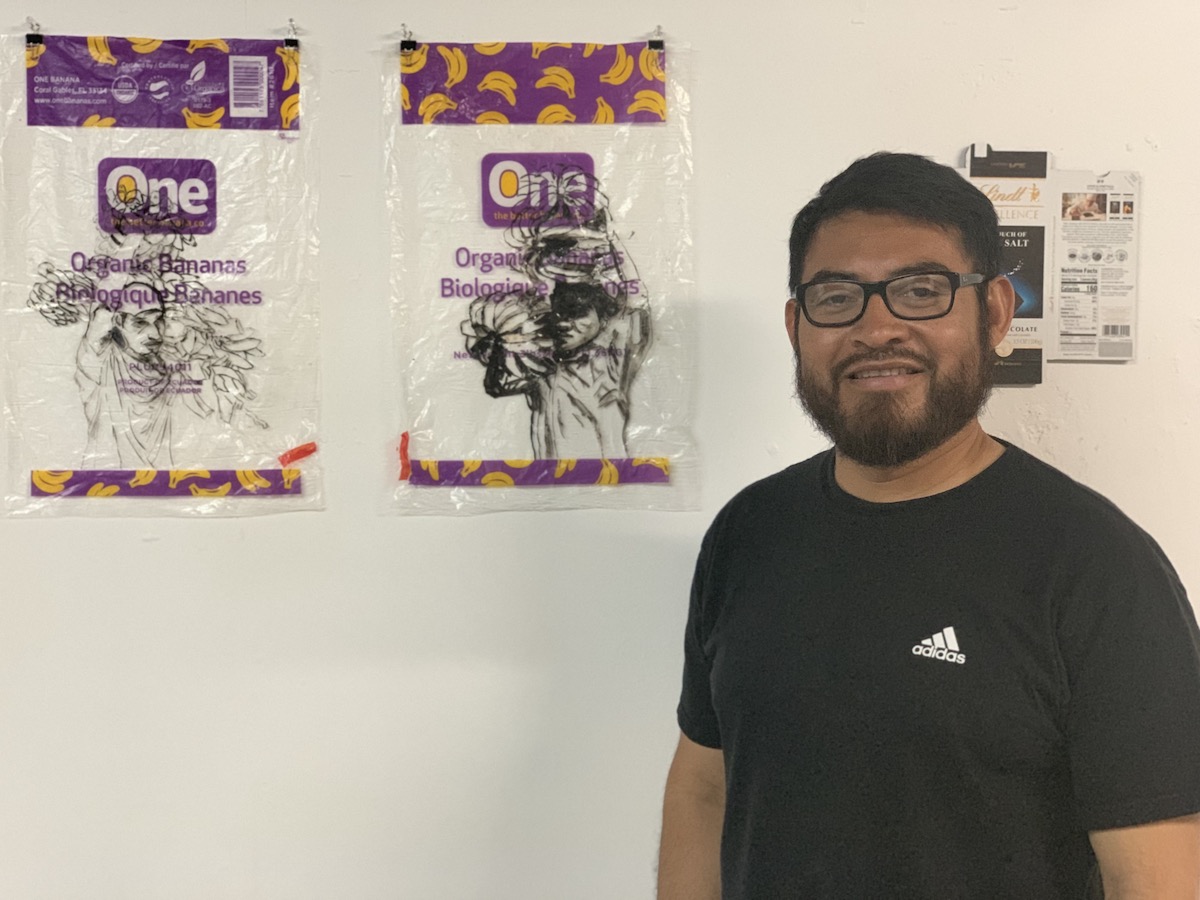 Narsiso Martinez was born in Oaxaca, Mexico, and began making art by portraying friends and family. He moved to the United States at the age of 20, learning the language and working in agricultural plantations alongside many other laborers in order to raise money to afford his studies. He completed his MFA at California State University in Long Beach and obtained his master's degree in Painting Drawing in Washington. He works immediacy on waste materials (mainly cardboard, but also plastic bags) that he collects from large distributions and then reassembles to compose works both on large and small scale. He works mostly in charcoal and ink. His excellent images of figurative art are sometimes colored, but very often left as they are, and the only color points are offered by the logo of the box or bag used as an artistic support.
The art of Narsiso represents a social complaint against the multinationals that exploit the work of laborers, underpaid and precarious, increasing their economic and social disparity. His complaint also touches on health issues: the laborers are forced to work in contact with poisons (his figures are represented with masks) while the people, attracted by the shiny and succulent fruit and vegetables, actually find themselves eating Snow White's apple. The result is a politically powerful and deeply intimate. A glance at agricultural workers, that knows how to be engaging, insightful and moving, and that elevates cardboard to an artistic medium par excellence: the medium in which the laborers put the products for export, the same medium that advertises multinationals through logos. Initially he started by making a piece of cardboard, deconstructed and assembled. Then he started composing collages to which he added the symbolic colors of his homeland, Mexico.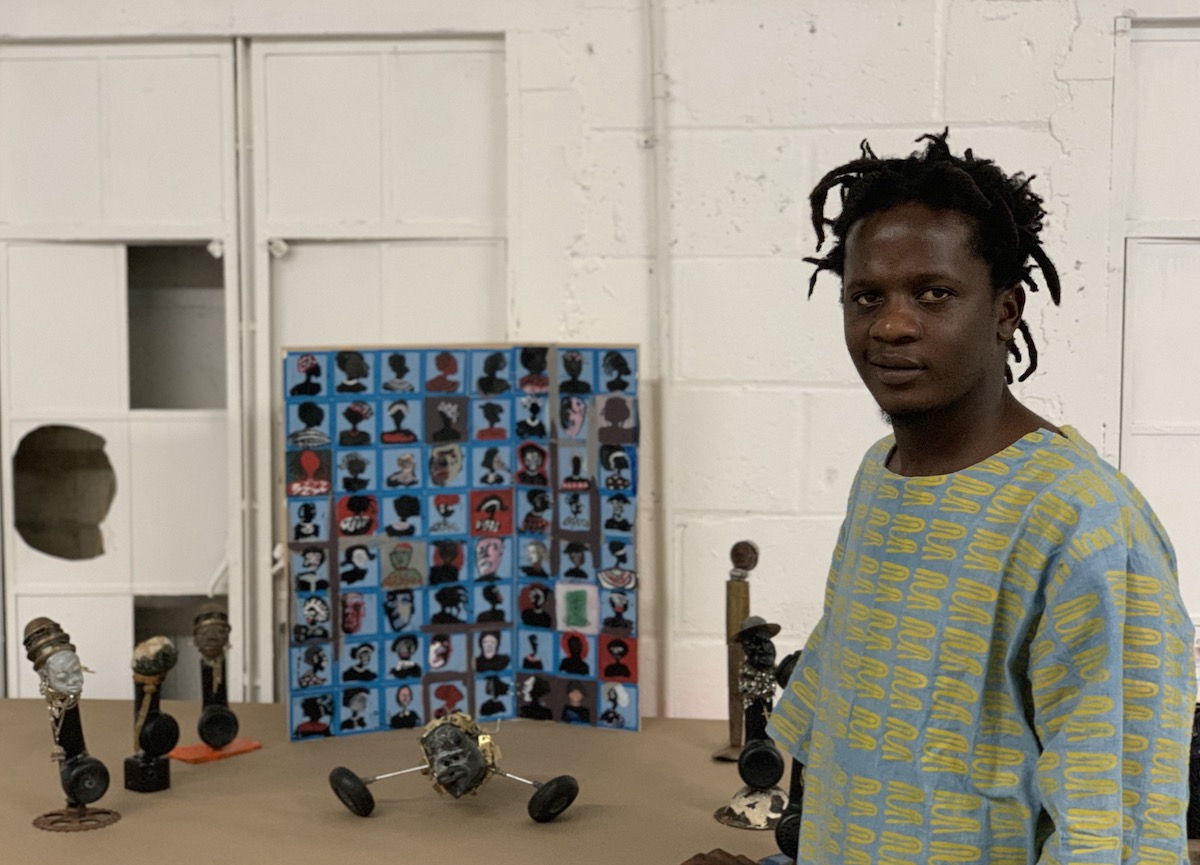 Terence, born in Zimbabwe, on the other hand, is the son of a sculptor of ancient generations who has seen commodify the fine work of local handicrafts due to the entry of China into the global market. It is in the wake of this image that Terence promises himself to become a good computer scientist away from his father's artistic talents. But sometimes life makes strange turns and Terence found himself wanting to attend art school without being able to afford to pay: he decides to attend the lessons every day without being officially present on school records. He was able to officially obtain his degree in Fine Arts at Harare, The School of The National Gallery of Zimbabwe, in 2013. Particularly sensitive to the causes of his country, Terence, after winning a sculpture competition in a completely random fashion, he obtained his passport and started attending international exhibitions including Catinca Tabacaru in New York, (where he will return now that he has finished his residency at Fountainhead), the Venice Biennale in 2015, OMI in New York, Tiroche DeLeon in Tel Aviv and CTG-R: Terranova in Canada with the CTG collective.
In search of his voice, Terence's art is a new approach that breaks the gap between traditional and contemporary African art: he fights convention by paying homage to Zimbabwean traditions.
His works, mainly sculptures, are made of carved stone (originally from Zimbabwe) and predestined waste materials: according to Terence, nothing happens by chance but everything is part of an already established design. With the exception of the work Wisdom Giver, which he intentionally assembled with selected materials, all the other works are composed by chance with what the environment, or the area, makes available. A wire rather than a golf club or a Plexiglas cylinder found by chance in the streets of Wynwood. Among the works of Terence the telephone is recurrent, and symbolically represents the communication object par excellence, which he transforms into characters with a head carved in stone. Still with a face in stone and on a large scale, he represented a spirit made of meters of silk that will also be part of the next performance at Catinca Tabacaru in NYC, along with other art works. For Terence his work represent his spirituality and if asked when he thinks that his work is done, he replies that a work is never finished, but each work takes its way with the best wishes of benevolence and omen, as it happened with the sculpture combined with a brush, composed during the month of residence at Fountainhead and sold to a Miami collector. His work is exhibited and collected internationally, with his first institutional inclusion in 2016 at the National Gallery of Zimbabwe.
Different artistic techniques, as different are the artists, but all enthusiastic about the opportunity offered and the experience made at the Fountainhead Residency through which they got to know and visit studios that they probably would never have visited, and receiving valuable advices and information. A real winning formula to grow artistically without ever taking for granted that growing in collective means growing twice as much.
.