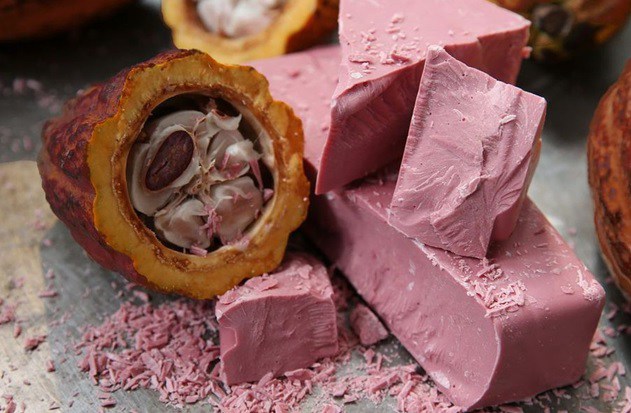 This post is also available in:

After the dark chocolate, the milk chocolate, the love-and-hate relationship with white chocolate, the blond Dulcey chocolate, created from an error by Frederic Bau -director of the École du Grand Chocolat Valrhona- Pink Chocolate arrived, Ruby to be exact . The Swiss company, leader of the sector Barry Callebaut GA, the world's largest chocolate producer, has introduced the "Ruby" chocolate variety, ruby, with a pink petal color. After 13 years of research, in collaboration with Jacob University of Bremen, the CEO of the company Antoine de Saint-Affrique claimed: "It's natural, it's colorful, and it's hedonistic; It has an aspect of indulgence, but retains the authenticity of chocolate. It has a nice balance that speaks a lot to millennials ".
Read "millenials", or Y generation, born between 1979 and 2000. "There are no added colors" says Mike Schrauth, VP of Callebaut's gastronomic division, "It is made of cocoa solids, cocoa butter, dairy products and sugar. ; it is the way it is processed that allows flavor precursors to remain unaltered while preserving the red color and natural flavor of the berries ".
The cocoa beans used to make the ruby ​​chocolate come from the Ivory Coast, Ecuador and Brazil and although the FDA has not yet expressed the ruby ​​name on the labeling, there are those who fan the idea that a new denomination should be created as the Ruby chocolate "It does not contain enough dairy products to qualify as milk chocolate and contains more solid cocoa than established to qualify as white chocolate," says Schrauth. The new Chocolate Ruby also promises sensory emotions that are completely new and acid yet sweet, with all-natural velvety and fruity notes. And so while Hershey cuts 15 percent of his staff and Nestle tries to sell its business of American chocolate, the ruby ​​chocolate, presented in Shanghai and that will be available starting from the early months of 2018, raises the possibility that next Valentine's Day could arrive just about the same time as the windows of pastry shops get full of natural pink chocolate hearts.