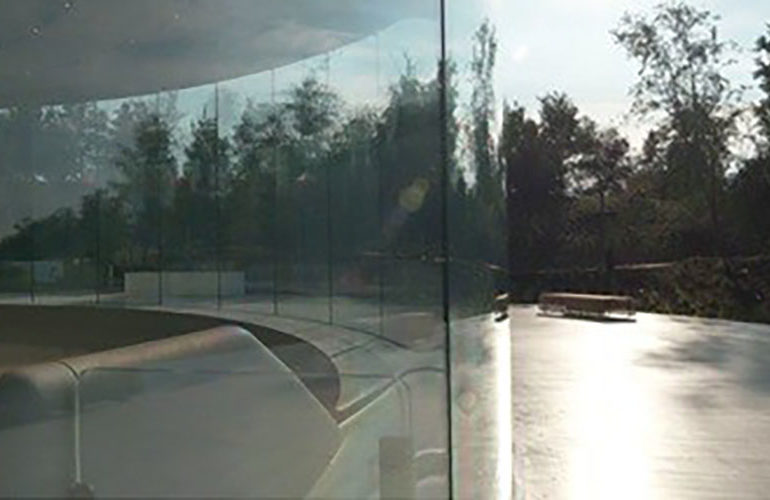 This post is also available in:

The long-awaited September Keynote marked an important milestone for the Californian company: the opening, on the occasion of the tenth anniversary of the iPhone, of the Apple Park. The park entirely made of glass was designed by the British studio Foster + Partners, which, sharing the cardinal values ​​of Apple, has structured a circular base with a glass structure in order to favor the symbiosis with nature and the vision of the beautiful Californian landscape that surrounds it.
The transparency of the structure also favors the connection between inside and outside, the connection between people, exchanges and, as in an open environment, the stimuli. The Keynote took place in the Steve Jobs Theater, an auditorium with 1000 seats, almost completely underground, surmounted by a circular pavilion with six-meter-tall glass walls.
The Apple Park has seen the asphalt removed from 175 acres of land, equal to 70 hectares, in order to make possible thes plantation of 9000 plants taken care of by the outdoor studio Philadelphia Studio OLIN. In perfect optics of innovation and technology, it is equipped with one of the largest solar panel installations that guarantee a 100% renewable energy supply.
The pretentious project will begin a process of investment in the renewal of online sites and retail facilities already present in the territory, or "City Squares", as defined by Chief Angela Ahrendts; among these the Apple store on Fifth Avenue and the one on the Champs Elysées. There will also be the opening of new Apple centers in the world: At the Ben theater in Piazza Liberty in Milan, and the Apple store on Michigan Avenue in Chicago. Tim Cook, well known to all fans of "Apple" and sensibly excited, opened the event at the Steve Jobs Theater dedicating this impressive building to the memory of Steve Jobs, DNA and founder of Apple.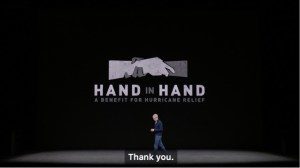 Before starting the dances, he recalled the recent events that have plagued the United States: Hurricane Harvey in Texas and Hurricane Irma in Florida, underlining the commitment of Apple to join, through iTunes and its retail, to the HAND to HAND initiative. 
During the Keynote presentation various news were presented. We remember the fourth generation iWatch, the new version of apple TV, which will manage the 4k HDR resolution and the iPhone 8. The flagship of the presentation is the new iPhone X that with its innovations projects us in a more and more technologically interactive future .